Blackstar Sprockets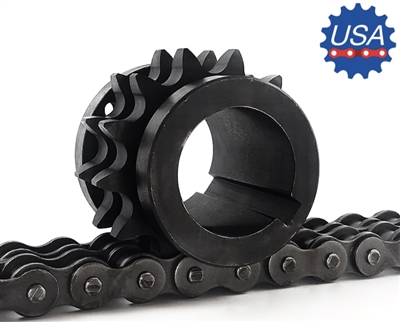 USA Roller Chain and Sprockets is one of the largest suppliers of Blackstar PT components in the world. For pricing or information please contact us at (407) 347-3519 or email our customer service team at sales@usarollerchain.com

Blackstar sprockets set the bar when it comes to quality at an industry competitive price point. With any sprocket, It begins with the plain material, with the Blackstar sprockets they utilize a 1045 grade of steel instead of the popular 1018 or "sintered steel" type.

Blackstar Sprocket Material
1045 Steel Element Content:
Carbon (C)

Iron (Fe)

Manganese (Mn)

Phosphorous (P)

Sulfur (S)

0.420% - 0.50%
98.51% - 98.98%
0.60% - 0.90 %
≤ 0.040%
≤ 0.050%
1045 Steel Physical Properties:
1045 Steel Mechanical Properties:
Hardnes (Brinell)

Hardness (Knoop)

Hardness (Rockwell B)

Hardness (Vickers)

Tensile Strength (Ultimate)

Tensile Strength (Yield)

163
184
54
170
81,900 psi
45,000 psi
Elongation at Break (in 50mm)

Reduction of Area

Modulus of Elasticity

Bulk Modules

Poissons Ratio

Shear Modulus

16%
40%
29,000 ksi
20,300 ksi
0.290
11,600 ksi

On top of using a premium 1045 grade of steel, Blackstar sprockets are induction hardened on tooth counts 30 and below. Induction hardening is a type of surface hardening in which the teeth are induction hardened then quenched. The quenched teeth then undergo a martensitic transformation, increasing the hardness of the teeth. This drastically increases the performance and durability of the sprocket. Dimensionally Blacksatar sprockets are made to ANSI B29.1 standards so they directly interchange with other brands.

to wrap things up, all the Blackstar roller chain sprockets are black oxide coated. Black oxide is also known as blackening is a conversion coating utilized for mild corrosion resistance and appearance that minimalizes light reflection. The black oxide also provides minimum buildup versus other coatings.


Martin Vs. Blackstar Sprockets
Blackstar Roller Chain Sprockets

Below are the standard Blackstar sprockets but we also supply custom and OEM special sprockets upon request. For more information check out our roller chain sprocket nomenclature page.

QD Style

Split Taper

Taper Lock

Finished Bore

Minimum Bore
A-Plate
B-Hub
C-Hub
Duplex
Double Single
Double Pitch
Idler
Blackstar Conveyor Chain Sprockets

Typically conveyor chain sprockets have a special tooth-profile and design designated for their specific chain type and common application. These sprockets typically have hardened teeth and no oxide coating.

| 78-Type | 82-Type | 81X-Type | Double Pitch |
| --- | --- | --- | --- |
Blackstar Agricultural Chain Sprockets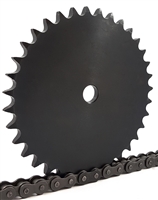 Agricultural sprockets are the "CA" type agricultural chains and double pitch roller chains. Blackstar agricultural sprockets are sure to get you through the season!

CA550

CA557

CA620

Double Pitch
Blackstar Pintle Chain Sprockets
Pintle chain sprockets from Blackstar are made for pintle chain pitch sizes 1.664" - 2.609" these sprockets are made to reduce buildup and have an extended wear life. For more info about this type of sprocket visit our pintle chain sprockets page.

662

667X

667KC

667H

88C

88K

For more information about sprockets check out our roller chain sprockets pages and more!

Blackstar Sprocket Pricing
To get a quote on Blackstar sprockets fill out the request for quote form and someone from our customer service team will contact you.