Screw Conveyors


(A) Conveyor Screw: Compact, manufactured straight and accurate in helicoid, section, ribbon, and special designs to meet your requirements.
(B) Job-Rated Components: Selected to meet the performance that you require. Precisely manufactured to ensure a longer-lasting and better running unit.
Jig-Drilled Couplings: Assures easy shaft alignment and assembly. Available with "Redi-Change" clamping key for quick disassembly of a conveyor screw.
Tem-U-Lac Self-Locking Coupling Bolts: Protects against system damage and costly downtime caused by coupling bolts or nuts working themselves loose.
(C) Hangers and Bearings: Various styles and bearing materials selected to meet your specific needs.
(D) Trough Ends: Many bearing and seal styles are available to match your needs.
(E) Troughs, Covers, Clamps, and Shrouds: Durably constructed standard "U" and other styles of troughs including tubular. Covers, clamps, and shrouds are available for all applications.
(F) Nu-Weld® Flange: Continuously welded steel flange holds trough in alignment.
(G) Discharge Spouts: All types/styles available and located where you need them. Available for hand, electric, hydraulic, and pneumatic powered gates.
(H) Supporting Feet and Saddles: Align and fasten the trough to the floor or other existing structure.

Applications



- Typical Installation of screw conveyors at a large grain storage facility.


- This Matchmaker asphalt finisher uses a Screw Conveyor at the back of the tractor unit to move material outward in both directions and to spread it evenly across the entire paving width.


- Screw Conveyor system and SCC Bucket Elevators being used for speed grain handling in a large facility. Two screw conveyors, running over two rows of tanks are 494 feet long. Has a double hanger in the center so each half is powered independently. Between the two rows of tanks, a collecting screw conveyor, also with a double hanger at the center, is 528 feet long. The system handles whole grains at approximately 100 tons per hour


- The Screw-Lift does an efficient elevating job as part of a complete Screw Conveyor system. The Screw-Lift illustrates the compact arrangement possible when space is limited.


- Screw Conveyors are used for conveying multiple materials including wet and dry. This application demonstrates how liquid material can be conveyed up an incline for ease of loading trucks. All parts of the system are enclosed, yet readily accessible.


- Special flighting provides fast and clean snow removal. This type of flighting has been used since 1932.


- This asphalt fabric filter type dust collector uses Screw Conveyor flighting in the hoppers which returns collected fines to the mix.


- Rubber reclaiming operations (like the one shown above) use high capacity, compact Screw-Lift and screw conveyor systems to transport rubber back and forth between mills and screeners.


- Partial view of a large outdoor installation utilizing leveling screws to distribute material evenly across the storage area.



Components of a Screw Conveyor System





The Conveyor Screw: Transmits smooth positive motion to the material as it rotates within the trough.

Couplings and Shafts: Connects and transmits motion to subsequent screw conveyors. This is held in place by self-locking Tem-U-Lac bolts
Redi-Change Sections: This component allows an individual conveyor section to be lifted out without disassembling adjacent parts or components. This is an optional feature available at an additional cost.
Hangers: Provide support, maintain alignment, and serve as bearing surfaces.

Trough Ends:
Support the conveyor drive and end shafts while maintaining trough alignment. Can be provided with your choice of bearings or thrust bearings.
Troughs and Covers:
Completely enclose the material being conveyed as well as the rotating parts. Covers are available in various styles and are secured to the trough by Spring, Screw, Tite-Seal, or quick-acting Barron Clamps depending on the trough cover combination used.
Inlet and Discharge Openings:
Can be located wherever needed. Discharge spouts may be without slides or equipped with either flat or curved slides. These slides may be operated by hand, rack and pinion gears, or power.

The Complete Screw Conveyor Unit: This is supported by the trough end as well as by Feet or Saddles placed at intermittent locations on the unit. The screw conveyor is one of the most economical conveyor types available for moving bulk materials. The screw conveyor unit is fully enclosed in order to contain the moving material and its' atmosphere. The standard unit (with variations in design) is suitable for providing solutions to a wide variety of bulk material handling problems.
Design Data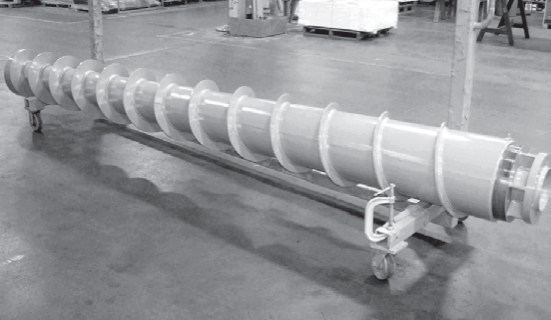 Engineering and Layout


This section contains all pertinent engineering data and procedures for prescribing and specifying the important details and features of most conveyor installations. Please feel free to contact us if you have any questions or if you need assistance with designing your screw conveyor system.





Material Analysis


The first step in engineering a Screw Conveyor is to analyze the physical characteristics of the material as well as the rate in which the material is to be handled.

The capacity of a Screw Conveyor should be defined in terms of cubic feet per hour. It is also important to determine the maximum capacity the conveyor will be required to handle. The capacity is most often stated in terms of tons or pounds per hour. That being said, the material to be handled often varies in density, therefore, the maximum volume or capacity in cubic feet per hour is the maximum pounds of material per hour divided by the minimum possible density of the material. It is volume to be conveyed which determines a conveyor's size and speed.

Physical properties of the material to be thoroughly understood are the following:

1. Maximum lump size and the percentage of lumps to the total volume along with the minimum particle size and, if possible, a screen analysis.
2. Flowability characteristics. This term is related to the angle of repose.
3. The abrasive quality of a material can be defined by knowing its hardness on a Moh's scale. If this is not available, compare your material with another known abrasive material
4. Additional factors which affect conveyor operation and design are further discussed below and are shown in the Material Classification table, also below.

**Note: Moisture content, while not accounted for in the material table, will affect the flow characteristics and density of a material. Some material, when very dry or very wet, will tend to have unfavorable flowability characteristics. When the moisture content is between these two extremes, such a material may be quite sluggish and have a high angle of repose. Where this is a possibility, the material should be re-classified. Conveyor design and selection should proceed with the full knowledge of all conditions that can prevail in order to provide you with a system that will best meet your needs.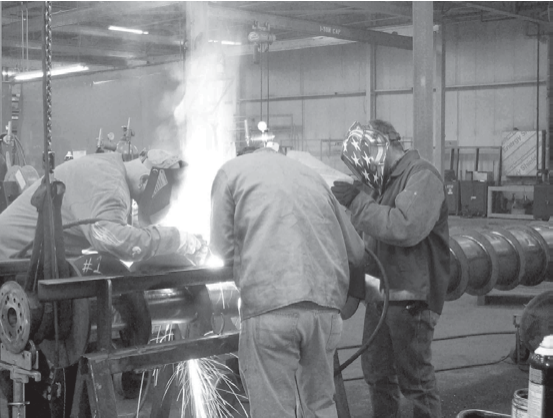 Engineering


No machinery design is complete without considering its usage. For example, a conveyor that will be used intermittently for two hours a day does not have to be built as heavily as one that will operate twenty-four hours per day. Likewise, shock loads will affect the consideration given on gauge of steel used as well as drive equipment. Treatment of these factors and their affect on conveyor design are not discussed here in sufficient enough detail, but please contact us so that we can determine your best conveyor design.

Since the Screw Conveyor selected is based on a maximum volume control of material to be handled, surge loads, overloads and choke feeding must be accounted for in the conveyor design. Screw feeders are popularly used for this control.



Classify Your Material


Materials are classified in the chart below. If you specific material is not listed, it can be classified by comparing it with similar materials that are listed on the chart. If necessary, your material can be classified by referring to the material classification chart below.



Establish Required Diameter and Speed


After you know your material classification and required capacity, refer to the capacity chart below (note: you can use the command CTRL + F to search for these different charts). Your material classification indicates which trough loading applies. Select the size for your capacity using the smallest diameter conveyor that is below the maximum recommended speed. After size is determined the exact conveyor speed is determined by dividing the required capacity (in cubic feet per hour) by cubic feet per hour at 1 revolution per minute (RPM).

**Note: If handling a material with hard lumps (lumps will not break up in the screw conveyor) please refer to the chart directly below. If the required diameter (as found above) is smaller than the recommended size give in the lump chart, use the conveyor diameter from from the chart directly below and determine the RPM from capacity farther below.




Maximum Size of Lumps, Inches



Ratio

Lumps to Total Volume

Diameter of Conveyor, Inches

4
6
9
10
12
14
16
18
20
24
Lumps 10% or Less
1.0
1.5
2.5
2.5
3.0
3.5
4.0
4.5
5.0
6.0
lumps 20% to 25%
0.5
0.75
1.5
1.5
2.0
2.5
3.0
3.0
3.5
3.75

All Lumps
0.3
0.5
0.75
0.75
1.0
1.25
1.5
2.0
2.0
2.5




Component Group Classification



As shown in the material table below, each material is assigned to a component group. These component groups factor in the material's physical characteristics and then match these with the proper conveyor components. A description of these components in each group can be found in the component group specifications chart below.
Please note that the Babbitted bearings are considered standard where contamination from required lubricants is not a factor. Oil impregnated wood or nylon bearings are often recommended where lubricant contamination is a factor. Ball bearings are not recommended for use in conveying gritty or very fine materials which might penetrate the oil seal. For abrasive applications involving high temperatures, hard iron bearings are normally used. Other types of bearing materials furnished upon request.


Establish the "D" Factor

The "D" Factor is a constant applied to the particular Component Group of a given conveyor. To Establish the "D" Factor, locate your conveyor diameter and bearing material in the table directly below. The figure appearing at this intersection is to be used as "D" in the horsepower formula.


Table of Factors "D"

Size of conveyor, Inches
Type of Hanger Bearings
Ball or Roller

Wood, Babbitt, Nylon, or Molded Fabric

Self-Lubricating Bronze
White Iron or Manganese Steel
3
10
15
24
35
4
12
21
33
50
6
18
33
54
80
9
32
54
96
130
10
38
66
114
160
12
55
98
171
250
14
78
135
255
350
16
106
186
336
480
18
140
240
414
600
20
165
285
510
700
24
230
390
690
950




Establish The Required Horsepower



The formula stated below provides the horsepower (HP) required at the conveyor drive shaft for a standard conveyor.



H= [(D x S + Q x F)] / (1,000,000)



Additional power will be required for starting under load, overcoming choke loads or other unusual conditions. There is also a loss of power through the drive machinery from 10% to 15%. To compensate for these factors, the formula for the required motor horsepower is divided by .90. This is Step No.1


Where:
L = Overall length in feet
D = Bearing Factor (see "D" factor table)
S = Speed in RPM (see capacity chart)
Q = Quantity of material being conveyed in pounds per hour (LBS/HR)
F = Horsepower factor "F" (see Material Tables)

Step No.2
Motor Horsepower = H x P
P = 2 when H is less than 1
P = 1.5 when H is between 1 and 2
P = 1.25 when H is between 2 and 4
P = 1.1 when H is between 4 and 5
P = 1 when H is greater than 5

Step No.3
HP = Minimum Recommended Horsepower .90


Conveyor Horsepower Ratings

One of the factors that must be considered at this point is the required horsepower. Check the required horsepower using the above formula against the torque and horsepower capacity limitation for each conveyor pipe and shaft size.

Use the table directly below, which shows the maximum allowable horsepower at various conveyor speeds.

Example: a 9" conveyor mounted on 2" standard pipe, bushed for 1 1/2" diameter couplings, is limited to a maximum of 5 HP at 100 RPM. If, in a given application, a larger motor is required, it is then necessary to use a 9" conveyor mounted on 2 1/2" pipe, bushed for 2" diameter couplings. You will see that this arrangement is rated at 12 HP at 100 RPM or 6 HP at 50 RPM. These ratings are on the basis of two coupling bolts at each end of the conveyor pipe. In some sizes three bolts can be used to increase the drive limitation shown. Contact us for specific recommendations if in doubt or if you have any questions




Horsepower Ratings



| | | | | | | |
| --- | --- | --- | --- | --- | --- | --- |
| Size of Conveyor, Inches | Pipe Size, Inches | Coupling Diameter | Max, HP @125 RPM | Max, HP @100 RPM | Max, HP @75 RPM | Max, HP @50 RPM |
| 6, 9, and 10 | 2.0" | 1-1/2" | 6.25 | 5.0 | 3.75 | 2.5 |
| 9, 10, and 12 | 2.5" | 2.0" | 15.0 | 12.0 | 9.0 | 6.0 |
| 12 and 14 | 3.0" | 2-7/16" | 18.75 | 15.0 | 11.25 | 7.5 |
| 12, 14, 16, 18, and 20 | 3.5" | 3.0" | 30.75 | 24.6 | 18.50 | 12.3 |
| 20 and 24 | 4.0" | 3-7/16" | 43.75 | 35.0 | 26.25 | 17.5 |




Sample Problem



Establish the conveyor size, speed, horsepower, and other specification necessary for conveying 1,800 bushels of dry, clean wheat per hour for a distance of 50ft.



Solution



- Refer to the material table below

*Note: Average weight/cu. ft. of wheat is 454-48 lbs.

- The material classification is 47C ½

25N

- The recommended types of conveyors are 1A, IB, and 1C

- The "F" Factor is .4

The material classification, C ½ 25N indicates the material is granular — 1/2" inch and under, very free flowing — angle of repose up to 30°, non-abrasive and contains explosive dust. The recommended types of conveyors, lA, 1B, 1C indicate the group that is designed for normal service. (See the "component group specifications" table below)

Convert the given capacity from bushels per hour to cubic feet per hour. Known: there are 1.25 cubic feet in a bushel of wheat. Therefore, 1,800 x 1.25 equals 2,250 cubic feet per hour. Now, 2,250 cu. ft. per hour x 48 Ibs. equals 108,000 lbs./hr. This will be assumed to be the maximum desired capacity. Reference the Capacity Chart below and establish the conveyor diameter and proper speed. As you will note C25 material class has a 45% recommended trough loading and 2,250 cu. ft./hr. requires a 12" diameter screw conveyor operating at 116 RPM (EXAMPLE: 2,250/19.4 = 115.9 or 116 RPM.)

*Remember, do not exceed the maximum recommended speed without first consulting with our staff engineers. If hard lumps had been present, we would now consult the "Maximum Size of Lumps" table above.

We know that:
L = 50 feet
D = 96 (see "D" Factor table) (12" conveyor with wood bearings)
S = 116 RPM (See Capacity Chart)
Q = 108,000 lbs./hr.
F = .4 (see Material Tables)

Now, inserting these figures in the formula:
H = 50(96 x 116 + 108.000 x .4) / 1,000,000
Therefore: H = 2.8

Motor Horsepower equals H x P (see value of P under formula)
Therefore: 2.8 x 1.25 = 3.5

To be assured that you have sufficient power, divide the HP by .90. This gives you a minimum recommended horsepower of 3.9. Your minimum choice of motor size would, therefore, be 5 HP

Now, refer to the Torque Capacity / Horsepower Ratings table and note the minimum pipe size for a 12" conveyor is 2-1/2". Maximum allowable horsepower for this conveyor's specifications is 15 HP. Since this figure is in excess of our requirements, we can use the computed 5 HP motor.

Additional Screw Conveyor specifications for indoor operation will be:
- Group Classification: 1A
- Conveyor Size and Speed: 12" at 120 RPM
- Conveyor Screw: 12" Standard Helicoid
- Conveyor Trough: 12" No. 12 gauge steel, Double Flange Construction, Flanged Cover and Barron Clamps
- Type of hanger bearings: 12" x 2" bore, intermediate hanger with babbitted bearings




Special Applications and Specifications


The selection procedure, outlined above, takes into account the material's physical characteristics, provides for the proper cross-section loading of a conveyor and specifies, through the component tables, the type of conveyor components to be used. Some material's physical characteristics will require additional special features.




Abrasive Materials


Abrasive materials often cause excessive wear on Screw Conveyor components and should be carried at low cross-sectional loads and at relatively slow conveyor speeds. For conveyors which will handle extremely abrasive materials or will be subjected to heavy or continuous service, heavy-duty components should be specified. Heavier than standard, surface-hardened or abrasive resistant steels are available for this application.

There are also some materials that are normally considered abrasive which may easily become aerated, thus reflecting a minimum density and greater flowability. Here it is possible to use higher speeds and in some cases, higher cross-sectional loads. Judgment and experience, however, will dictate the conditions when this can occur.




Contaminable Materials


When handling easily contaminable materials, such as food products or some chemicals, it is possible to specify components and other features of construction which were not necessarily included and made a part of the conveyor selection process. These features would include non-lubricating type intermediate hanger bearings, seals under the end bearings, easily removable trough covers and, possibly, drop bottom conveyor trough construction. Accessibility to the internal parts of the conveyor through the use of some of these features means the conveyor can be easily inspected and cleaned out.

Conveyor Flighting may be continuously welded to the conveyor pipe on either/ or both sides of the flight. Grinding and cleaning of the welds can remove scale and/or roughness that could contribute to contamination.




Corrosive Materials


When handling bulk materials which are corrosive, conveyor components manufactured from stainless steel, aluminum or other special alloys are available, also hot dipped galvanized carbon steel components may be used in non-abrasive applications.




Degradable Materials



Materials which tend to break or separate easily, affecting quality, may be handled in larger diameter, slower turning Screw Conveyors to reduce agitation.




Extreme Temperatures


Materials may be heated or cooled while being conveyed in a jacketed conveyor. When handling materials in extreme temperatures, specify Screw Conveyor components of metal alloys designed to meet these conditions.




Fluidizing Materials


When agitated, some materials tend to "aerate" and react similar to a liquid. When handling these materials, it is important to know the aerated density so that conveyor size and speed will be based on the larger aerated volume. When a volumetric type feeder is used, the horsepower should he based on the design volume and maximum material density.


Mixing Materials
If the materials are to be mixed or agitated while being conveyed, ribbon flights, cut flights, cut and folded flight or one of the above in combination with paddles, may be used.


Materials Which Pack and Resist Digging
Some materials have very strong resistance lo digging which means that it is difficult, and in some cases, impossible to shear a pile of the material or to penetrate it with a sharp edge such as in a conveyor flight. Offsetting the conveyor screw and placement of an angle inside the trough on the carrying side will enable some of these materials to be handled.

Occasionally, materials tend to pack under pressure and become hard in the clearance between the conveyor screw and trough. Some of these materials can then be conveyed satisfactory if the Screw Conveyor is operated at low speeds and the edge of the flight is used as a cutting edge.




Hygroscopic Materials


Materials which readily absorb moisture are hygroscopic. Such materials become less free flowing as they absorb moisture. This factor must be taken into account when determining conveyor size, HP and speed. Some hygroscopic materials can, as they absorb moisture, change in density and angle of repose and thus, effect the material classification number.




Toxic Materials


If harmful vapors or dust are released by agitation and conveying, the system should be of sealed construction.




Viscous or Sticky Materials


Viscous materials can best be handled by Ribbon Conveyors because they usually have a tendency to stick and adhere to the joint of the conveyor pipe and flight on a standard conveyor.


Material Classification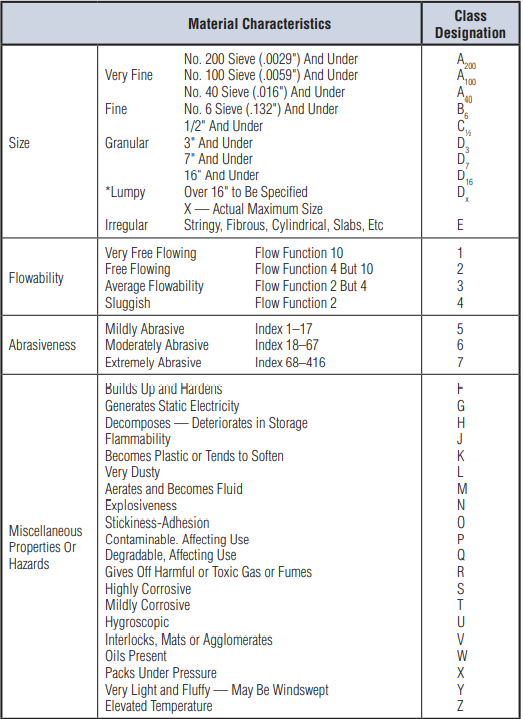 Component Group Specifications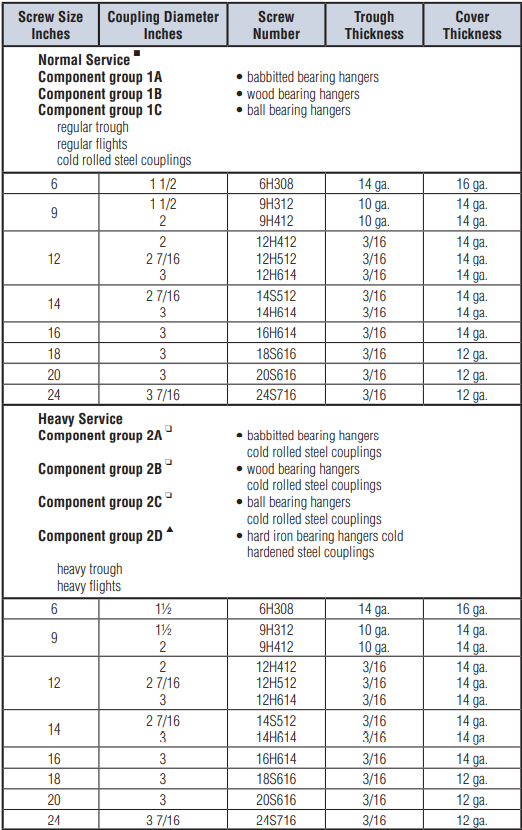 ■ For use with non-abrasive materials.

◻
For use with nonabrasive irregular material or lumpy material containing lumps over 1/2"


▲

For use with mildly abrasive material.
∆ For use with mildly corrosive materials.
° For use with very abrasive materials.





Material Data Table

For quicker searching throughout the chart, you can use the search functionality on your computer's keyboard.
Windows: CTRL + F
Mac: command + F
Note: reference to specific materials in the table should not be construed as indicating that all materials are recommended for screw conveyor applications. Consult with our customer service team for additional assistance.


Material

Weight (LBS Per Cubic Foot)
Material Class
Component Group
H.P. Material Factor F
Adipic Acid
45

45A10035
2B
0.5
Alfalfa Meal
14-22
18B645WY
2D
0.6
Alfalfa Pellets
41-43
42C1/225
2D
0.5
Alfalfa Seed
10-15
13B615N
1A-1B-1C
0.4
Almonds, Broken
27-30
29C1/235Q
2D
0.9
Almonds, Whole Shelled
28-30
29C1/235Q
2D
0.9
Alum, Fine
45-50
48B635U
1A-1B-1C
0.6
Alum, Lumpy
50-60
55B625
2A-2B
1.4
Alumina
55-65
58B627MY
3D
1.8
Alumina Fines
35
35A10027MY
3D
1.6
Alumina Sized or Briquette
65
65D337
3D
2
Aluminate Gel (Aluminate Hydroxide)
45
45B635
2D
1.7
Aluminum Chips, Dry
7-15
11E45V
2D
1.2
Aluminum Chips, Oily
7-15
11E45V
2D
0.8
Aluminum Hydrate
13-20
17C1/235
1A-1B-1C
1.4
Aluminum Ore (See Bauxite)
--
--
--
--
Aluminum Oxide
60-120
90A10017M
3D
1.8
Aluminum Silicate (Andalusite)
49
49C1/235S
3A-3B
0.8
Aluminum Sulfate
45-58
52C1/225
1A-1B-1C
1
Ammonium Chloride, Crystalline
54-52
49A10045FRS
3A-3B
0.7
Ammonium Nitrate
45-62
54A4035NTU
3D
1.3
Ammonium Sulfate
45-58
52C1/235FOTU
1A-1B-1C
1
Antimony Powder


A10035
2D
1.6
Apple Pomace, Dry
15
15C1/245Y
2D
1
Arsenic of Lead (See Lead Arsenate)
--
--
--
--
Bronze Chips
30-50
40B645
2D
2
Buckwheat
37-42
40B625N
1A-1B-1C
0.4
Calcine, Flour
75-85
80A10035
1A-1B-1C
0.7
Calcium Carbide
70-90
80D325N
2D
2
Calcium Carbonate (See Limestone)
--
--
--
--
Calcium Fluoride (See Fluorspar)
--
--
--
--
Calcium Hydrate (See Lime, Hydrate)
--
--
--
--
Calcium Hydroxide (See Lime, Hydrate)
--
--
--
--
Calcium Lactate
26-29
28D345QTR
2A-2B
0.6
Calcium Oxide (See Lime, unslaked)
--
--
--
--
Calcium Phosphate
40-50
45A10045
1A-1B-1C
1.6
Calcium Sulfate (See Gypsum)
--
--
--
--
Carbon, Activated, Dry, Fine*
--
--
--
--
Carbon, Black, Pelleted*
--
--
--
--
Carbon, Black, Powder*
--
--
--
--
Carborundum
100
100D327
3D
3
Casein
36
36B635
2D
1.6
Cashew Nuts
32-37
35C1/245
2D
0.7
Cast Iron, Chips
130-200
165C1/245
2D
4
Caustic Soda
88
88B635RSU
3D
1.8
Caustic Soda, Flakes
47
47C1/245RSUX
3A-3B
1.5
Celite (See Diatomaceous Earth)
--
--
--
--
Cement, Clinker
75-95
85D336
3D
1.8
Cement, Mortar
133
133B635Q
3D
3
Cement, Portland
94
94A10026M
2D
1.4
Arsenic Oxide (Arsenolite)*
100-120
110A10035R




Arsenic Pulverized
30
30A10025R
2D
0.8
Asbestos-Rock (Ore)
81
81D337R
3D
1.2
Asbestos-Shredded
20-40
30E46XY
2D
1
Ash, Black Ground
105
105B635
1A-1B-1C
2
Ashes, Coal, Dry -1/2"
35-45
40C1/246TY
3D
3
Ashes, Coal, Dry -3"
35-40
38D346T
3D
2.5
Ashes, Coal, Wet -1/2"
45-50
48C1/246T
3D
3
Ashes, Coal, Wet -3"
45-50
48D346T
3D
4
Ashes, Fly (See Fly Ash)
--
--
--
--
Asphalt, Crushed -1/2"
45
45C1.245
1A-1B-1C
2
Bagasse
7-10
9E45RVXY
2A-2B-2C
1.5
Bakelite, Fine
30-45
38B625
1A-1B-1C
1.4
Baking Powder
40-55
48A10035
1B
0.6
Baking Soda (Sodium Bicarbonate)
40-55
48A10025
1B
0.6
Barite (Barium Sulphate)+1/2"-3"
120-180
150D336
3D
2.6
Barite, Powder
120-180
150A10035X
2D
2
Barium Carbonate
72
72A10045R
2D
1.6
Bark, Wood, Refuse
10-20
15E45TVY
3D
2
Barley, Fine, Ground
24-38
31B635
1A-1B-1C
0.4
Barley, Malted
31
31C1/235
1A-1B-1C
0.4
Barley, Meal
28
28C1/235
1A-1B-1C
0.4
Barley, Whole
36-48
42B625N
1A-1B-1C
0.5
Basalt
80-105
93B627
3D
1.8
Bauxite, Dry, Ground
68
68B625
2D
1.8
Bauxite, Crushed - 3"
75-85
80D336
3D
2.5
Beans, Castor, Meal
35-40
38B635W
1A-1B-1C
0.8
Beans, Castor, Whole Shelled
36
36C1/215W
1A-1B-1C
0.5
Beans, Navy, Dry
48
48C1/215
1A-1B-1C
0.5
Beans, Navy, Steeped
60
60C1/225
1A-1B-1C
0.8
Bentonite, Crude
34-40
37D345X
2D
1.2
Bentonite-100 Mesh
50-60
55A10025MXY
2D
0.7
Benzene Hexachloride
56
56A10045R
1A-1B-1C
0.6
Bicarbonate of Soda
--
--
1B
0.6
Cement, Aerated (Portland)
60-75
68A10016M
2D
1.4
Cerrusite (See Lead Carbonate)
--
--
--
--
Chalked, Crushed
75-95
85D325
2D
1.9
Chalk, Pulverized
67-75
71A10025MXY
2D
1.4
Charcoal, Ground
18-28
23A10045
2D
1.2
Charcoal, Lumps
18-28
23D345Q
2D
1.4
Chocolate, Cake Pressed
40-45
43D325
2B
1.5
Chrome Ore
125-140
133D336
3D
2.5
Cinders, Blast Furnace
57
57D336T
3D
1.9
Cinders, Coal
40
40D336T
3D
1.8
Clay (See Bentonite Diatomaceous Earth Fuller's Earth, Kaolin & Marl)
--
--
--
--
Clay, Ceramic, Dry, Fines
60-80
70A10035P
1A-1B-1C
1.5
Clay, Calcined
80-100
90B636
3D
2.4
Clay, Brick, Dry, Fines
100-120
110C1/236
3D
2
Clay, Dry Lumpy
60-75
68D335
2D
1.8
Clinker, Cement (See Cement Clinker)
--
--
--
--
Clover Seed
45-58
47B625N
1A-1B-1C
0.4
Coal, Anthracite (River & Culm)
55-61
60B635TY
2A-2B
1
Coal, Anthracite Sized-1/2"
49-61
55C1/225
2A-2B
1
Coal, Bituminous, Mined
40-60
50D335LNXY
1A-1B
0.9
Coal, Bituminous, Mined, Sized
45-50
48D335QV
1A-1B
1
Coal, Bituminous, Mined, Slack
43-50
47C1/245T
2A-2B
0.9
Coal, Lignite
37-45
41D335T
2D
1
Cocoa Beans
30-45
38C1/225Q
1A-1B
0.5
Cocoa, Nibs
35
35C1/225
2D
0.5
Cocoa, Powdered
30-35
33A10045XY
1B
0.9
Coconut, Shredded
20-22
21E45
2B
1.5
Coffee, Chaff
20
20B625MY
1A-1B
1
Coffee, Green Bean
25-32
29C1/225PQ
1A-1B
0.5
Coffee, Ground, Dry
25
25A4035P
1A-1B
0.6
Coffee, Ground, Wet
35-45
40A4045X
1A-1B
0.6
Coffee, Roasted Bean
20-30
25C1/225PQ
1B
0.4
Coffee, Soluble
19
19A4035PUY
1B
0.4
(Baking Soda)








Blood, Dried
35-45
40D345U
2D
2
Blood, Ground, Dried
30
30A10035U
1A-1B
1
Bone Ash (Tricalcium Phosphate)
40-50
45A10045
1A-1B
1.6
Boneblack
20-25
23A10025Y
1A-1B
1.5
Bonechar
27-40
34B635
1A-1B
1.6
Bonemeal
50-60
55B635
2D
1.7
Bones, Whole*
35-50
43E45V
2D
3
Bones, Crushed
35-50
45D345
2D
2
Bones, Ground
50
50B635
2D
1.7
Borate of Lime
60
60A10035
1A-1B-1C
0.6
Borax, Fine
45-55
50B625T
3D
0.7
Borax, Screening-1/2"
55-60
58C1/235
2D
1.5
Borax, 1 1/2"-2" Lump
55-60
58D335
2D
1.8
Borax, 2" -3" Lump
60-70
65D335
2D
2
Boric Acid, Fine
55
55B625T
3D
0.8
Boron
75
75A10037
2D
1
Bran, Rice-Rye-Wheat
16-20
18B635NY
1A-1B-1C
0.5
Braunite (Manganese Oxide)
120
120A10036
2D
2
Bread Crumbs
20-35
23B635PQ
1A-1B-1C
0.6
Brewer's Grain, Spent, Dry
14-30
22C1/245
1A-1B-1C
0.5
Brewer's Grain, Spent, Wet
55-60
58C1/245T
2A-2B
0.8
Brick, Ground-1/8"
100-120
110B637
3D
2.2
Coke, Breeze
25-35
30C1/237
3D
1.2
Coke, Loose
23-35
30D737
3D
1.2
Coke, Petrol, Calcined
35-45
40D737
3D
1.3
Compost
30-50
40D745TV
3A-3B
1
Concrete, Pre-Mix, Dry
85-120
103C1/236U
3D
3
Copper Ore
120-150
135DX36
3D
4
Copper Ore, Crushed
100-150
125D336
3D
4
Copper Sulphate, (Bluestone)
75-95
85C1/235S
2A-2B-2C
1
Copperas (See Ferrous Sulphate)
--
--
--
--
Copra, Cake Ground
40-45
43B645HW
1A-1B-1C
0.7
Copra, Cake, Lumpy
25-30
28D335HW
2A-2B-2C
0.8
Copra, Lumpy
22
22E35HW
2A-2B-2C
1
Copra, Meal
40-45
42B635JNY
2D
0.7
Cork, Fine Ground
5-15
10B635JNY
1A-1B-1C
0.5
Cork, Granulated
12-15
14C1/235JY
1A-1B-1C
0.5
Corn, Cracked
40-50
45B625P
1A-1B-1C
0.7
Corn Cobs, Ground
17
17C1/225Y
1A-1B-1C
0.6
Corn Cobs, Whole
12-15
14E35
2A-2B
--
Corn Ear*
56
56E35
2A-2B
--
Corn Germ
21
21B635PY
1A-1B-1C
0.4
Corn Grits
40-45
43B635P
1A-1B-1C
0.5
Corn Meal
32-40
36B635P
1A-1B
0.5
Corn Oil, Cake
25
25D745HW
1A-1B
0.6
Corn Seed
45
46C1/225
1A-1B-1C
0.4
Corn, Shelled
45
46C1/225
1A-1B-1C
0.4
Corn Sugar
30-35
33B635PU
1B
1
Ice, Shell
33-35
34D3450
1B
0.4
IImenite Ore
140-160
150D337
3D
2
Iron Ore Concentrate
140-160
150A4037
3D
2.2
Iron Oxide Pigment
25
25A10036LMP
1A-1B-1C
1
Cottonseed, Cake, Crushed
40-45
43C1/245HW
1A-1B
1
Cottonseed, Cake, Lumpy
40-45
43D745HW
2A-2B
1
Cottonseed, Dry, Delinted
22-40
31C1/225X
1A-1B
0.6
Cottonseed, Dry, Not Delinted
18-25
22C1/245XY
1A-1B
0.9
Cottonseed, Flakes
20-25
23C1/235HWY
1A-1B
0.8
Cottonseed, Hulls
12
12B635Y
1A-2B
0.9
Cottonseed, Meal, Expeller
25-30
28B645HW
3A-3B
0.5
Cottonseed, Meal Extracted
35-40
37B645HW
1A-1B
0.5
Cottonseed, Meats, Dry
40
40B635HW
1A-1B
0.6
Cottonseed, Meats, Rolled
40-50
45D345HW
1A-1B
0.6
Cracklings, Crushed
40-50
45D345HW
2A-2B-2C
1.3
Cryolite, Dust
75-90
83A10036L
2D
2
Cryolite, Lumpy
90-110
100D1636
2D
2.1
Cullet, Fine
80-120
100C1/237
3D
2
Cullet, Lump
80-120
100D1637
3D
2.5
Culm (See Coal, Anthracite)
--
--
--
--
Cupric Sulphate (Copper Sulfate)
--
--
--
--
Detergent (See Soap Detergent)
--
--
--
--
Diatomaceous Earth
11-17
14A4036Y
3D
1.6
Dicalcium Phosphate
40-50
45A4035
1A-1B-1C
1.6
Disodium Phosphate
25-31
28A4035
3D
0.5
Distiller's Grain-Spent Dry
30
30B635
2D
0.5
Distiller's Grain-Spent Wet
40-60
50C1/245V
3A-3B
0.8
Dolomite, Crushed
80-100
90C1/236
2D
2
Dolomite, Lumpy
90-100
95DX36
2D
2
Earth, Loam, Dry, Loose
76
76C1/235
1A-1B-1C
0.8
Ebonite, Crushed
63-70
67C1/235
1A-1B-1C
0.8
Egg Powder
16
16A4035MPY
1B
1
Epsom Salts (Magnesium Sulfate)
40-50
45A4035U
1A-1B-1C
0.8
Feldspar, Ground
65-80
73A10037
2D
2
Feldspar, Lumps
90-100
95D737
2D
2
Feldspar, Powder
100
100A20036
2D
2
Iron Oxide, Millscale
75
75C1/236
2D
1.6
Iron Pyrites (See Ferrous Sulfide)
--
--
--
--
Iron Sulphate (See Ferrous Sulfate)
--
--
--
--
Iron Sulfide (See Ferrous Sulfide)
--
--
--
--
Iron Vitriol (See Ferrous Sulfide)
--
--
--
--
Kafir (Corn)
40-45
43C1/225
3D
0.5
Kaolin Clay
63
63D325
2D
2
Kaolin Clay-Tale
42-56
49A4035LMP
2D
2
Kryalith (See Cryolite)
--
--
--
--
Lactose
32
32A4035PU
1B
0.6
Lamp Black (See Carbon Black)
--
--
--
--
Lead Arsenate
72
72A4035R
1A-1B-1C
1.4
Lead Arsenite
72
72A4035R
1A-1B-1C
1.4
Lead Carbonate
240-260
250A4035R
2D
1
Lead Ore- 1/8"
200-270
235B635
3D
1.4
Lead Ore- 1/2"
180-230
205C1/236
3D
1.4
Lead Oxide (Red Lead)-100 Mesh
30-150
90A10035P
2D
1.2
Lead Oxide (Red Lead)-200 Mesh
30-180
105A20035LP
2D
1.2
Lead Sulphide - 100 Mesh
240-260
250A10035R
2D
--
Lignite (See Coal Lignite)
--
--
--
--
Limanite, Ore, Brown
120
120C1/247
3D
1.7
Lime, Ground, Unslacked
60-65
63B635U
1A-1B-1C
0.6
Lime Hydrated
40
40B635LM
2D
0.8
Lime, Hydrated, Pulverized
32-40
36A4035LM
1A-1B
0.6
Lime, Pebble
53-56
55C1/225HU
2A-2B
2
Limestone, Agricultural
68
68B835
2D
2
Limestone, Crushed
85-90
88DX36
2D
2
Limestone, Dust
55-95
75A4046MY
2D
1.6-2.0
Lindane (Benzene Hexachloride)
--
--
--
--
Linseed (See Flaxseed)
--
--
--
--
Litharge (Lead Oxide)
--
--
--
--
Lithopone
45-50
48A32535MR
1A-1B
1
Feldspar, Screenings
75-80
78C1/237
2D
2
Ferrous Sulfide- 1/2"
120-135
128C1/226
1A-1B-1C
2
Ferrous Sulfide- 100M
105-120
113A10036
1A-1B-1C
2
Ferrous Sulphate
50-75
63C1/235U
2D
1
Fish Meal
35-40
38C1/245HP
1A-1B-1C
1
Fish Scrap
40-50
45D745H
2A-2B-2C
1.5
Flaxseed
43-45
44B635X
1A-1B-1C
0.4
Flaxseed Cake (Linseed Cake)
48-50
49D745W
2A-2B
0.7
Flaxseed Meal (Linseed Meal)
25-45
35B645W
1A-1B
0.4
Flour Wheat
33-40
37A4045LP
1B
0.6
Flue Dust, Basic Oxygen Furnace
45-60
53A4036LM
3D
3.5
Flue Dust, Blast Furnace
110-125
118A4036
3D
3.5
Flue Dust, Boiler H. Dry
30-45
38A4036LM
3D
2
Fluorspar, Fine (Calcium Fluoride)
80-100
90B636
2D
2
Fluorspar, Lumps
90-110
100D736
2D
2
Flyash
30-45
38A4036
3D
2
Foundry Sand, Dry (See Sand)
--
--
--
--
Fuller's Earth, Dry, Raw
30-40
35A4025
2D
2
Fuller's Earth, Oily, Spent
60-65
63C1/2450W
3D
2
Fuller's Earth, Calcined
40
40A10025
3D
2
Galena (See Lead Sulfide)
--
--
--
--
Gelatine, Granulated
32
32B335PU
1B
0.8
Gilsonite
37
37C1/235
3D
1.5
Glass, Batch
80-100
90C1/237
3D
2.5
Glue, Ground
40
40B645U
2D
1.7
Glue, Peral
40
40C1/235U
1A-1B-1C
0.5
Glue, Veg. Powdered
40
40A4045U
1A-1B-1C
0.5
Gluten, Meal
40
40B635P
1B
0.6
Granite, Fine
80-90
85C1/227
3D
2.5
Grape, Pomace
15-20
18D345U
2D
1.4
Graphite Flake
40
40B625LP
1A-1B-1C
0.5
Graphite Flour
28
28A10035LMP
1A-1B-1C
0.5
Graphite Ore
65-75
70DX35L
2D
1
Guano, Dry*
70
70C1/235
3A-3B
2
Gypsum, Calcined
55-60
58B635U
2D
1.6
Maize (See Milo)
--
--
--
--
Malt, Dry, Ground
20-30
25B63NP
1A-1B-1C
0.5
Malt, Dry, Whole
20-30
25C1/235N
1A-1B-1C
0.5
Malt, Meal
36-40
38B625P
1A-1B-1C
0.4
Malt, Sprouts
13-15
14C1/235P
1A-1B-1C
0.4
Magnesium Chloride (Magnesite)
33
33C1/245
1A-1B
1
Manganese Dioxide*
70-85
78A10035NRT
2A-2B
1.5
Manganese Ore
125-140
133Dx37
3D
2
Manganese Oxide
120
120A10036
2D
2
Manganese Sulfate
70
70C1237
3D
2.4
Marble, Crushed
80-95
88B637
3D
2
Marl, (Clay)
80
80Dx36
2D
1.6
Meat, Ground
50-55
53E45HQTX
2A-2B
1.5
Meat, Scrap (with bone)
40
40E46H
2D
1.5
Mica, Flakes
17-22
20B616MY
2D
1
Mica, Ground
13-15
14B636
2D
0.9
Mica, Pulverized
13-15
14A10036M
2D
1
Milk, Dried, Flake
5-6
6B635PUY
1B
0.4
Milk, Malted
27-30
29A4045PX
1B
0.9
Milk, Powdered
20-45
33B625PM
1B
0.5
Milk, Sugar
32
32A10035PX
1B
0.6
Milk, Whole Powdered
20-36
28B635PUX
1B
0.5
Mill Scale (Steel)
120-125
123E46T
3D
3
Milo Ground
32-36
34B625
1A-1B-1C
0.5
Milo Maize (Kafir)
40-45
43B615N
1A-1B-1C
0.4
Molybdenite Powder
107
107B626
2D
1.5
Monosodium Phosphate
50
50B636
2D
0.6
Mortar, Wet*
150
150E46T
3D
3
Mustard Seed
45
45B615N
1A-1B-1C
0.4
Naphthalene Flakes
45
45B635
1A-1B-1C
0.7
Niacin (Nicotinic Acid)
35
35A4035P
2D
0.8
Oat Hulls
8-12
10B635NY
1A-1B-1C
0.5
Oats
26
26C1/225MN
1A-1B-1C
0.4
Oats, Crimped
19-26
23C1/235
1A-1B-1C
0.5
Oats, Crushed
22
22B645NY
1A-1B-1C
0.6
Gypsum, Calcined, Powdered
60-80
70A10035U
2D
2
Gypsum, Raw - 1"
70-80
75D325
2D
2
Hay, Chopped*
8-12
10C1/235JY
2A-2B
1.6
Hexanedioic Acid (See Adipic Acid)
--
--
--
--
Hominy, Dry
35-50
43C1/225D
1A-1B-1C
0.4
Hops, Spent, Dry
35
35D335
2A-2B-2C
1
Hops, Spent, Wet
50-55
53D345V
2A-2B
1.5
Ice, Crushed
35-54
40D3350
2A-2B
0.4
Ice, Flaked*
40-45
43C1/2350
1B
0.6
Ice Cubes
33-35
34D3350
1B
0.4
Oats Flour
35
35A10035
1A-1B-1C
0.5
Oats, Rolled
19-24
22C1/235NY
1A-1B-1C
0.6
Oleo Margarine (Margarine)
59
59E45HKPWX
2A-2B
0.4
Orange Peel, Dry
15
15E45
2A-2B
1.5
Oxalic Acid Crystals-Ethane Diacid Crystals
60
60B635QS
1A-1B
1
Oyster Shells, Ground
50-60
55C1/236T
3D
1.6-2.0
Oyster Shells, Whole
80
80D336TV
3D
2.1-2.5
Paper Pulp (4% or less)
62
62E45
2A-2B
1.5
Paper Pulp (6% to 15%)
60-62
61E45
2A-2B
1.5
Paraffin Cake - 1/2"
45
45C1/245K
1A-1B
0.6
Peanuts, Clean, in Shell
15-20
18D335Q
2A-2B
0.6
Peanut Meal
30
30B635P
1B
0.6
Peanuts, Raw, Uncleaned (Unshelled)
15-20
18D336Q
3D
0.7
Peanuts, Shelled
35-45
40C1/235Q
1B
0.4
Peas, Dried
45-50
48C1/215NQ
1A-1B-1C
0.5
Perlite-Expanded
8-12
10C1/236
2D
0.6
Phosphate Acid Fertilizer
60
60B625T
2A-2B
1.4
Phosphate Disodium (See Sodium Phosphate)
--
--
--
--
Phosphate Rock, Broken
75-85
80Dx36
2D
2.1
Phosphate Rock, Pulverized
60
60B636
2D
1.7
Phosphate Sand
90-100
95B637
3D
2
Plaster of Paris (See Gypsum)
--
--
--
--
Plumbago (See Graphite)
--
--
--
--
Slate, Ground-1/8"
82-85
84B636
2D
1.6
Sludge, Sewage, Dried
40-50
45E47TW
3D
0.8
Sludge, Sewage, Dry Ground
45-55
50B46S
2D
0.8
Soap, Beads or Granules
15-35
25B635Q
1A-1B-1C
0.6
Soap, Chips
15-25
20C1/235Q
1A-1B-1C
0.6
Soap, Beads or Granules
15-35
26B63Q
1A-1B-1C
0.6
Soap, Chips
15-25
20C1/235Q
1A-1B-1C
0.6
Soap Detergent
15-50
33B635FQ
1A-1B-1C
0.8
Soap, Flakes
5-15
10B635QXY
1A-1B-1C
0.6
Soap, Powder
20-25
23B625X
1A-1B-1C
0.9
Soapstone, Talc, Fine
40-50
45A10045XY
1A-1B-1C
2
Soda Ash, Heavy
55-65
60B636
2D
1
Soda Ash, Light
20-35
28A4036Y
2D
0.8
Sodium Aluminate, Ground
72
72B636
2D
1
Sodium Aluminum Fluoride (See Kryolite)
--
--
--
--
Sodium Aluminum Sulphate*
75
75A10036
2D
1
Polystyrene Beads
40
40B635PQ
1B
0.4
Polyvinyl, Chloride Powder
20-30
25A10045KT
2B
1
Polyvinyl, Chloride Pellets
20-30
25E45KPQT
1B
0.6
Polyethylene, Resin Pellets
30-35
33C1/245Q
1A-1B
0.4
Potash (Muriate) Dry
70
70B637
3D
2
Potash (Muriate) Mine Run
75
75Dx37
3D
2.2
Potassium Carbonate
51
51B636
2D
1
Potassium Chloride Pellets
120-130
125C1/225TU
3D
1.6
Potassium Nitrate-1/2"
76
76C1/216NT
3D
1.2
Potassium Nitrate-1/8"
80
80B626NT
3D
1.2
Potassium Sulfate
42-48
45B646X
2D
1

Potato Flour
48
4BA20035MNP
1A-1B
0.5
Pumice-1/8"
42-48
45B646
3D
1.6
Pyrite, Pellets
120-130
125C1/226
3D
2
Quartz-100 Mesh
70-80
75A10027
3D
1.7
Quartz-1/2"
80-90
85C1/227
3D
2
Rice, Bran
20
20B635NY
1A-1B-1C
0.4
Rice, Grits
42-45
44B635P
1A-1B-1C
0.4
Rice, Polished
30
30C1/215P
1A-1B-1C
0.4
Rice, Hulled
45-49
47C1/225P
1A-1B-1C
0.4
Rice, Hulls
20-21
21B635NY
1A-1B-1C
0.4
Rice, Rough
32-36
34C/1245N
1A-1B-1C
0.6
Rossin-1/2"
65-68
67C1/245Q
1A-1B-1C
1.5
Rubber, Reclaimed Ground
23-50
37C1/245
1A-1B-1C
0.8
Rubber, Pelleted
50-55
53D345
2A-2B-2C
1.5
Rye
42-48
45B615N
1A-1B-1C
0.4
Rye Bran
15-20
18B635Y
1A-1B-1C
0.4
Rye Feed
33
33B635N
1A-1B-1C
0.5
Rye Meal
35-40
38B635
1A-1B-1C
0.5
Rye Middlings
42
42B635
1A-1B
0.5
Rye, Shorts
32-33
33C1/235
2A-2B
0.5
Safflower, Cake
50
50D326
2D
0.6
Safflower, Meal
50
50B635
1A-1B-1C
0.6
Sodium Bentonite (See Bentonite)
--
--
--
--
Sodium Bicarbonate (See Baking Soda)
--
--
--
--
Sodium Chloride (See Salt)
--
--
--
--
Sodium Carbonate (See Soda Ash)
--
--
--
--
Sodium Hydrate (See Caustic Soda)
--
--
--
--
Sodium Hydroxide (See Caustic Soda)
--
--
--
--
Sodium Borate (See Borax)
--
--
--
--
Sodium Nitrate
70-80
75D325NS
2A-2B
1.2
Sodium Phosphate
50-60
55A35
1A-1B
0.9
Sodium Sulfate (See Salt Cake)
--
--
--
--
Sodium Sulfite
96
96B646X
2D
1.5
Sorghum Seed (See Kalf or Milo)
--
--
--
--
Soybean Meal, Cold
40
40B635
1A-1B-1C
0.5
Soybean Meal, Hot
40
40B635T
2A-2B
0.5
Soybean, Cake
40-43
42D335W
2A-1B-1C
1
Soybean, Cracked
30-40
35C1/236NW
2D
0.5
Soybean, Flake, Raw
18-25
22C1/235Y
1A-1B-1C
0.8

Soybean, Flour
27-30
29A4035MN
1A-1B-1C
0.8
Soybeans Whole
45-50
48C1/226NW
1A-1B-1C
1
Starch
25-50
38A4015M
1A-1B-1C
1
Steel Turnings, Crushed
100-150
125D346WV
3D
3
Sugar Beet, Pulp, Dry
12-15
14C1/226
2D
0.9
Sugar Beet, Pulp, Wet
25-45
35C1/235X
1A-1B-1C
1.2
Sugar, Powdered
50-60
55A10035PX
1B
0.8
Sugar, Raw
55-65
60B635PX
1B
1.5
Sugar, Refined Granulated Dry
50-55
53B635PU
1B
1.2
Sugar, Refined Granulated Wet
55-65
60C1/235X
1B
2
Sulphur, Crushed,-1/2"
50-60
55C1/235N
1A-1B
0.8
Sulphur, Lumpy,-3"
80-85
83D335N
2A-2B
0.8
Sulphur, Powdered
50-60
55A4035MN
1A-1B
0.6
Sunflower Seed
19-38
29C1/215
1A-1B-1C
0.5
Talcum Powder
50-60
55A20036M
2D
0.8
Talcum,-1/2"
80-90
85C1/236
2D
0.9
Safflower Seed
45
45B615N
1A-1B-1C
0.4
Saffron (See Safflower)
--
--
--
--
Sal Ammoniac (Ammonium Chloride)
--
--
--
--
Salt Cake, Dry Coarse
85
85B636TU
3D
2.1
Salt Cake, Dry Pulverized
65-85
75B636TU
3D
1.7
Salicylic Acid
29
29B637U
3D
0.6
Salt, Dry Coarse
45-60
53C1/236TU
3D
1
Salt, Dry Fine
70-80
75B636TU
3D
1.7
Saltpeter- (See Potassium Nitrate)
--
--
--
--
Sand Dry Band (Damp)
110-130
120B647
3D
2.8
Sand Dry Bank (Dry)
90-110
120B647
3D
1.7
Sand Dry Silica
90-100
95B627
3D
2
Sand Foundry (Shake Out)
90-100
95D337Z
3D
2.6
Sand (Resin Coated) Silica
104
104B627
3D
2
Sand (Resin Coated) Zircon
115
115A10027
3D
2.3
Sawdust, Dry
10-13
12B645UX
1A-1B-1C
0.7
Sea-Coal
65
65V636
2D
1
Sesame Seed
27-41
34B626
2D
2
Shale, Crushed
85-90
88C1/236
2D
2
Shellac, Powdered or Granulated
31
31B635P
1B
0.6
Silicon dioxide (See Quartz)
--
--
--
--
Silica, Flour
80
80A4046
2D
1.5
Silica Gel + 1/2" -3"
45
45D337HKQU
3D
2
Slag, Blast Furnace Crushed
130-180
155D337Y
3D
2.5
Slag, Furnace Granular, Dry
60-85
63C1/237
3D
2.2
Slate, Crushed,-1/2"
80-90
85C1/236
2D
2
Tanbark, Ground*
55
55B646
1A-1B-1C
0.7
Timothy Seed
36
36B635NY
1A-1B-1C
0.6
Titanium Dioxide (See IImenite Ore)
--
--
--
--
Tobacco, Scraps
15-25
20D345Y
2A-2B
0.8
Tobacco, Snuff
30
30B645MQ
1A-1B-1C
0.9
Tricalcium Phosphate
40-50
45A4045
1A-1B
1.6
Triple Super Phosphate
50-55
53B636RS
3D
2
Trisodium Phosphate
60
60C1/236
2D
1.7
Trisodium Phosphate Granular
60
60B636
2D
1.7
Trisodium Phosphate, Pulverized
50
50A4036
2D
1.6
Tung Nut Meals, Crushed
28
28D325W
2A-2B
0.8
Tung Nuts
25-30
28D315
2A-2B
0.7
Urea Prills, Coated
43-46
45B625
1A-1B-1C
1.2
Vermiculite, Expanded
16
16C1/235Y
1A-1B
0.5
Vermiculite, Ore
80
80D336
2D
1
Vetch
48
48B616N
1A-1B-1C
0.4
Walnut Shells, Crushed
35-45
40B636
2D
1
Wheat
45-48
47C1/225N
1A-1B-1C
0.4
Wheat, Cracked
40-45
43B625N
1A-1B-1C
0.4
Wheat Germ
18-28
23B625
1A-1B-1C
0.4
White Lead, Dry
75-100
88A4036MR
2D
1
Wood Chips, Screened
10-30
20D345VY
2A-2B
0.6
Wood Flour
16-36
26B635N
1A-1B
0.4
Wood Shavings
8-16
12E45VY
2A-2B
1.5
Zinc, Concentrate Residue
75-8
78B637
3D
1

Zin Oxide, Heavy
30-35
33A10045X
1A-1B
1
Zinc Oxide, Light
10-15
13A10045XY
1A-1B
1