10B Metric Roller Chain Sprockets
10B roller chain sprockets are manufactured for metric 10B roller chain and is manufactured in accordance with ISO, DIN, and BS228 standards. All of our sprockets are precision manufactured from high-quality steel, and the majority of them are black oxide coated, and have hardened teeth on tooth counts 30 or less. Something important to know note is that on tooth counts 31 and up hardened teeth make little to no performance increase, this is why it is not standard. To get a quote on 10B sprockets or for more information please contact us and we will be happy to assist you.

10B A-Plate Sprockets


Sprocket Size
Tooth Count
Pitch Diameter
Stock Bore
Sprocket Weight (kg)
10A12
12
61.34mm
12mm
0.15
10A13
13
66.33mm
12mm
0.19
10A14
14
71.33mm
12mm
0.23
10A15
15
76.36mm
12mm
0.25
10A16
16
81.37mm
12mm
0.31
10A17
17
86.39mm
12mm
0.35
10A18
18
91.42mm
12mm
0.39
10A19
19
96.45mm
12mm
0.43
10A20
20
101.48mm
16mm
0.48
10A21
21
106.51mm
16mm
0.51
10A22
22
111.55mm
16mm
0.59
10A23
23
116.59mm
16mm
0.65
10A24
24
121.62mm
15mm
0.68
10A25
25
126.66mm
15mm
0.73
10A26
26
131.70mm
15mm
0.78
10A27
27
136.74mm
18mm
0.89
10A28
28
141.79mm
18mm
0.93
10A29
29
146.86mm
18mm
1.07
10A30
30
151.87mm
18mm
1.15
10A31
31
156.92mm
18mm
1.23

10A32
32
161.96mm
18mm
1.27
10A33
33
167.01mm
18mm
1.42
10A34
34
172.05mm
18mm
1.45
10A35
35
177.10mm
18mm
1.51
10A36
36
172.15mm
18mm
1.73
10A37
37
187.19mm
18mm
1.81
10A38
38
192.24mm
18mm
1.88
10A39
39
197.29mm
18mm
2.00
10A40
40
202.33mm
18mm
2.02
10A41
41
207.38mm
18mm
2.20
10A42
42
212.43mm
18mm
2.26
10A43
43
217.48mm
18mm
2.38
10A44
44
222.53mm
18mm
2.46
10A45
45
227.58mm
18mm
2.69
10A46
46
232.63mm
18mm
2.91
10A47
47
237.68mm
18mm
2.95
10A48
48
242.73mm
24mm
2.98
10A49
49
247.78mm
24mm
3.20
10A50
50
252.82mm
24mm
3.22
10A51
51
257.87mm
24mm
3.32
10A52
52
262.92mm
24mm
3.62
10A53
53
267.97mm
24mm
3.67
10A54
54
273.03mm
24mm
3.76
10A55
55
278.08mm
24mm
3.88
10A56
56
283.13mm
24mm
4.04
10A57
57
288.18mm
24mm
4.25
10A58
58
293.23mm
24mm
4.67
10A59
59
298.28mm
24mm
4.76
10A60
60
303.33mm
24mm
4.90
10A70
70
353.84mm
24mm
6.35
10A72
72
363.94mm
24mm
6.91
10A76
76
384.15mm
24mm
9.11
10A80
80
404.36mm
24mm
9.53
10A84
84
424.57mm
24mm
10.02
10A95
95
480.14mm
24mm
12.25
10A96
96
485.19mm
24mm
12.43
10A112
112
566.03mm
24mm
17.10
10A114
114
576.13mm
24mm
17.84
10B B-Hub Sprockets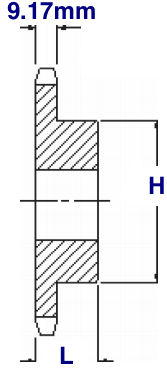 Sprocket Size
Tooth Count
Pitch Diameter
Stock Bore
Max. Bore
Hub Diameter (H)
Length Thru Bore (L)
Weight (kg)
10B8
8
41.48mm
12mm
16mm
22mm
25mm
0.09
10B9
9
46.42mm
12mm
19mm
27mm
25mm
0.14
10B10
10
51.37mm
12mm
22mm
32mm
25mm
0.23
10B11
11
56.35mm
12mm
25mm
37mm
25mm
0.27
10B12
12
61.34mm
12mm
32mm
43mm
25mm
0.32
10B13
13
66.33mm
12mm
33mm
48mm
25mm
0.36
10B14
14
71.34mm
12mm
36mm
53mm
25mm
0.45
10B15
15
76.36mm
12mm
38mm
57mm
25mm
0.59
10B16
16
81.37mm
12mm
44mm
63mm
25mm
0.68
10B17
17
86.39mm
12mm
47mm
67mm
25mm
0.82
10B18
18
91.42mm
12mm
48mm
73mm
25mm
0.91
10B19
19
95.45mm
16mm
51mm
76mm
25mm
1.04
10B20
20
101.48mm
16mm
51mm
76mm
25mm
1.13
10B21
21
106.51mm
16mm
51mm
76mm
25mm
1.18
10B22
22
111.55mm
16mm
51mm
76mm
25mm
1.27
10B23
23
116.59mm
16mm
51mm
76mm
25mm
1.45
10B24
24
121.62mm
16mm
51mm
76mm
32mm
1.50
10B25
25
126.66mm
16mm
51mm
76mm
32mm
1.59
10B26
26
131.70mm
16mm
51mm
76mm
32mm
1.63
10B27
27
136.74mm
19mm
51mm
76mm
32mm
1.68
10B28
28
141.79mm
19mm
51mm
76mm
32mm
1.72
10B29
29
146.83mm
19mm
51mm
76mm
32mm
1.91
10B30
30
151.87mm
19mm
57mm
32mm
32mm
2.04
10B31
31
156.92mm
19mm
57mm
32mm
32mm
2.13
10B32
32
161.96mm
19mm
57mm
32mm
32mm
2.27
10B33
33
167.01mm
19mm
57mm
32mm
32mm
2.33
10B34
34
172.05mm
19mm
57mm
32mm
32mm
2.36
10B35
35
177.10mm
19mm
57mm
32mm
32mm
2.48
10B36
36
182.15mm
19mm
57mm
32mm
32mm
2.56
10B37
37
187.19mm
19mm
57mm
32mm
32mm
2.68
10B38
38
192.24mm
19mm
57mm
32mm
32mm
2.72
10B39
39
197.29mm
19mm
57mm
32mm
32mm
2.86
10B40
40
202.33mm
19mm
57mm
32mm
32mm
2.95
10B41
41
207.38mm
19mm
57mm
32mm
32mm
3.01
10B42
42
212.43mm
19mm
57mm
32mm
32mm
3.16
10B43
43
217.48mm
19mm
57mm
32mm
32mm
3.20
10B44
44
222.53mm
19mm
57mm
32mm
32mm
3.44
10B45
45
227.58mm
19mm
64mm
32mm
32mm
3.73
10B46
46
232.63mm
19mm
64mm
32mm
32mm
3.85
10B47
47
237.68mm
19mm
64mm
32mm
32mm
3.89
10B48
48
242.73mm
25mm
64mm
32mm
32mm
4.18
10B49
49
247.87mm
25mm
64mm
32mm
32mm
4.21
10B50
50
252.82mm
25mm
64mm
32mm
32mm
4.40
10B51
51
257.87mm
25mm
64mm
32mm
32mm
4.48
10B52
52
262.92mm
25mm
64mm
32mm
32mm
4.64
10B53
53
267.97mm
25mm
64mm
32mm
32mm
4.75
10B54
54
273.03mm
25mm
64mm
32mm
32mm
4.86
10B55
55
278.08mm
25mm
64mm
32mm
32mm
4.96
10B56
56
283.13mm
25mm
64mm
32mm
32mm
5.22
10B57
57
288.18mm
25mm
64mm
32mm
32mm
5.27
10B58
58
293.23mm
25mm
64mm
32mm
32mm
5.36
10B59
59
298.28mm
25mm
64mm
32mm
32mm
5.59
10B60
60
303.33mm
25mm
64mm
32mm
32mm
5.90
10B70
70
353.84mm
25mm
64mm
44mm
44mm
8.24
10B72
72
363.94mm
25mm
64mm
44mm
44mm
8.84
10B76
76
384.15mm
25mm
64mm
44mm
44mm
11.03
10B80
80
404.36mm
25mm
70mm
44mm
44mm
11.22
10B84
84
424.57mm
25mm
70mm
44mm
44mm
11.57
10B95
95
480.14mm
25mm
70mm
44mm
44mm
14.57
10B96
96
485.19mm
25mm
70mm
44mm
44mm
14.93
10B112
112
566.03mm
25mm
70mm
44mm
44mm
19.05
10B114
114
576.13mm
25mm
70mm
44mm
44mm
20.61
10B Taper Bushed Sprockets

Sprocket Size
Tooth Count
Pitch Diameter
Bushing Size
Max. Bushing Bore
(L)
(C)
Sprocket Weight (kg)
Bushing Weight (kg)
10BTB12H
12
61.34mm
1008
25.40mm
22.23mm
49.20mm
0.23
0.14
10BTB13H
13
66.33mm
1008
25.40mm
22.23mm
46.02mm
0.23
0.14
10BTB14H
14
71.34mm
1008
25.40mm
22.23mm
49.20mm
0.27
0.14
10BTB15H
15
76.35mm
1210
31.75mm
24.40mm
62.69mm
0.32
0.27
10BTB16H
16
81.37mm
1610
41.28mm
24.40mm
70.64mm
0.41
0.41
10BTB17H
17
86.39mm
1610
41.28mm
24.40mm
70.64mm
0.41
0.41
10BTB18H
18
91.42mm
1610
41.28mm
24.40mm
70.64mm
0.41
0.41
10BTB19H
19
96.45mm
1610
41.28mm
24.40mm
76.20mm
0.64
0.41
10BTB20H
20
101.48mm
1610
41.28mm
24.40mm
76.20mm
0.68
0.41
10BTB21H
21
106.51mm
1610
41.28mm
24.40mm
76.20mm
0.73
0.41
10BTB22H
22
111.55mm
1610
41.28mm
24.40mm
76.20mm
0.78
0.41
10BTB23H
23
116.59mm
2012
50.80mm
31.75mm
90.47mm
0.82
0.77
10BTB24H
24
121.62mm
2012
50.80mm
31.75mm
90.47mm
0.91
0.77
10BTB25H
25
126.66mm
2012
50.80mm
31.75mm
90.47mm
1.09
0.77
10BTB26H
26
131.70mm
2012
50.80mm
31.75mm
90.47mm
1.14
0.77
10BTB27H
27
136.74mm
2012
50.80mm
31.75mm
90.47mm
1.18
0.77
10BTB28H
28
141.79mm
2012
50.80mm
31.75mm
90.47mm
1.29
0.77
10BTB29H
29
161.96mm
2012
50.80mm
31.75mm
90.47mm
1.41
0.77
10BTB30H
30
151.87mm
2012
50.80mm
31.75mm
90.47mm
1.63
0.77
10BTB32
32
161.96mm
2012
50.80mm
31.75mm
90.47mm
1.91
0.77
10BTB35
35
177.10mm
2012
50.80mm
31.75mm
90.47mm
1.95
0.77
10BTB36
36
182.15mm
2012
50.80mm
31.75mm
90.47mm
2.22
0.77
10BTB38
38
192.24mm
2012
50.80mm
31.75mm
90.47mm
2.36
0.77
10BTB40
40
202.33mm
2012
50.80mm
31.75mm
90.47mm
2.68
0.77
10BTB42
42
212.43mm
2012
50.80mm
31.75mm
90.47mm
2.95
0.77
10BTB45
45
227.58mm
2012
50.80mm
31.75mm
90.47mm
3.31
0.77
10BTB48
48
242.73mm
2012
50.80mm
31.75mm
90.47mm
4.08
0.77
10BTB54
54
273.03mm
2012
50.80mm
31.75mm
90.47mm
4.59
0.77
10BTB57
57
288.18mm
2012
50.80mm
31.75mm
90.47mm
4.90
0.77
10BTB60
60
303.33mm
2012
50.80mm
31.75mm
90.47mm
6.35
0.77
10BTB70
70
383.54mm
2517
63.50mm
44.45mm
107.95mm
7.03
107.95
10BTB72
72
363.94mm
2517
63.50mm
44.45mm
107.95mm
8.31
107.95
10BTB76
76
384.15mm
2517
63.50mm
44.45mm
107.95mm
8.85
107.95
10BTB80
80
404.36mm
2517
63.50mm
44.45mm
107.95mm
10.21
107.95
10BTB84
84
424.57mm
2517
63.50mm
44.45mm
107.95mm
12.76
107.95
10BTB95
95
480.14mm
2517
63.50mm
44.45mm
107.95mm
13.15
107.95
10BTB96
96
485.19mm
2517
63.50mm
44.45mm
107.95mm
19.61
107.95
We offer a full line of high quality 10B chain sprockets right off the shelf and at great pricing. In addition to the sprockets we also have 10B-1 Roller chain available. 10B chain sprockets are available as A-Plates, B-Hubs, or Bushed style, and are supplied as standard steel, stainless steel, or plastic upon request. If you don't see the sprocket or items you need on our website or if you are needing pricing and availability, please contact us and we will be happy to assist you.


Phone: (407) 347-3519

Email:
sales@usarollerchain.com
Click Here To See Our Other Products!