#140 Roller Chain Sprockets
140 A-Plate Sprockets

Sprocket Size
Tooth Count
Outside Diameter
Stock Bore
Weight (LBS)
140A11
11
7.010"
1-1/2"
5.0
140A12
12
7.580"
1-1/2"
7.8
140A13
13
8.150"
1-1/2"
8.2
140A14
14
8.720"
1-1/2"
10.0
140A15
15
9.280"
1-1/2"
11.0
140A16
16
9.850"
1-1/2"
14.0
140A17
17
10.410"
1-1/2"
16.0
140A18
18
10.980"
1-1/2"
18.0
140A19
19
11.540"
1-1/2"
21.0
140A20
20
12.100"
1-1/2"
23.0
140A21
21
12.660"
1-1/2"
25.0
140A22
22
13.220"
1-1/2"
28.0
140A23
23
13.780"
1-1/2"
30.0
140A24
24
14.340"
1-1/2"
33.0
140A25
25
14.900"
1-1/2"
34.0
140A26
26
15.460"
1-1/2"
39.0
140A27
27
16.020"
1-1/2"
41.0
140A28
28
16.580"
1-1/2"
45.0
140A30
30
17.700"
1-1/2"
52.0
140A31
31
18.260"
1-1/2"
56.0
140A32
32
18.820"
1-1/2"
60.0
140A35
35
20.490"
1-1/2"
73.0
140A36
36
21.050"
1-1/2"
77.0
140A40
40
23.290"
1-1/2"
93.0
140A45
45
26.080"
1-1/2"
131.0
140A48
48
27.750"
1-1/2"
134.0
140A54
54
31.100"
1-1/2"
173.0
140A60
60
34.440"
1-1/2"
219.0
140A70
70
40.020"
1-1/2"
292.0
140A80
80
45.590"
1-1/2"
402.0
140 B-Hub Sprockets

Sprocket Size
Tooth Count
Outside Diameter
Stock Bore
Maximum Recommended Bore
Hub Diameter
Length Thru Bore
Weight (LBS)
140B11
11
7.010"
1-1/2"
2-3/4"
4-1/4"
2-1/4"
11.3
140B12
12
7.580"
1-1/2"
3"
4-1/2"
2-1/4"
13.2
140B13
13
8.150"
1-1/2"
3-9/16"
5-5/16"
2-3/8"
18.9
140B14
14
8.720"
1-1/2"
3-3/4"
5-1/2"
2-3/8"
20.4
140B15
15
9.280"
1-1/2"
4-1/4"
6-1/4"
2-3/8"
25.1
140B16
16
9.850"
1-1/2"
4-1/4"
6-1/4"
2-1/2"
27.9
140B17
17
10.410"
1-1/2"
4-1/4"
6-1/4"
2-1/2"
29.8
140B18
18
10.980"
1-1/2"
4-1/4"
6-1/4"
2-1/2"
32.0
140B19
19
11.540"
1-1/2"
4-1/4"
6-1/4"
2-1/2"
34.1
140B20
20
12.100"
1-1/2"
4-1/4"
6-1/4"
2-1/2"
36.0
140B21
21
12.660"
1-1/2"
4-1/4"
6-1/4"
2-1/2"
38.7
140B22
22
13.220"
1-1/2"
4-1/4"
6-1/4"
2-1/2"
40.6
140B23
23
13.780"
1-1/2"
4-1/4"
6-1/4"
2-1/2"
42.1
140B24
24
14.340"
1-1/2"
4-1/4"
6-1/4"
2-1/2"
46.2
140B25
25
14.900"
1-1/2"
4-1/4"
6-1/4"
2-1/2"
47.8
140B26
26
15.460"
1-1/2"
4-1/4"
6-1/4"
3"
57.2
140B27
27
16.020"
1-1/2"
4-1/4"
6-1/4"
3"
58.5
140B28
28
16.580"
1-1/2"
4-1/4"
6-1/4"
3"
62.2
140B30
30
17.700"
1-1/2"
4-1/4"
6-1/4"
3"
69.8
140B32
32
18.820"
1-1/2"
4-1/4"
6-1/4"
3"
76.3
140 C-Hub Sprockets

Sprocket Size
Tooth Count
Outside Diameter
Stock Bore
Maximum Recommended Bore
Hub Diameter
Length Thru Bore
Weight (LBS)
140C35
35
20.490"
1-1/2"
5-1/4"
7"
4"
108.0
140C40
40
23.290"
1-1/2"
5-1/4"
7"
4"
121.0
140C45
45
26.080"
1-1/2"
5-1/4"
7"
4"
142.0
140C48
48
27.750"
1-1/2"
5-1/4"
7"
4"
150.0
140C54
54
31.100"
1-1/2"
5-1/4"
7"
4"
177.0
140C60
60
34.440"
1-1/2"
5-1/4"
7"
5"
220.0
140C70
70
40.020"
1-1/2"
5-3/8"
7-1/2"
5"
282.0
140C80
80
45.590"
1-1/2"
5-3/8"
7-1/2"
5"
331.0
140 QD (quick detachable) Sprockets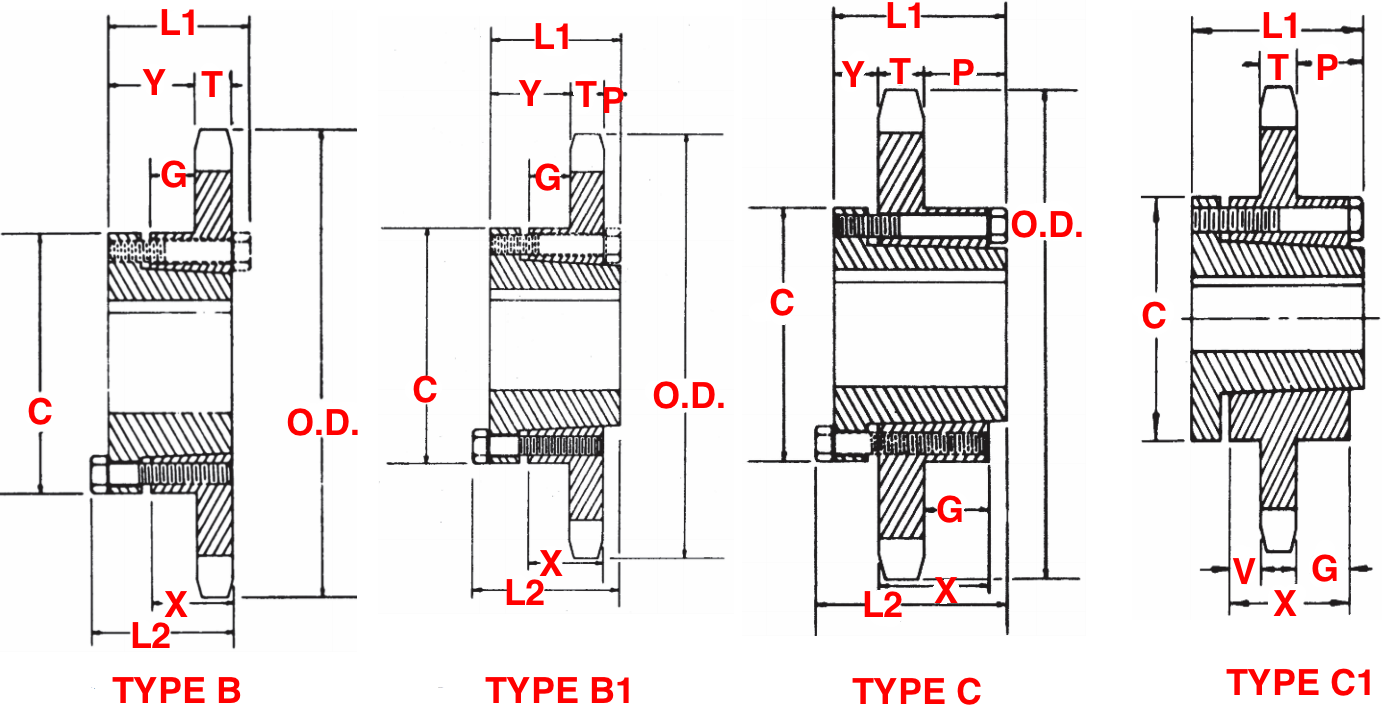 Sprocket Size
Bushing Size
Outside Diameter
Pitch Diameter
Type
Max. Bushing Bore
L1
L2
C
Y
P
G
V
X
T
Weight (LBS)
140SF11
SF
7.010"
6.212"
B
2-15/16"
2-1/4"
2-1/4"
4-5/8"
1-5/64"
-
21/64"
-
1-1/4"
0.924"
8.6
140SF12
SF
7.580"
6.762"
B
2-15/16"
2-1/4"
2-1/4"
4-5/8"
1-5/64"
-
21/64"
-
1-1/4"
0.924"
10.4
140SF13
SF
8.150"
7.313"
B
2-15/16"
2-1/4"
2-1/4"
4-5/8"
1-5/64"
-
21/64"
-
1-1/4"
0.924"
11.9
140E14
E
8.720"
7.864"
B1
3-1/2"
2-5/8"
2-15/16"
6"
1-9/16"
1/8"
45/64"
-
1-5/8"
0.924"
21.6
140E15
E
9.280"
8.417"
B1
3-1/2"
2-5/8"
2-15/16"
6"
1-9/16"
1/8"
45/64"
-
1-5/8"
0.924"
24.2
140E16
E
9.850"
8.970"
B1
3-1/2"
2-5/8"
2-15/16"
6"
1-9/16"
1/8"
45/64"
-
1-5/8"
0.924"
25.9
140E17
E
10.410"
9.850"
B1
3-1/2"
2-5/8"
2-15/16"
6"
1-9/16"
1/8"
45/64"
-
1-5/8"
0.924"
28.0
140E18
E
10.980"
10.078"
B1
3-1/2"
2-5/8"
2-15/16"
6"
1-9/16"
1/8"
45/64"
-
1-5/8"
0.924"
29.6
140E19
E
11.540"
10.632"
B1
3-1/2"
2-5/8"
2-15/16"
6"
1-9/16"
1/8"
45/64"
-
1-5/8"
0.924"
32.0
140E20
E
12.100"
11.187"
B1
3-1/2"
2-5/8"
2-15/16"
6"
1-9/16"
1/8"
45/64"
-
1-5/8"
0.924"
34.6
140E21
E
12.660"
11.742"
B1
3-1/2"
2-5/8"
2-15/16"
6"
1-9/16"
1/8"
45/64"
-
1-5/8"
0.924"
37.6
140E22
E
13.220"
12.297"
B1
3-1/2"
2-5/8"
2-15/16"
6"
1-9/16"
1/8"
45/64"
-
1-5/8"
0.924"
39.5
140F23
F
13.780"
12.852"
B1
3-15/16"
3-5/8"
4"
6-5/8"
2-9/16"
1/8"
1-37/64"
-
2-1/2"
0.924"
48.0
140F24
F
14.340"
13.407"
B1
3-15/16"
3-5/8"
4"
6-5/8"
2-9/16"
1/8"
1-37/64"
-
2-1/2"
0.924"
51.6
140F25
F
14.900"
13.963"
B1
3-15/16"
3-5/8"
4"
6-5/8"
2-9/16"
1/8"
1-37/64"
-
2-1/2"
0.924"
53.8
140F26
F
15.460"
14.518"
B1
3-15/16"
3-5/8"
4"
6-5/8"
2-9/16"
1/8"
1-37/64"
-
2-1/2"
0.924"
58.0
140F30
F
17.700"
16.742"
B1
3-15/16"
3-5/8"
4"
6-5/8"
2-9/16"
1/8"
1-37/64"
-
2-1/2"
0.924"
72.0
140F35
F
20.490"
19.523"
C
3-15/16"
3-5/8"
4"
6-5/8"
1"
1-11/16"
1-37/64"
-
2-1/2"
0.924"
89.5
140F36
F
21.050"
20.079"
C
3-15/16"
3-5/8"
4"
6-5/8"
1"
1-11/16"
1-37/64"
-
2-1/2"
0.924"
95.5
140J40
J
23.290"
22.305"
C
4-7/16"
4-1/2"
5"
7-1/4"
1-3/16"
2-3/8"
2-17/64"
-
3-3/16"
0.924"
117.0
140J45
J
26.080"
25.087"
C
4-7/16"
4-1/2"
5"
7-1/4"
1-3/16"
2-3/8"
2-17/64"
-
3-3/16"
0.924"
139.0
140J48
J
27.750"
26.757"
C
4-7/16"
4-1/2"
5"
7-1/4"
1-3/16"
2-3/8"
2-17/64"
-
3-3/16"
0.924"
148.0
140J54
J
31.100"
30.097"
C
4-7/16"
4-1/2"
5"
7-1/4"
1-3/16"
2-3/8"
2-17/64"
-
3-3/16"
0.924"
168.0
140J60
J
34.440"
33.438"
C
4-7/16"
4-1/2"
5"
7-1/4"
1-3/16"
2-3/8"
2-17/64"
-
3-3/16"
0.924"
205.0
140M70
M
40.020"
39.006"
C1
5-1/2"
6-3/4"
6-3/4"
9"
2-29/32"
2-29/32"
2-17/32"
1-13/32"
5-3/16"
0.924"
301.0
140M80
M
45.590"
44.575"
C1
5-1/2"
6-3/4"
6-3/4"
9"
2-29/32"
2-29/32"
2-17/32"
1-13/32"
5-3/16"
0.924"
385.0
140 Taper Bushed Sprockets

Sprocket Size
Tooth Count
Bushing Size
Outside Diameter
Pitch Diameter
Maximum Bushing Bore
Length Thru Bore
(L)
(C)
Type
Weight (LBS)
140BTB12
12
2517
7.581"
6.762"
2-1/2"


1-3/4"
4-1/4"
B
7.0
140BTB13
13
3020
8.150"
7.313"
3"


2"
5-1/4"
B
8.0
140BTB14
14
3020
8.718"
7.864"
3"


2"
5-1/4"
B
10.0
140BTB15
15
3020
9.283"
8.417"
3"


2"
5-1/4"
B
12.0
140BTB16
16
3020
9.848"
8.970"
3"


2"
5-1/4"
B
14.0
140BTB17
17
3020
10.411"
9.524"
3"


2"
5-1/4"
B
16.0
140BTB18
18
3020
10.975"
10.078"
3"


2"
5-1/4"
B
18.0
140BTB19
19
3020
11.537"
10.632"
3"


2"
5-1/4"
B
20.0
140BTB21
21
3020
12.660"
11.742"
3"


2"
5-1/4"
B
24.0
140BTB26
26
3020
15.463"
14.518"
3"


2"
5-1/4"
B
40.0
140CTB35
35
3535
20.494"
19.523"
3-1/2"


3-1/2"
6-1/2"
C
78.0
140CTB45
45
4040
26.076"
25.087"
4"


4"
7-3/4"
C
118.0
140CTB60
60
4040
34.442"
33.438"
4"


4"
7-3/4"
C
188.0
140CTB70
70
4040
40.017"
39.006"
4"


4"
7-3/4"
C
241.0
We stock and supply a full line of high-quality ANSI #140 roller chain sprockets in a very wide range of configurations including; A-Plate, B-Hub, C-Hub, Idler, QD, Taper Bushed, Stainless Steel, Plastic, Single, Double, Double-Single, Triple, and more!
We supply sprockets to a wide range of customers including; Re-Sellers, OEMs, large & small end users, and Government Entities. The #
140
roller chain sprockets we offer exceed in quality, performance and working life due to the manufacturing standards that have been set for these sprockets. Additionally, we offer a line of 1045 Premium Hardened Steel Black-Oxide Coated #
140
Sprockets for the toughest and most demanding applications. All of our #
140
sprockets fully meet all ANSI standards to ensure a proper contact between the sprocket and roller chain. We also offer a full line of high quality
#140 roller chain
at some of the most competitive prices and widest selection in the industry. To get a quote on #
140
roller chain sprockets or if you have any questions please contact us and we will be happy to assist you!
Phone: (407) 347-3519
Email:
sales@usarollerchain.com
See What All We Offer "
Here
"!