Roller Chain Connecting Link
Roller Chain connecting links are also commonly known as master links. These links are designed to assemble and dis-assemble using a spring clip or cotter pin. We stock a wide variety of connecting links ranging size and specifications. Furthermore, in large quantities we can supply Made To Order (MTO) specialty roller chain links.


Spring Clip Connecting Link

The spring clip style of master link is typically used in smaller pitch chain sizes such as #25 - #80 in ANSI sizes, ISO sizes 03B - 16B, as well as 2040 - 2060 in double pitch sizes. The spring clip is easy to install and remove and will provide sufficient holding power to ensure that your chain does not come apart in operation.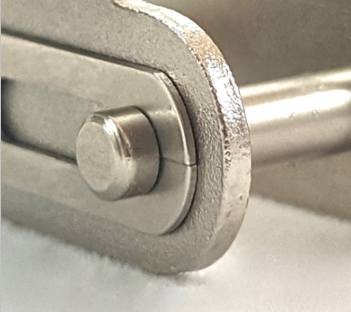 In certain applications a special closed-style spring clip may be required like the photo above.


Cotter Pin Connecting Link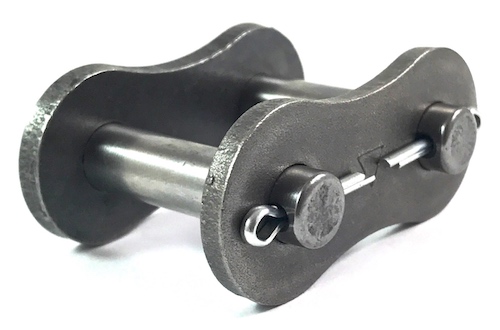 Cotter pin connecting links are used in large-pitch roller chains such as ANSI sizes #80 - #240, ISO Sizes 16B - 56B, and double pitch sizes 2060 - 2160. This style is also used in engineer class roller chain connecting links.


Something important to note is that for oil-rig roller chain applications, it is typically recommended to use a J-Hook style cotter master link. This is specified by the American Petroleum Institute and will insure that your chain is in accordance with API Standards.


Buying Roller Chain Connecting Links
The below charts show are standard in-stock roller chain connecting links. To buy a specific size simply select the part number in blue under the quality level and it will take you directly to the product page. Please note that the charts below only consist of our most common and popular sizes. We also stock attachment links, coated links, and many more styles! We offer three different quality levels of connecting links. Economy Plus for most general industrial and agricultural applications, General Duty Plus for more demanding and high-speed applications, and Premier Series for the toughest and most demanding applications. The Premier series connecting links are the only ones in the industry that will maintain 98% - 99.9% of the overall chain strength rating versus 75% - 85% when using other connecting links. For large quantity request, made to order links, or specialty links please contact our customer support team as (407) 347-3519 or email sales@usarollerchain.com for pricing.


Britis

h

Standard ISO Connecting Links
ANSI Heavy Series Connecting Links
Double Pitch Connecting Links

Stainless Steel Connecting Links

Nickel Plated Connecting Links