Roller Chain Lubrication
When it comes to lubricating your roller chain there are many different options and lubricants out there to use. Keeping proper lubrication on your roller chain not only increases the life of the chain but it also promotes a much smoother operation. A longer chain life means less down time, and smoother operation means less power consumption. USA Roller Chain and Sprockets is focused on offering the right solutions for your roller chain lubrication needs. We can supply both the chain lube and chain lubricating systems at competitive prices and we can supply lubricating systems within a fast lead time.


Spray Can Roller Chain Lubricating

Probably the most common method of chain lubricating today is simply going out and spraying the chain with the lube. This is because it is the most economical and simple way to lubricate your roller chain. We stock a full line of lubricants that are manufactured for specific applications. We have food grade, high temperature, low temperature, and general purpose roller chain lubricant.


Roller Chain Lubricating Systems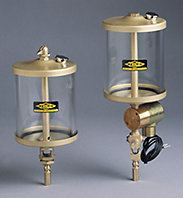 For demanding applications or applications where chain lubrication is difficult we recommend using a roller chain lubricating system. Using a system is the most effective way for proper chain lubrication and requires less time and hassle than the traditional method of spraying the chain. To get a quote on roller chain lube or a chain lubricating system please contact our sales team at sales@usarollerchain.com or call (407)347-3519 and we will be happy to assist you.