High-Quality Split Bushings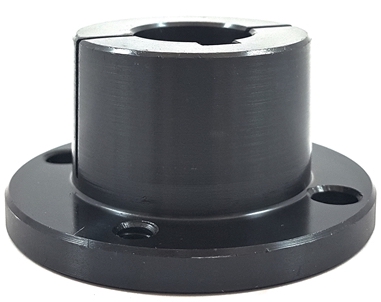 At USA Roller Chain & Sprockets, we understand the critical importance of performance and reliability when it comes to industrial operations. That's why our highly reliable split taper bushings are designed to meet and exceed all of your product requirements. They're manufactured from quality-grade steel (or cast) and have the capability to be interchanged with any other brand out there, and maximum strength and operational efficiency are to be expected. Featuring an innovative flanged bushing design with a tapered barrel that contains two slits, these split taper bushings offer superior holding power while also allowing for easy installation and uninstallation. We stock split taper bushings in both inch and metric bore sizes ranging from 0.375" to 7.438", as well as G-series to W2-series models for whatever job you may have in mind.

If you're looking for a reliable bearing solution, look no further than USA Roller Chain & Sprockets' quality split taper bushings today! For additional information or to get a quote, please contact our knowledgeable customer support team and we will happily assist you.


Split Taper Bushing Chart & Sizes
The below drawing and chart showcase the different sizes of split taper bushings, including type 1 and type 2.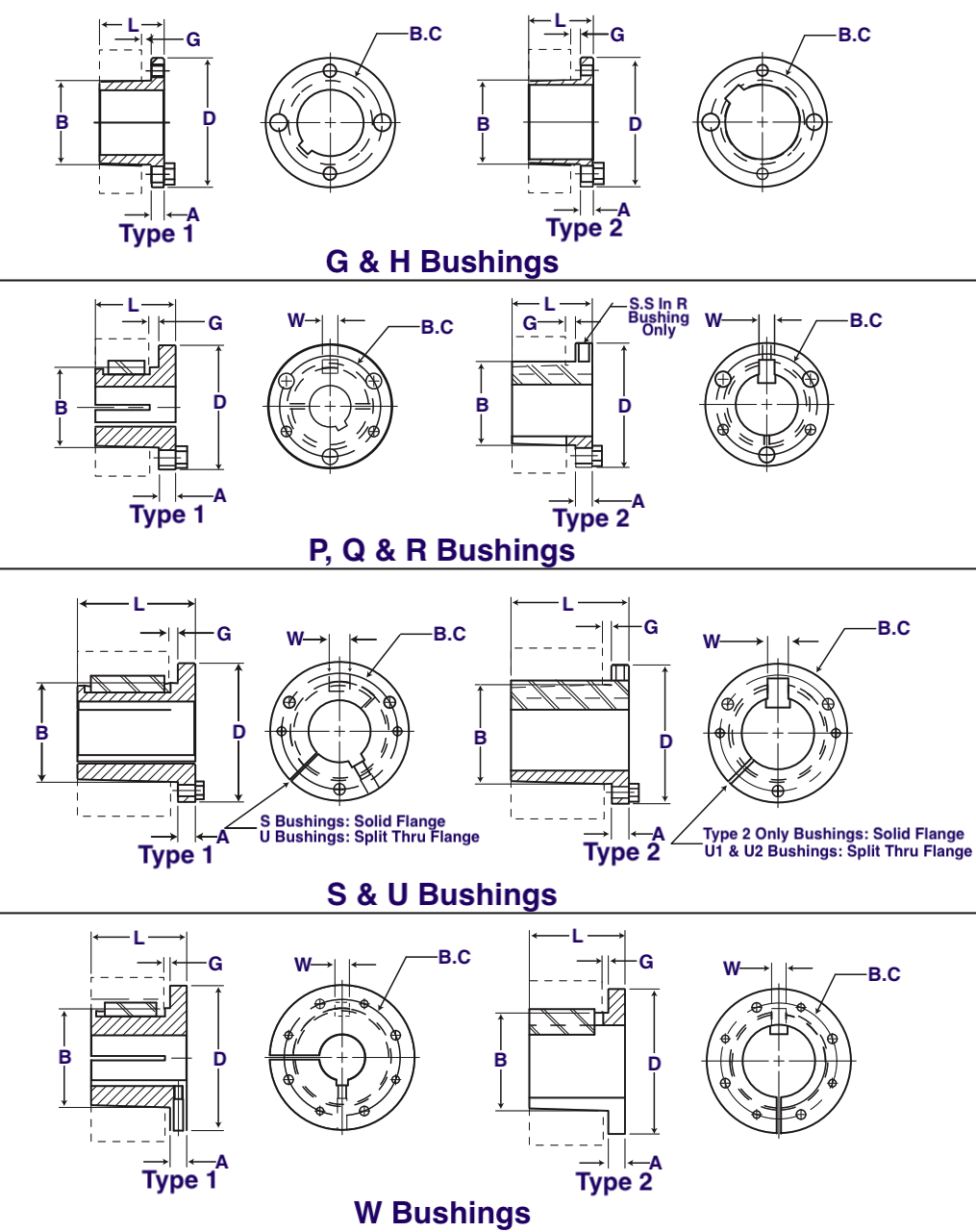 Bushing Type

(D)

(L)

(A)

(B)

(G)

(B.C)

(W)

Type-1 Bore Range

Type-2 Bore Range

Cap Screw No.

Cap Screw Size

Avg. Weight (LBS)

Wrench Torque (In/ LBS)

G
2"
1.00"
0.25"
1.172"
0.19"
1.56"
--
0.375" - 0.938"
1"
2
0.25" X 0.625"
0.5
95
H
2.5"
1.25"
0.25"
1.625"
0.19"
2"
--
0.375" - 1.375"
1.438" - 1.5"
2
0.25" X 0.75"
0.8
95
P1
3"
1.94"
0.41"
1.938"
0.22"
2.44"
0.375"
0.5" - 1.438"
1.5" - 1.75"
3
0.313" X 1"
1.3
192
P2
3"
2.94"
0.41"
1.938"
0.22"
2.44"
0.375"
0.75" - 1.438"
1.5" - 1.75"
3
0.313" X 1"
1.5
192
P3
3"
4.44"
0.41"
1.938"
0.22"
2.44"
0.375"
1.125" - 1.375"
1.625"
3
0.313" X 1"
2.0
192
Q1
4.12"
2.50"
0.53"
2.875"
0.22"
3.38"
0.500"
0.75" - 2.063"
2.125" - 2.688"
3
0.375" X 1.25"
3.5
348
Q2
4.12"
3.50"
0.53"
2.875"
0.22"
3.38"
0.500"
1" - 2.063"
2.125" - 2.625"
3
0.375" X 1.25"
4.5
348
Q3
4.12"
5.00"
0.53"
2.875"
0.22"
3.38"
0.500"
1.375" - 2.063"
2.125" - 2.5"
3
0.375" X 1.25"
5.5
348
R1
5.38"
2.88"
0.62"
4"
0.25"
4.62"
0.750"
1.125" - 2.813"
2.875" - 3.75
3
0.375" X 1.75"
7.5
348
R2
5.38"
4.88"
0.62"
4"
0.25"
4.62"
0.750"
1.375" - 2.813"
2.875" - 3.625"
3
0.375" X 1.75"
11.0
348
S1
6.38"
4.38"
0.75"
4.625"
0.31"
5.38"
0.750"
1.688" - 3.188"
3.25" - 4.25"
3
0.5" X 2.25"
13.5
840
S2
6.38"
6.75"
0.75"
4.625"
0.31"
5.38"
0.750"
1.875" - 3.188"
3.25" - 4.188"
3
0.5" X 2.25"
19.0
840
U0
8.38"
5.25"
1.06"
6"
0.44"
7"
1.250"
2.375" - 3.063"
--
3
0.625" X 2.75"
30.0
1680
U0
8.38"
4.94"
0.75"
6"
0.44"
7"
1.250"
3.25" - 4.25"
4.375" - 5.5"
3
0.625" X 2.75"
27.0
1680
U1
8.38"
7.12"
1.06"
6"
0.44"
7"
1.250"
2.375" - 4.25"
4.375" - 5.5"
3
0.625" X 2.75"
40.0
1680
U2
8.38"
10.12"
1.06"
6"
0.44"
7"
1.250"
2.438" - 4.25"
4.375" - 5"
3
0.625" X 2.75"
50.0
1680
W1
12.5"
8.25"
1.44"
8.5"
0.44"
10"
1.250"
3.375" - 6.188"
6.25" - 7.438"
4
0.75" X 3"
104.0
3000
W2
12.5"
11.25"
1.44"
8.5"
0.44"
10"
1.250"
3.375" - 6.188"
6.25" - 7.438"
4
0.75" X 3"
133.0
3000