B-Section V-Belt Pulleys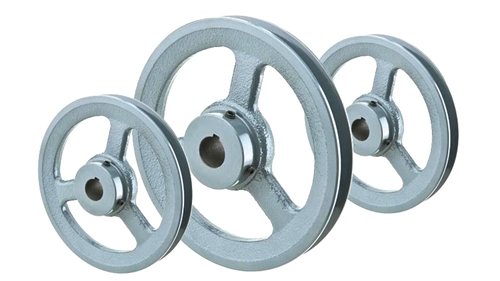 When you're looking for BK, 2BK, BKH and 2BKH pulley styles, turn to the professionals at USA Roller Chain. Each V-belt pulley type-B product comes with quality workmanship that shows. For instance, phosphate covers the metal construction so that corrosion is never an issue. If you're not a fan of standard grade 25 metal for your B-belt pulley, you'll find a solution with our stock of grade 35 cast-iron B-section V-belt pulleys.
For those specialty applications, consider a double B-belt pulley that's always manufactured to ARPM standards. Rely on our B-series belt pulley products to work with BX cogged belts, classic V-belts and 5L FHP belts. Don't be surprised if your machinery seems to work even better when you swap out just one pulley. Each part comes with a dynamically balanced construction that's tested several times before entering your facility. Smooth operations and less wear on your machinery
equates
to higher productivity rates and fewer investments in parts repairs.
Don't forget that these pulleys also work interchangeably with A-section V-belts. USA Roller Chain doesn't compromise on quality or inventory levels. Challenge us with a B-series pulley order today. We'll deliver the parts you need in record time.