Conveyor Edge Guide


Conveyor edge guards are also commonly referred to as conveyor rail wear strip, this highly effective wear surface reduces friction and eliminates package damage or markings. Common applications for conveyor edge guide includes; spiral conveyors, bottling facilities, packaging equipment, and general clean conveyor systems. We stock a broad range of edge guides in many different profile options. Our standard wear strips are available in UHMW and high-temp PTFE Teflon material options but specific acetals can be used upon request. Our standard lengths are 10ft sections, 20ft sections, and large footage rolls for small profiles, but custom length sections are also available. For additional information or to get a quote on our conveyor edge guides contact our customer support team and we will be happy to assist you!

UHMW Conveyor Rail Covers
UHMW J-Leg Profiles
J-leg profiles are utilized on conveyor guide bars and rails. These profiles are available in material thicknesses ranging from 1/8" to 1/4" and can be supplied in any overall width or height per the requirements of the application. For custom requirements dimensionally or material-wise please contact us!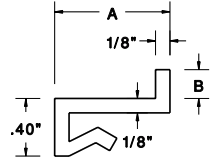 UHMW Snap-On Conveyor Rail Rail Strip

UHMW Full Round Edge Guide
UHMW Half Round Edge Guide

MD-Nylon Edge Guide Profiles
PTFE Teflon High-Temp Guide Profiles
PTFE conveyor edge guides are used in applications where general purpose thermoplastic materials are unsuitable. Applications that typically use PTFE guides and war strip include; bakeries, food processing, chemical processing, and glass manufacturing.
PTFE Material Benefits:

Operating Temperatures of -350°F to 500°F
Higher Resistance to Chemicals Allows Operation in Harsh Environments
Very Low Coefficient of Friction
Excellent Insulating Properties for Electrical Applications
Approved for Direct Food Contact