Idler Sprockets
On a typical roller chain drive application there is a drive sprocket and idler sprockets. Idler sprockets are designed in conveyor applications to essentially "carry" or guide a roller chain in a straight line, around a bend, or in a complete 360-degree directional change. If an idler sprocket fails while in use the result can be catastrophic depending on the application. Because of this it is always important to monitor the status of your idler sprockets and use a high-quality sprocket. At USA Roller Chain and Sprockets we stock a wide range of premium Idler sprockets for almost all roller chain sizes. Below are the standard configurations for idler sprockets but additional types are available upon request.


Idler Sprocket Construction

Teeth - The teeth on our idler sprockets come standardly hardened from 30-teeth and under to ensure elongated durability.
Sprocket Body - Our materials used in our idler sprocket bodies are premium 1018 & 1045 carbon steel, 304 or 316 stainless steel, and UHMW or Nylon plastics.
Idling Component - This component is typically a ball bearing, needle bearing, bronze, or non-metallic plastic.


Idler Sprocket Type
When using an idler sprocket you want the least amount of friction with your setup, it is imperative that the utilization of high quality components such as bearings, plastics, or bronze is used to eliminate as much friction as possible. Thus making your setup more effective and energy efficient. An example to our dedication to maintaining high-quality idler sprockets on our ball bearing configuration (the most common type) we utilize sophisticated designed deep-groove ball bearings that meet or exceed ABEC 3 tolerances, use grade 10-balls, and has motor bearing rated Polyrex EM grease to ensure you get an idler sprocket with the best possible performance. Regardless as to which configuration you use, we make and provide the best performing idler sprocket on the market.



Ball Bearing Idler Sprockets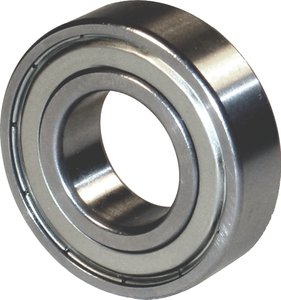 The most standard configuration is using a precision ball bearing that is pressed and secured into the sprocket plate. These are economical and can width stand a lot harsh and heavy-duty application requirements.


Needle Bearing Idler Sprockets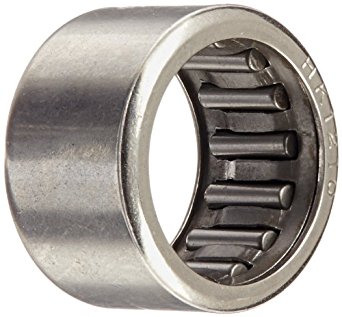 Needle bearing idler sprockets are able to withstand higher capacities because there is more surface contact between the rotating parts. Surprisingly this design also uses less friction and is more stable when mounted onto the shaft.


Bronze Bearing Idler Sprockets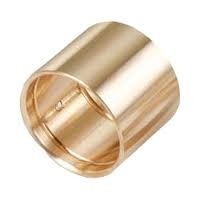 Using a piece of bronze as an idler sprocket configuration is probably the second most common idler sprocket configuration today. This is because of the versatility of bronze and economic price tag. Additionally, it has no moving parts so in some applications a bronze bearing idler sprocket can last longer.


Bronze Bushed Idler Sprockets

Bronze bushed idler sprockets are essentially the same as bronze bearing idler sprockets.


Non-Metallic Idler Sprockets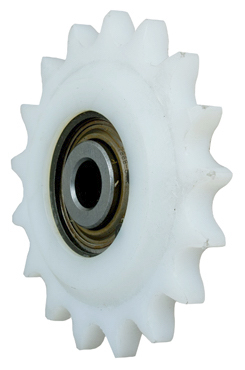 Non-Metallic idler sprockets are manufactured using plastic and stainless-steel components so they can operate in extremely corrosive and food-grade environments. Most of theses sprocket types are a non-stock item but they can be made within a very short lead-time.



Chain idler sprockets keep your system flowing with less volatility and more productivity on every turn. Place idler sprockets where your chain has extra length, especially around system obstructions. USA Roller Chain & Sprockets knows that every part must move with seamless ease in order to achieve any production or industrial goal.

Every one of our roller chain idler sprockets comes with strong teeth that can latch onto the chain, with at least three sections in contact at all times. You rely on an idler sprocket for #40 chain because the system fails without it. We're proud to carry several styles, including nonmetallic, needle-bearing, bronze-bushed and ball-bearing idlers. Our team ships out an idler sprocket for #60 chain and other accessories in record time. It's our goal to keep your system moving with quality parts. USA Roller Chain understands the idler sprocket's importance in today's world.