Plastic Pulleys
Using a plastic pulley instead of its steel counterpart has several added benefits when it comes to weight, noise reduction, and resistance to corrosion. Many of the plastic pulleys we supply are also FDA and USDA approved for use within the food production industry. We supply plastic timing belt pulleys, plastic round belt pulleys, plastic v-belt sheaves, and application-specific plastic pulleys!

Plastic V-Belt Pulleys

Plastic pulleys for v-belts are commonly found in abrasive and weight-saving applications, they are also commonly referred to as plastic v-belt sheaves. We supply these pulleys with a standard stock round bore, as a finished bore with key-way and set screws, and as an idler configuration with a bearing. Our plastic v-belt pulleys are made from a high-quality UHMW for the greatest transfer of power and extended working life. Custom v-belt pulleys can be supplied as well upon request.

Plastic V-Belt Pulley Sizes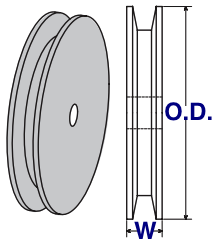 Plastic Round Belt Pulleys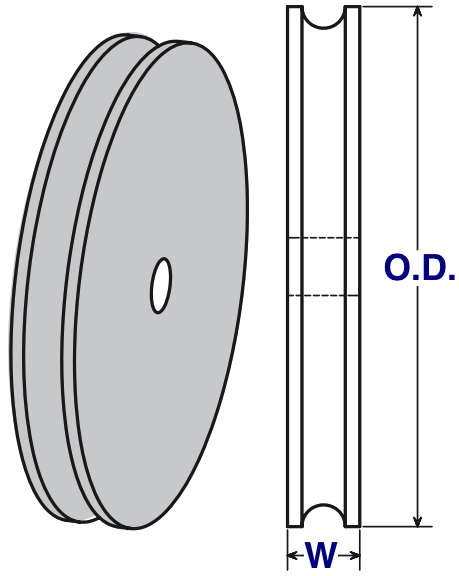 These plastic pulley wheels can be used for round belts, cable, and even ropes. They are standardly manufactured from high-quality UHMW and are available in standard sizes shown on the below chart or per custom dimensional requirements. We can also supply these in other variations of plastics upon request.

Plastic Flat Belt Pulleys
Plastic flat belt pulleys are manufactured for flat belts ranging in 1" width to 1-1/4" width. Having an all UHMW construction makes these pulleys resistant to corrosion and chemicals while also being able to be used in FDA and USDA applications.
Thermoplastic Idler Pulleys
Round, Flat, V-Belt, and Cable Molded (Glass Reinforced Nylon) Pulleys offer:
- Lower Coefficient of Friction
- Resists oils, solvents, and many acids; corrosion resistant
- ABEC-1 sealed bearings with sintered metal hubs
- Standard Bore adapters of 3/8" and 1/2"
Flat Belt Idler Pulleys

V-Belt Idler Pulleys

Cable Idler Pulleys

Round Belt Idler Pulleys

Thermoplastic Idler Pulleys with Shoulder Adapter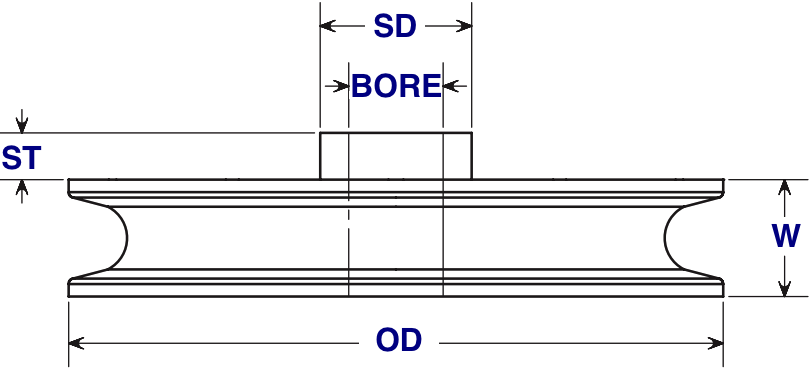 Plastic Ball Bearing Pulleys

Our plastic ball bearing pulleys are also commonly referred to as plastic gravity pulleys and are designed to be low friction, quiet running, and resistant to corrosion. They are considered a maintenance-free part and require no lubrication, the balls are typically carbon steel or 420-grade stainless steel. Common applications include rope guide, cable guide, overhead conveyors, and exercise equipment. The below chart shows the standard sizes available for plastic ball bearing pulleys, custom sizes and configurations can be manufactured upon request.

Part
Style
(A)
(B)
(C)
(D)
(E)
(R)
Use With
Static Load
Max. RPM W/ No Load
Colour

1/8C140603DSS

S
0.187"
0.875"
0.375"
0.300"
0.720"
1/16"
1/8" Cable
30
200
Black
RPD18104CS
R
0.250"
1.125"
1.125"
1.062"
0.625"
0.420"
0.840" Dia Pipe
33
200
Natural

1/4C200604DSS

S
0.250"
1.25"
0.364"
0.340"
1.000"
1/8"
1/4" Cable
33
200
Natural

1/4C280704DCS

S
0.250"
1.75"
0.437"
0.375"
1.125"
1/8"
1/4" Cable
55
200
Natural

3/16C290610DSS

S
0.625"
1.812"
0.375"
0.375"
1.610"
3/32"
3/16" Cable
40
1000
Black

1C322205CS

R
0.312"
2.00"
1.30"
1.187"
1.437"
1/2"
1" Cable
80
1000
Natural

IBD362806CS

R
0.375"
2.25"
1.75"
1.625"
1.250"
0.32" Flat
Various
80
1000
Black

3/8C481004DSS

Q
0.250"
3.00"
13/16"
5/8"
2-9/16"
3/16"
3/8" Cable
55
1000
Gray
Note: In Part#: SS = 420 Stainless Steel, CS = Carbon Steel

Pulleys and Assemblies
Pulleys are normally furnished in green UHMWPE-Ultra-D, Nylon(s), Delrin(s), and lubricant-filled hardwood. The pulleys we offer require no lubrication and are particularly adaptable to wet, chemical-laden environments that are commonly found in the food-can beverage industry.

Metal Bushing Inserts

Green Ultra-D Can Line Cable Pulleys
Note: Can Line Cable Pulleys are furnished plain or with bushings and/or all attaching hardware including nuts, bolts, and washers.