Screw Conveyors & Parts
Screw conveyors are designed for bulk material handling in industrial and agricultural applications with the use of rotating helical screw blades also known as augers. They can be utilized in vertical and horizontal configurations to move anything from solids to liquids. We supply standard and custom configuration screw conveyors capable of moving 18,000 cubic feet per hour and up to 150ft with CEMA standard auger diameters ranging from 6" up to 24" in diameter, this also holds true to our screw feeder capabilities.
Specify your request in the form below, then click "Submit" to send it to our customer service team and expect a response back.
Screw Conveyor History
The very first historical record of a screw conveyor dates all the way back to the third century B.C where they were used for displacement and removal of water within ships and early agriculture irrigation. This early world device simply consisted of a hollow cylinder that contained a center shaft with a spiral fixed to the inner wall as well as the shaft. As you can imagine, as the screw rotated water was displaced from one location to the next. From there the screw conveyor began to evolve in the 1800s with the booming American agricultural industry as a way to increase the production of feed and grain, the very first feed mills in the United States used various screw conveyors throughout. Then in 1945 the inventor Peter Pakosh invented the grain auger to move grain from trucks to grain carts or trailers. In modern-day, screw conveyors are utilized across almost every industry and have become one of the fastest-growing conveyor types in the world.
Types of Screw Conveyors
Standard Screw Conveyor

A typical screw conveyor consists of a trough, screw (auger), trough cover, discharge spouts, coupling and end shafts, bearings, hangers, and associated hardware. Their sole purpose is to transfer material from one point to the next, these can be used in 0° to 45° incline applications.
Shaftless Screw Conveyors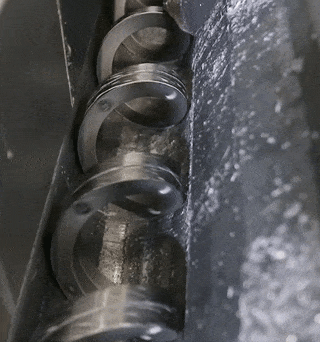 This design is a specialized alternative to the standard that eliminates the center shaft. This unique design is capable of transporting more difficult materials that could not be conveyed by a typical screw conveyor. More specifically, materials that are sticky or high in moisture that in a traditional setup would cause a material buildup onto the center shaft or the flights. This design rides in a specific trough lined with wear-resistant material, this also eliminates the need for tail bearings and seals, eliminating normal maintenance items associated with screw conveyors.
Vertical Screw Conveyors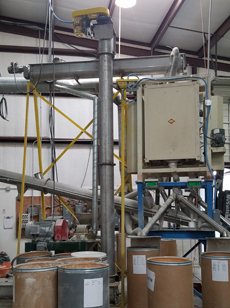 This configuration imposes a minimal footprint and is capable of moving bulk amounts of materials vertically. It typically will consist of a screw rotating in a tubular housing with a suitable inlet at the lower end and an outlet at the upper end, the drive for this configuration is usually located at the top of the conveyor, it's important to note that the top bearing and bottom bearing must be capable of handling the radial and thrust loads. It is also imperative to have a controlled and uniform volume of material going into the system, uneven volumes or surges can affect the desired output volume and can cause a start issue.
Live Bottom Feeders


This design is made to convey and meter large quantities of materials in an effective manner. The three primary designs of a live bottom screw conveyor utilize variable pitch screws, mass flow cone screws, and tapered flight screws. Each screw-type possesses unique capabilities based upon the application at hand. The configuration works by utilizing a flood loaded inlet if two or more screws aligned side-by-side that are specifically designed to properly meter the product at a certain fixed-rate or a variable rate.

Screw Conveyor Applications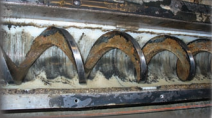 Screw Conveyors can be found in food processing, wood products, pulp and paper, chemical processing, petroleum refining, rubber and plastics, stone, glass, concrete, primary materials, environmental, and agricultural.

Screw Conveyor Parts
We offer a wide selection of screw conveyor parts and components, the below tabs explain what each screw conveyor part is and it's purpose.