Stainless Steel Taper-Lock Bushings
Refine your sprocket hubs even further with tapered bushing parts from USA Roller Chain & Sprockets. We offer dozens of sizes so that your application is fully served. Protect any items penetrating through the hub with these taper lock bushings. The tapered shape is the secret to the bushing's success. It locks into place so no issues arise during heavy-duty operations.
Read over the listed tolerances because these taper lock hubs were designed for every industrial application. You can't go wrong with the stainless-steel construction and detailed locking section. If you don't see the right specifications, USA Roller Chain is happy to assist you. Every tapered lock bushing has exact dimensions so it can slip right into place. Keep every system rolling smoothly with bushings that lock with ease. The metal will continue to hold tight through the hottest and coldest conditions as a promise from USA Roller Chain.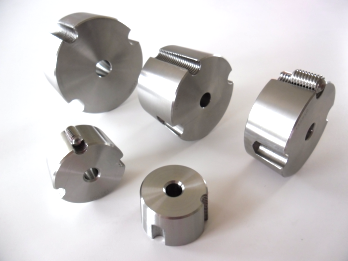 These bushings are standardly supplied as 304-grade stainless steel but can be supplied as other materials and grades upon request. We offer 1008 - 5050 size stainless steel taper lock bushings and keep many varieties on the shelf. Stainless steel bushings are typically found in wastewater, agriculture, and food processing applications.

USA Roller Chain and Sprockets distinguishes its self as being the one-stop supplier, having an extensive inventory, expert customer support, and rapid response times. Additionally, we have achieved an A+ BBB rating for our level of customer care. We also have opened a fast reaction machine shop in our Central Florida location to provide better service to our customers.

Below is a chart showing the standard stainless steel taper lock bushing sizes offered. Note that each size highlighted in blue is a direct, clickable link to the product page which shows dimensions as well as installation instructions. If the bushing needed is not listed below, reach out to us and we would be more than happy to manufacture it to your specifications.







Requesting Stainless Steel Taper-Lock Bushings
To get a quote on stainless steel taper lock bushings fill out the request for quote form and someone from our customer service team will contact you.