Thermoplastic 2-Bolt Flange Bearings

Thermoplastic 2-bolt flange bearings are designed with two mounting holes and offer exceptional application mounting flexibility due to their reduced footprint compared to other flange-mounted thermoplastic bearings. Our thermoplastic two-bolt flange bearings utilize a high-strength PBT polymer solid-base housing that encases a premium C3 precision stainless steel performance insert bearing. Combining these creates a durable, high-performance flange mounted bearing capable of operating in FDA and corrosive applications. These bearings are supplied with a two set-screw insert bearing for securing onto a shaft and food-grade lubricant. For additional information or getting a quote, don't hesitate to contact our customer support team, and we will be happy to assist you!
Thermoplastic 2-Bolt Flange Bearing Sizes
The below size charts show our standard 2-bolt flange bearing sizes; if you don't see the specific bearing you have our need, please contact us.
SSUCTPFL200 Thermoplastic Bearings
Bearing Part #

Bearing I.D.

(a)

(e)

(b)

(g)

(I)

(s)

(z)

(i)

(Bi)

(n)

Bolt Size

Insert Bearing #

Housing #

Weight (LBS)

SSUCTPFL201-8
1/2"
4-7/16"
3-35/64"
2-9/16"
17/32"
1-3/64"
7/16"
1-5/16"
19/32"
1.221"
0.500"
3/8
SSUC201-8
TPFL204
0.57
SSUCTPFL202-10
5/8"
4-7/16"
3-35/64"
2-9/16"
17/32"
1-3/64"
7/16"
1-5/16"
19/32"
1.221"
0.500"
3/8
SSUC202-10
TPFL204
0.57
SSUCTPFL204
20mm
4-7/16"
3-35/64"
2-9/16"
17/32"
1-3/64"
7/16"
1-5/16"
19/32"
1.221"
0.500"
M8
SSUC204
TPFL204
0.57
SSUCTPFL204-12
3/4"
4-7/16"
3-35/64"
2-9/16"
17/32"
1-3/64"
7/16"
1-5/16"
19/32"
1.221"
0.500"
3/8
SSUC204-12
TPFL204
0.57
SSUCTPFL205
25mm
5-5/32"
3-57/64"
2-3/4"
9/16"
1-7/64"
7/16"
1-27/64"
21/32"
1.343"
0.563
M8
SSUC205
TPFL205
0.68
SSUCTPFL205-14
7/8"
5-5/32"
3-57/64"
2-3/4"
9/16"
1-7/64"
7/16"
1-27/64"
21/32"
1.343"
0.563
3/8
SSUC205-14
TPFL205
0.68
SSUCTPFL205-15
15/16"
5-5/32"
3-57/64"
2-3/4"
9/16"
1-7/64"
7/16"
1-27/64"
21/32"
1.343"
0.563
3/8
SSUC205-15
TPFL205
0.68
SSUCTPFL205-16
1"
5-5/32"
3-57/64"
2-3/4"
9/16"
1-7/64"
7/16"
1-27/64"
21/32"
1.343"
0.563
3/8
SSUC205-16
TPFL205
0.68
SSUCTPFL206
30mm
5-13/16"
4-19/32"
3-5/332"
9/16"
1-13/64"
7/16"
1-37/64"
23/32"
1.500"
0.626"
M8
SSUC206
TPFL206
1.01
SSUCTPFL206-17
1-1/16"
5-13/16"
4-19/32"
3-5/332"
9/16"
1-13/64"
7/16"
1-37/64"
23/32"
1.500"
0.626"
3/8
SSUC206-17
TPFL206
1.01
SSUCTPFL206-18
1-1/8"
5-13/16"
4-19/32"
3-5/332"
9/16"
1-13/64"
7/16"
1-37/64"
23/32"
1.500"
0.626"
3/8
SSUC206-18
TPFL206
1.01
SSUCTPFL206-19
1-3/16"
5-13/16"
4-19/32"
3-5/332"
9/16"
1-13/64"
7/16"
1-37/64"
23/32"
1.500"
0.626"
3/8
SSUC206-19
TPFL206
1.01
SSUCTPFL206-20
1-1/4S
5-13/16"
4-19/32"
3-5/332"
9/16"
1-13/64"
7/16"
1-37/64"
23/32"
1.500"
0.626"
3/8
SSUC206-20
TPFL206
1.01
SSUCTPFL207
35mm
6-7/16"
5-1/8"
3-35/64"
39/64"
1-17/64"
1/2"
1-3/4"
3/4"
1.689"
0.689"
M10
SSUC207
TPFL207
1.41
SSUCTPFL207-20
1-1/4"
6-7/16"
5-1/8"
3-35/64"
39/64"
1-17/64"
1/2"
1-3/4"
3/4"
1.689"
0.689"
1/2
SSUC207-20
TPFL207
1.41
SSUCTPFL207-21
1-5/16"
6-7/16"
5-1/8"
3-35/64"
39/64"
1-17/64"
1/2"
1-3/4"
3/4"
1.689"
0.689"
1/2
SSUC207-21
TPFL207
1.41
SSUCTPFL207-22
1-3/8"
6-7/16"
5-1/8"
3-35/64"
39/64"
1-17/64"
1/2"
1-3/4"
3/4"
1.689"
0.689"
1/2
SSUC207-22
TPFL207
1.41
SSUCTPFL207-23
1-7/16"
6-7/16"
5-1/8"
3-35/64"
39/64"
1-17/64"
1/2"
1-3/4"
3/4"
1.689"
0.689"
1/2
SSUC207-23
TPFL207
1.41
SSUCTPFL208
40mm
6-15/16"
5-11/16"
3-15/16"
21/32"
1-3/8"
9/16"
2-1/32"
27/32"
1.937"
0.748"
M10
SSUC208
TPFL208
1.91
SSUCTPFL208-24
1-1/2"
6-15/16"
5-11/16"
3-15/16"
21/32"
1-3/8"
9/16"
2-1/32"
27/32"
1.937"
0.748"
1/2
SSUC208-24
TPFL208
1.91
SSUCTPFL208-25
1-9/16"
6-15/16"
5-11/16"
3-15/16"
21/32"
1-3/8"
9/16"
2-1/32"
27/32"
1.937"
0.748"
1/2
SSUC208-25
TPFL208
1.91
SSUCTPFL209
45mm
7-7/16"
5-7/8"
4-1/4"
13/16"
1-5/8"
21/32"
2-1/8"
15/16"
1.937"
0.748"
M16
SSUC209
TPFL209
2.24
SSUCTPFL209-26
1-5/8"
7-7/16"
5-7/8"
4-1/4"
13/16"
1-5/8"
21/32"
2-1/8"
15/16"
1.937"
0.748"
1/2
SSUC209-26
TPFL209
2.24
SSUCTPFL209-27
1-11/16"
7-7/16"
5-7/8"
4-1/4"
13/16"
1-5/8"
21/32"
2-1/8"
15/16"
1.937"
0.748"
1/2
SSUC209-27
TPFL209
2.24
SSUCTPFL209-28
1-3/4"
7-7/16"
5-7/8"
4-1/4"
13/16"
1-5/8"
21/32"
2-1/8"
15/16"
1.937"
0.748"
1/2
SSUC209-28
TPFL209
2.24
SSUCTPFL210
50mm
7-3/4"
6-3/16"
4-17/32"
13/16"
1-11/16"
21/32"
2-17/64"
31/32"
2.032"
0.748"
M16
SSUC210
TPFL210
2.50
SSUCTPFL210-30
1-7/8"
7-3/4"
6-3/16"
4-17/32"
13/16"
1-11/16"
21/32"
2-17/64"
31/32"
2.032"
0.748"
5/8
SSUC210-30
TPFL210
2.50
SSUCTPFL210-31
1-15/16"
7-3/4"
6-3/16"
4-17/32"
13/16"
1-11/16"
21/32"
2-17/64"
31/32"
2.032"
0.748"
5/8
SSUC210-31
TPFL210
2.50
SSUCTPFL210-32
2S
7-3/4"
6-3/16"
4-17/32"
13/16"
1-11/16"
21/32"
2-17/64"
31/32"
2.032"
0.748"
5/8
SSUC210-32
TPFL210
2.50
UCFLPL Thermoplastic Bearings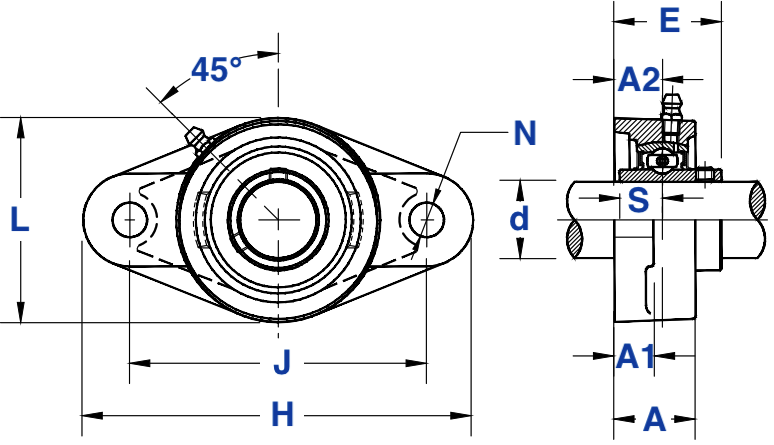 Bearing Part #

Bearing I.D. (d)

(H)

(J)

(L)

(A1)

(A)

(N)

(E)

(S)

(A2)

Bolt Size

Insert Bearing #

Housing #

Weight (LBS)

UCFLPL204-12SS
3/4"
3/4"
2-1/2"
3-11/32"
17/32"
1-1/16"
7/16"
1.219"
0.5000"
23/32"
3/8
SSUC204-12
FPL204
0.64
UCFLPL204-20MMSS
20mm
20mm
2-1/2"
3-11/32"
17/32"
1-1/16"
7/16"
1.219"
0.5000"
23/32"
M10
SSUC204-20MM
FPL204
0.64
UCFLPL205-13SS
13/16"
13/16"
2-25/32"
3-3/4"
19/16"
1-1/8"
7/16"
1.343"
0.563"
11/16"
3/8
SSUC205-13
FPL205
0.75
UCFLPL205-14SS
7/8"
7/8"
2-25/32"
3-3/4"
19/16"
1-1/8"
7/16"
19/16"
0.563"
11/16"
3/8
SSUC205-14
FPL205
0.75
UCFLPL205-15SS
15/16"
15/16"
2-25/32"
3-3/4"
19/16"
1-1/8"
7/16"
19/16"
0.563"
11/16"
3/8
SSUC205-15
FPL205
0.75
UCFLPL205-16SS
1"
1"
2-25/32"
3-3/4"
19/16"
1-1/8"
7/16"
19/16"
0.563"
11/16"
3/8
SSUC205-16
FPL205
0.75
UCFLPL205-25MMSS
25mm
25mm
2-25/32"
3-3/4"
19/16"
1-1/8"
7/16"
19/16"
0.563"
11/16"
M10
SSUC205-25MM
FPL205
0.75
UCFLPL206-17SS
1-1/16"
1-1/16"
3-9/32"
4-7/32"
19/16"
1-1/4"
7/16"
1.500"
0.625"
3/4"
3/8
SSUC206-17
FPL206
1.10
UCFLPL206-18SS
1-1/8"
1-1/8"
3-9/32"
4-7/32"
19/16"
1-1/4"
7/16"
1.500"
0.625"
3/4"
3/8
SSUC206-18
FPL206
1.10
UCFLPL206-19SS
1-3/16"
1-3/16"
3-9/32"
4-7/32"
19/16"
1-1/4"
7/16"
1.500"
0.625"
3/4"
3/8
SSUC206-19
FPL206
1.10
UCFLPL206-20SS
1-1/4"
1-1/4"
3-9/32"
4-7/32"
19/16"
1-1/4"
7/16"
1.500"
0.625"
3/4"
3/8
SSUC206-20
FPL206
1.10
UCFLPL206-30MMSS
30mm
30mm
3-9/32"
4-7/32"
19/16"
1-1/4"
7/16"
1.500"
0.625"
3/4"
M10
SSUC206-30MM
FPL206
1.10
UCFLPL207-20SS
1-1/4"
1-1/4"
3-5/8"
4-21/32"
19/32"
1-3/8"
17/32"
1.688"
0.688"
27/32"
1/2
SSUC207-20
FPL207
1.63
UCFLPL207-21SS
1-5/16"
1-5/16"
3-5/8"
4-21/32"
19/32"
1-3/8"
17/32"
1.688"
0.688"
27/32"
1/2
SSUC207-21
FPL207
1.63
UCFLPL207-22SS
1-3/8"
1-3/8"
3-5/8"
4-21/32"
19/32"
1-3/8"
17/32"
1.688"
0.688"
27/32"
1/2
SSUC207-22
FPL207
1.63
UCFLPL207-23SS
1-7/16"
1-7/16"
3-5/8"
4-21/32"
19/32"
1-3/8"
17/32"
1.688"
0.688"
27/32"
1/2
SSUC207-23
FPL207
1.63
UCFLPL207-35MMSS
35mm
35mm
3-5/8"
4-21/32"
19/32"
1-3/8"
17/32"
1.688"
0.688"
27/32"
M14
SSUC207-35MM
FPL207
1.63
UCFLPL208-24SS
1-1/2"
1-1/2"
4-1/32"
5-1/8"
21/32"
1-15/32"
9/16"
1.937"
0.75"
29/32"
1/2
SSUC208-24
FPL208
2.14
UCFLPL208-25SS
1-9/16"
1-9/16"
4-1/32"
5-1/8"
21/32"
1-15/32"
9/16"
1.937"
0.75"
29/32"
1/2
SSUC208-25
FPL208
2.14
UCFLPL208-40MMSS
40mm
40mm
4-1/32"
5-1/8"
21/32"
1-15/32"
9/16"
1.937"
0.75"
29/32"
M14
SSUC208-40MM
FPL208
2.14
SBLFPL Thermoplastic Flange Bearings
Bearing Part #

Bearing I.D. (d)

(H)

(J)

(L)

(A2)

(A)

(A1)

(E)

(N)

(S)

Bolt Size

Insert Bearing #

Housing #

Weight (LBS)

SBLFPL201-12MMGSS
12mm
3-3/16"
2-1/2"
2-7/32"
3/8"
5/8"
3/8"
1"
11/32"
1/4"
M8
SSSB201-12MMG
LFPL203
0.59
SBLFPL201-8GSS
1/2"
3-3/16"
2-1/2"
2-7/32"
3/8"
5/8"
3/8"
1"
11/32"
1/4"
5/16
SSSB201-8G
LFPL203
0.59
SBLFPL202-15MMGSS
15mm
3-3/16"
2-1/2"
2-7/32"
3/8"
5/8"
3/8"
1"
11/32"
1/4"
M8
SSSB202-15MMG
LFPL203
0.59
SBLFPL202-10GSS
5/8"
3-3/16"
2-1/2"
2-7/32"
3/8"
5/8"
3/8"
1"
11/32"
1/4"
5/16
SSSB202-10G
LFPL203
0.57
SBLFPL203-17MMGSS
17mm
3-3/16"
2-1/2"
2-7/32"
3/8"
5/8"
3/8"
1"
11/32"
1/4"
M8
SSSB203-17MMG
LFPL203
0.57
SBLFPL203-11GSS
11/16"
3-3/16"
2-1/2"
2-7/32"
3/8"
5/8"
3/8"
1"
11/32"
1/4"
5/16
SSSB203-11G
LFPL203
0.55
SBLFPL204-12GSS
3/4"
3-9/16"
2-13/16"
2-5/8"
7/16"
23/32"
3/8"
1-5/32"
11/32"
9/32"
5/16
SSSB204-12G
LFPL204
0.72
SBLFPL204-20MMGSS
20mm
3-9/16"
2-13/16"
2-5/8"
7/16"
23/32"
3/8"
1-5/32"
11/32"
9/32"
M8
SSSB204-203MMG
LFPL204
0.72
SBLFPL205-14GSS
7/8"
3-13/16"
3"
2-25/32"
7/16"
23/32"
13/32"
1-7/32"
11/32"
19/64"
5/16
SSSB205-14G
LFPL205
0.83
SBLFPL205-25MMGSS
25mm
3-13/16"
3"
2-25/32"
7/16"
23/32"
13/32"
1-7/32"
11/32"
19/64"
M8
SSSB205-25MMG
LFPL205
0.83
SBLFPL205-15GSS
15/16"
3-13/16"
3"
2-25/32"
7/16"
23/32"
13/32"
1-7/32"
11/32"
19/64"
5/16
SSSB205-15G
LFPL205
0.83
SBLFPL205-16GSS
1"
3-13/16"
3"
2-25/32"
7/16"
23/32"
13/32"
1-7/32"
11/32"
19/64"
5/16
SSSB205-16G
LFPL205
0.83
SBLFPL206-18GSS
1-1/8"
4-15/32"
3-9/16"
3-5/16"
15/32"
25/32"
15/32"
1-11/32"
7/16"
5/16"
3/8
SSSB206-18G
LFPL206
1.23
SBLFPL206-30MMGSS
30mm
4-15/32"
3-9/16"
3-5/16"
15/32"
25/32"
15/32"
1-11/32"
7/16"
5/16"
M10
SSSB206-30MMG
LFPL206
1.23
SBLFPL206-19GSS
1-3/16"
4-15/32"
3-9/16"
3-5/16"
15/32"
25/32"
15/32"
1-11/32"
7/16"
5/16"
3/8
SSSB206-19G
LFPL206
1.23
SBLFPL206-20GSS
1-1/4"
4-15/32"
3-9/16"
3-5/16"
15/32"
25/32"
15/32"
1-11/32"
7/16"
5/16"
3/8
SSSB206-20G
LFPL206
1.23
SBLFPL207-20GSS
1-1/4"
5"
3-15/16"
3-23/32"
1/2"
29/32"
1/2"
1-7/16"
7/16"
11/32"
3/8
SSSB207-20G
LFPL207
1.76
SBLFPL207-21GSS
1-5/16"
5"
3-15/16"
3-23/32"
1/2"
29/32"
1/2"
1-7/16"
7/16"
11/32"
3/8
SSSB207-21G
LFPL207
1.76
SBLFPL207-22GSS
1-3/8"
5"
3-15/16"
3-23/32"
1/2"
29/32"
1/2"
1-7/16"
7/16"
11/32"
3/8
SSSB207-22G
LFPL207
1.76
SBLFPL207-35MMGSS
35mm
5"
3-15/16"
3-23/32"
1/2"
29/32"
1/2"
1-7/16"
7/16"
11/32"
M10
SSSB207-35MMG
LFPL207
1.76
SBLFPL207-23GSS
1-7/16"
5"
3-15/16"
3-23/32"
1/2"
29/32"
1/2"
1-7/16"
7/16"
11/32"
3/8
SSSB207-23G
LFPL207
1.76