Drop Forged Rivetless Chain With Extended Pins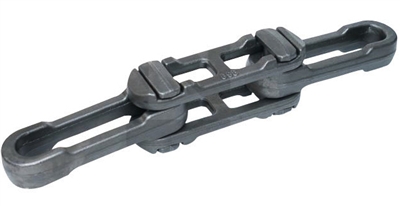 The drop-forged rivetless chain offers great versatility and performance in various mining applications. Our high-strength drop-forged rivetless chains are made from premium materials and feature high-precision threaded pins that are typically spaced every 4th pitch but can be at different intervals upon request. We offer these chains in the standard configuration (higher strength) and X configuration (lighter duty & more economical. Due to the materials and design, drop-forged rivetless chains are great matches for driving and conveying circumstances, even in abrasive environments. Additionally, their unique design allows the chain to be easily assembled and disassembled when needed. For more information or to get a quote on our mining drop forged rivetless chains with pins, contact our customer service team, and we will be happy to assist you!

Drop Forged Rivetless Mining Chain Dimensions

Click on the individual part # needed for additional information on that chain size.
| Chain Size | Pitch (P) | Avg. Tensile Strength (LBS) | (X1) | (X) | (D6) | (H) | (S) | (F1) | (T) | (M) | Weight (LBS/ Ft) |
| --- | --- | --- | --- | --- | --- | --- | --- | --- | --- | --- | --- |
| X678 | 6.031" | 85,000 | 0.81" | 1.31" | 0.88" | 2.00" | 0.50" | 3.09" | 1.50" | 0.75" | 6.9 |
| 698 | 6.031" | 130,000 | 1.00" | 1.56" | 1.13" | 2.52" | 0.63" | 3.75" | 1.50" | 0.75" | 12.1 |