Metric Spur Gear Rack
Metric gear rack is classified into nine different size modules (1 - 8) and are constructed of C1045 steel that meets UNI-EN10083-1 specifications. Our metric spur gear racks are suitable for continuous mounting and have a high precision tolerance of 0/-20μm on a single pitch and 0/- 30μmm on 500mm length sum of pitches. The "teeth" are at the optimal 20° pressure angle and meet DIN 3962/63/67 quality grade. We supply these gear racks in lengths ranging from 500mm up to 3000mm directly from stock.
The purpose behind gear racks are to convert rotating movement into linear motion, gear racks operate with a pinion (a cylindrical gear meshing with the rack) and for this reason this setup is often called a rack and pinion. When running gears and gear rack it is highly recommended to also use
gear oil
for increased performance and life. We also stock a wide range of
metric spur gears
and supply just about any power transmission product on the market, for additional information or to get a quote simply give us a call at (407) 347-3519 or email
sales@usarollerchain.com
and we will be happy to assist you.


Metric Gear Rack Sizes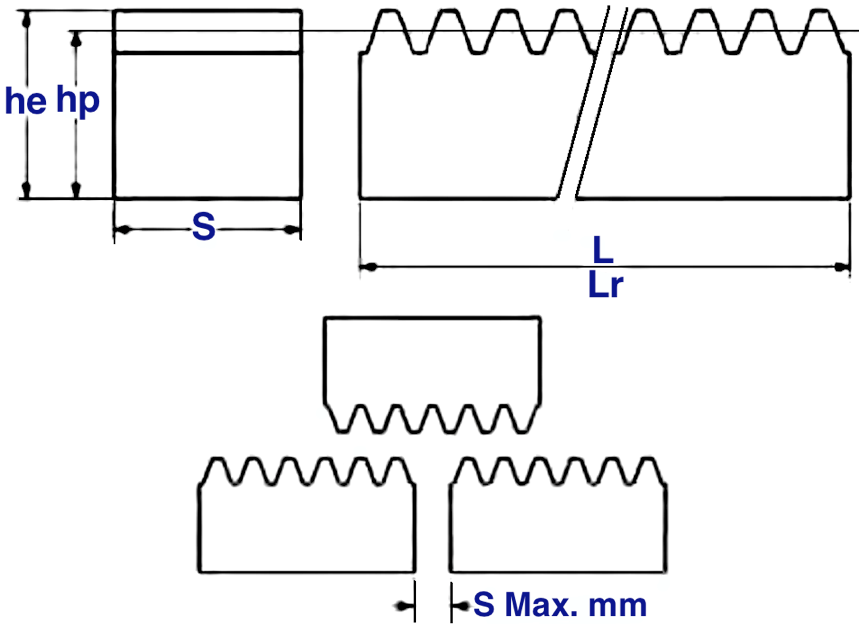 Part#

Module
Length
(hp)
(he X S)
(S)
Actual Length (Lr)
Weight (kG)
M1X500
1
500mm
14mm
15mm x 15mm
0.5mm
499.51mm
0.82
M1X1000
1
1000mm
14mm
15mm x 15mm
0.5mm
1002.17mm
1.50
M1X2000
1
2000mm
14mm
15mm x 15mm
0.5mm
2001.20mm
3.10
M1X3000
1
3000mm
14mm
15mm x 15mm
0.5mm
3000.23mm
4.90
M1.5X500
1.5
500mm
15.5mm
17mm x 17mm
0.6mm
499.51mm
1.00
M1.5X1000
1.5
1000mm
15.5mm
17mm x 17mm
0.6mm
1003.74mm
2.00
M1.5X2000
1.5
2000mm
15.5mm
17mm x 17mm
0.6mm
2002.77mm
4.00
M1.5X3000
1.5
3000mm
15.5mm
17mm x 17mm
0.6mm
3001.80mm
6.10
M2X500
2
500mm
18mm
20mm x 20mm
0.6mm
502.66mm
1.40
M2X1000
2
1000mm
18mm
20mm x 20mm
0.6mm
1005.31mm
2.70
M2X2000
2
2000mm
18mm
20mm x 20mm
0.6mm
2004.34mm
5.40
M2X3000
2
3000mm
18mm
20mm x 20mm
0.6mm
3003.37mm
8.40
M2.5X500
2.5
500mm
22.5mm
25mm x 25mm
0.7mm
502.66mm
2.10
M2.5X1000
2.5
1000mm
22.5mm
25mm x 25mm
0.7mm
1005.31mm
4.30
M2.5X2000
2.5
2000mm
22.5mm
25mm x 25mm
0.7mm
2002.77mm
8.60
M2.5X3000
2.5
3000mm
22.5mm
25mm x 25mm
0.7mm
3000.23mm
11.90
M3X500
3
500mm
27mm
30mm x 30mm
0.8mm
499.51mm
3.10
M3X1000
3
1000mm
27mm
30mm x 30mm
0.8mm
1008.45mm
6.30
M3X2000
3
2000mm
27mm
30mm x 30mm
0.8mm
2007.48mm
12.50
M3X3000
3
3000mm
27mm
30mm x 30mm
0.8mm
3006.51m
18.60
M4X25X500
4
500mm
21mm
25mm x 25mm
0.8mm
502.66mm
1.80
M4X25X1000
4
1000mm
21mm
25mm x 25mm
0.8mm
1005.31mm
3.65
M4X25X2000
4
2000mm
21mm
25mm x 25mm
0.8mm
2010.62mm
7.30
M4X25X3000
4
3000mm
21mm
25mm x 25mm
0.8mm
3003.37mm
10.90
M4X30X500
4
500mm
26mm
30mm x 30mm
0.8mm
502.66mm
3.05
M4X30X1000
4
1000mm
26mm
30mm x 30mm
0.8mm
1005.31mm
6.00
M4X30X2000
4
2000mm
26mm
30mm x 30mm
0.8mm
2010.62mm
11.90
M4X30X3000
4
3000mm
26mm
30mm x 30mm
0.8mm
3003.37mm
18.10
M4X40X500
4
500mm
36mm
40mm x 40mm
0.8mm
502.66mm
5.50
M4X40X1000
4
1000mm
36mm
40mm x 40mm
0.8mm
1005.31mm
11.10
M4X40X2000
4
2000mm
36mm
40mm x 40mm
0.8mm
2010.62mm
22.00
M4X40X3000
4
3000mm
36mm
40mm x 40mm
0.8mm
3003.37mm
31.30
M5X500
5
500mm
45mm
50mm x 50mm
1.0mm
502.66mm
8.30
M5X1000
5
1000mm
45mm
50mm x 50mm
1.0mm
1005.31mm
17.50
M5X2000
5
2000mm
45mm
50mm x 50mm
1.0mm
2010.62mm
34.60
M5X3000
5
3000mm
45mm
50mm x 50mm
1.0mm
3000.23mm
45.30
M6X500
6
500mm
54mm
60mm X 60mm
1.0mm
508.94mm
12.65
M6X1000
6
1000mm
54mm
60mm X 60mm
1.0mm
1017.88mm
25.00
M6X2000
6
2000mm
54mm
60mm X 60mm
1.0mm
2016.91mm
51.00
M8X500
8
500mm
72mm
80mm X 80mm
1.0mm
502.66mm
22.40
M8X1000
8
1000mm
72mm
80mm X 80mm
1.0mm
1005.31mm
45.00
M8X2000
8
2000mm
72mm
80mm X 80mm
1.0mm
2010.62mm
90.00