Mining Chain Sprockets

Mining chain sprockets are typically considered Engineer-Class sprockets due to the types of chains used in various mining operations. We supply these sprockets in materials like; C1018, C1045, stainless steel, cast, UHMW, and Nylon. Our expert customer service team has years of industry-combined experience to ensure you get the right mining chain sprockets for your applications. Before we can help you, a few key components are required to ensure we are supplying the correct sprocket. Or alternatively, if you have a drawing or print of the required sprocket, it can always be emailed directly to us at sales@usarollerchain.com!


Information Needed For Mining Chain Sprockets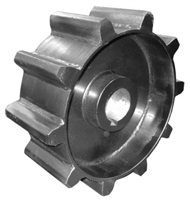 Chain Size - We will need the number associated with the chain, size, or drawing of the chain to establish the tooth profile and design of the sprocket. Specific dimensions include chain pitch, roller or bushing width, roller or bushing diameter, and inside width of the chain.
Tooth Count - This is designated by the number of actual teeth on the sprocket. Sometimes, the sprocket may have a mid-pitch relief, gap tooth, or teeth that are unused. It is imperative to mention these specifics when requesting a quote because special tooth gaps often allow for rods or specific attachments to make the clearance when the chain engages with the tooth. Additionally, special outside diameters may be required in similar configurations.


Material -


When it comes to materials, we offer a slew of options:

Steel plate with the welded hub, plain or with flame-hardened teeth
Cast Iron, plain, or hard rim
Cast Steel, plain or with flame-hardened teeth
Other Materials: Stainless Steel, UHMW Nylon, Bronze, etc...
Hub Type -
A = Plate Only
B = Hub on One Side
C = Hub on Both Sides
CO = Offset Hubs on Both Sides
A Type Shear Pin = self-contained a-plate-hub within the sprocket, bored for running fit over a flanged hub
B Type Shear Pin = Bored for running fit over the shaft
Bore Configuration -


The shaft diameter designates the bore size; please specify if special tolerances are required. We will also need to know if there is a need for a key way or keyways and the position of the key. Please advise if the key is non-standard such as; tapered, hex, rectangular, round, woodruff, or step. Additionally, if your sprocket is an idler configuration, please specify the bearing type required.
Key Types:

Standard Key (Square)



Standard keys are square in shape and have the same height and width. These are ideal for the majority of all mining applications!

Step Key



Step keys are also commonly referred to as repair keys. These are commonly used when worn out or damaged keyways have been repaired or when a larger or smaller key is on a shaft or sprocket that needs to be accommodated.

Round Key



Round keys are rotational or stationary keys that are often welded into place.

Rectangular Key



Rectangular keys are keys that have a greater width than height. The extra width allows for greater torque transfer without the need to increase the key depth into the shaft.

GIB Head Tapered Key

This key type is tapered and notched and provides great holding power for the sprocket and shaft. The special GIB head is a concussion point for hammering without damage to the shaft or key-way while allowing for easier key removal.

Hex Key



Hex keys are designed in a hexagonal shape.
Woodruff Key

This key type is also commonly known as a half-moon key and is designed to be embedded deep into a shaft, allowing the key to withstand great strain and is not prone to a rollover.

Woodruff Hi-Pro Key

This key style is very similar to the standard Woodruff key type with the addition of feet, which keep the key from rocking in the key-way.
Set Screws -

In almost every driven sprocket, there is a need for set screws; we can supply sprockets with one set screw or up to four set screws depending on the requirements. Please note that standard set screws will be supplied unless otherwise specified.


Hub Dimensions -




The hub dimensions will be manufactures standard unless otherwise specified. For special hub dimensions, we will need the hub diameter and complete length thru the bore. Or, for type C Offset mining sprockets, specify the length from the centerline of the chain to each side and the total length through the bore.