Hollow Pin Chain Breaker
Hollow pin roller chain requires special tooling to break because it does not have a pin that can simply be "pushed out". Instead, the bushing surface (hollow pin) will need to be pressed out. Our hollow pin chain breaker is manufactured in the USA using precision heat-treated tool grade steel components and is the easiest chain breaker to use on the market. Whether you're breaking hollow pin chain on a regular basis or every now and then you'll be glad to use the hollow pin chain breaker.

Standard Hollow Pin Breaker Chain Sizes:
Non-Standard Sizes:

C2040HP
C2050HP
C2060HP
C2080HP
C2042HP
C2052HP
C2062HP
C2082HP
08B-HP
10B-HP
12B-HP
16B-HP
Non-standard hollow pin chain breaker sizes are available to purchase upon request but will need to be manufactured.
Standard Base Unit:

The standard base unit is a hand-lever action breaker. The chain sits in the select size die set and once the handle is pulled the spring action pusher pins will extend and push out the hollow pin for a clean and even break.

Die Set:


For each chain size, a different die set is required for that specific chain.

Hydraulic Hollow Pin Chain Breaker Set: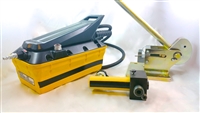 We also offer a hydraulic pump or foot pedal version of the hollow pin chain breaker. For more information or to get a quote on the hollow pin roller chain breaker please contact us and we'll be happy to assist you.

Hollow Pin Chain Breaker In Action