ANSI-Certified Standard Roller Chain Sprockets
Industrial chain sprocket breakages can bring your machinery to a grinding halt. Many machines can't operate without their drive train sprockets, and replacing them can cost a lot of time and money. At USA Roller Chain, we offer a wide selection of standard roller chain sprockets at unbeatable prices. Our sprockets are engineered to perform well under pressure and are long lasting. The roller chain sprockets for sale in our store include single-strand roller chain sprockets, double strand sprockets and multi-strand roller chain sprockets. Furthermore, our drive chain sprockets meet both ANSI and ASME standards.
We're positive you'll be happy when you buy industrial chain sprockets in our store, because they'll last you a long time. If you're not sure what sprockets are the ones you need for your machine, please don't hesitate to give us a call. Our knowledgeable staff, superior products, and unbeatable prices are the reasons for our A+ BBB rating!
How to Identify and Buy Sprockets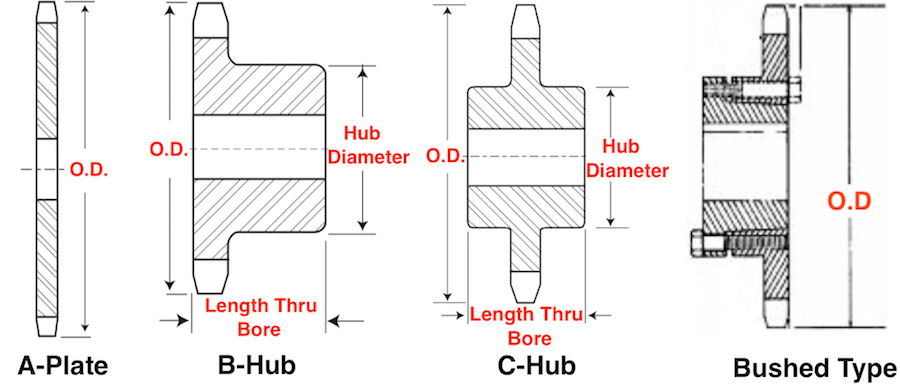 To figure out what size or type of sprocket you have simply refer to the above illustrations and fill out the below form. Then click the "submit" button at the end to send it to our customer service team and expect a response back. If you are having trouble identifying your roller chain please contact us and we will be happy to assist you.