Screw Conveyor Cover Clamps
Cover clamps are used to restrict unwanted or accidental access to the internal parts of a screw conveyor, because of their intended use they are considered a safety requirement for any screw conveyor application that requires it. We supply four different styles of screw conveyor cover clamps designed for specific covers and requirements.

Spring Screw Conveyor Cover Clamps

Spring style cover clamps are designed for use with flat or semi-flanged covers to the conveyor trough. For dust tight applications, they may also be fitted over a gasket cover. Spring cover clamps are usually located on 2ft 6" centers, if gasketed, 15" centers, or closer depending on the application.


Size Code
Part #
(A)
(B)
(C)
(D)
(E)
(F)
(G)
(H)
Weight (LBS)

1SC

325-0669
7/8"
15/16"
2-7/8"
1-3/16"
1-1/4"
9/32"
5/32"
3/16"
0.34

2SC

325-1105
1-1/8"
1-15/16"
3-1/4"
1-1/8"
1-1/2"
13/32"
1/4"
3/16"
0.51

Standard Screw Conveyor Cover Clamp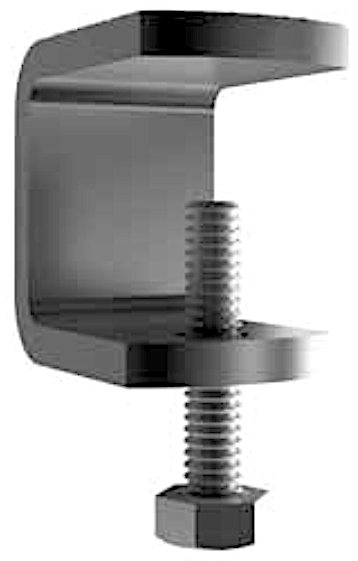 The standard screw cover clamps utilize a simple bolt for tightening and loosening the clamps. These clamps can be used on flat or other special trough covers, they are typically placed on 30" centers and if gasketed 15" or closet centers. This style is also commonly used for clamping the bottom of drop-bottom troughs.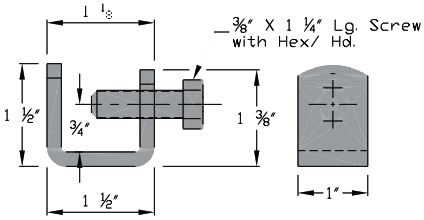 Continuous Screw Conveyor Cover Clamp

The continuous cover clamp is a heavy-gauge spring clamp that is furnished in 5ft lengths. Its ideal purpose is to be used with a flat cover trough or for fastening a drop-bottom or quick-opening trough or casing section. The continuous clamp can be supplied in black iron or stainless steel, with or without locking pins on each end.

Size Code
Part #
(A)
(B)
(C)
Weight (LBS)

40CC

323-0554
1-1/4"
3/16"
1/2"
6
Quick-Release Cover Clamps
Quick-release clamps are designed with a buckle for easy install and uninstall, we offer this style for the Barron trough covers as well as the Tite-Seal covers.