Chain Sprockets
Without reliable sprockets for your machinery, production levels tumble and profits suffer. At USA Roller Chain & Sprockets, our inventory swells with gears and sprockets for your everyday needs. Are you looking for ISO metric or specialty parts? What about ANSI or MTO components? Fill out your parts inventory with chain sprockets that stand the test of time and the harshest environments.
Explore our main categories of gear sprockets, including standard, double pitch, stainless steel, idler, coupler and more. We make ordering as easy as possible too. Select your industrial sprockets and gears along with the design type. Our stock supplies you with A-plate, B-hub, C-hub and bushed-type parts. Chain gears may come in hundreds of different variations, but we have the most common types for your applications. Upgrade your machinery with the help of USA Roller Chain and reliable sprockets that last.
Types of Sprockets
As one of the nation's largest roller chain sprocket providers, we stock a full range of ANSI, ISO Metric and Specialty sprockets. We also have a fast reaction machine shop that can supply custom MTO sprockets with industry-leading lead times and at extremely competitive prices.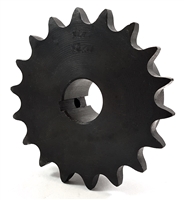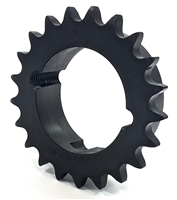 Our standard roller chain sprockets consist of the typical A-Plate, B-Hub, C-Hub, taper-bushed and QD-style sprockets. We also stock multi-strand roller chain sprockets, double-single sprockets and weld-on sprockets. We keep ANSI Sizes #25 - #240 in stock and ready for immediate shipment!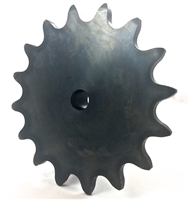 Double pitch roller chains typically require a "special" double pitch sprocket. Because of this, we have a full line of specialty double pitch sprockets for C2040 - C2080H and C2042 - C2082H size double pitch roller chains in stock. All of these sprockets feature black oxide coating, superior steel grade and hardened teeth.
For stainless steel sprockets, we have ANSI sizes #25 - #100 in stock and ISO metric stainless steel sprockets in stock as well. All stock sprockets are manufactured out of high-quality 304-grade stainless steel but can be manufactured out of other grades of stainless steel as well, such as 316 and 4103 grades.
Our idler sprockets are typically in stock with ball bearings inserted. We can also make bronze bushed, nylatron and roller bearing idler sprockets upon request with fast turnaround.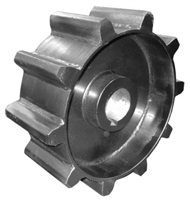 Specialty sprockets included pintle chain sprockets, welded steel drum sprockets, 81X series sprockets and many more! We can manufacture just about any sprocket needed.
All coupling sprockets are manufactured from a superior steel material with hardened teeth and are black oxide coated because of the application they will be used in. We offer ANSI #40 - #120 coupling sprockets in stock and can have additional sizes manufactured upon request.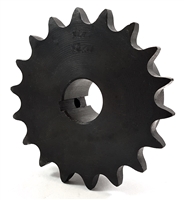 Metric roller chain sprockets are the second most common type of sprocket used. We have ISO sizes 04B - 32B metric roller chain sprockets in stock as the standard A-Plate, B-Hub or C-Hub style, as well as the BTB taper bushed style. We can also supply DIN series sprockets and other ISO sizes upon request. These sprockets are available in steel, stainless steel and plastic materials.
How to Identify and Buy Sprockets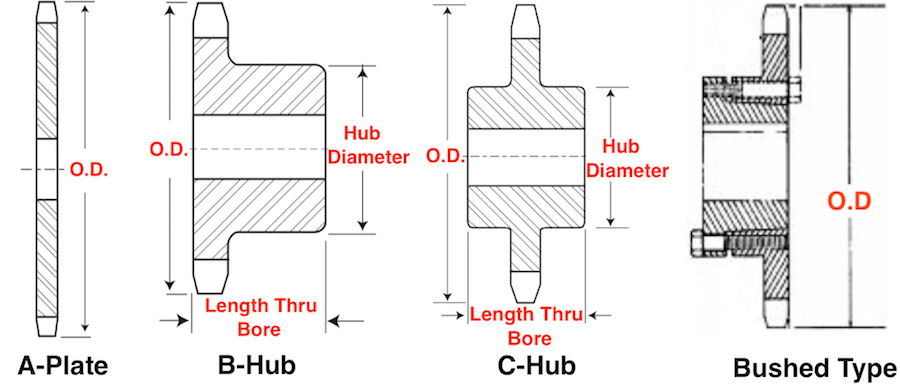 To figure out what size or type of sprocket you have, simply refer to the above illustrations and fill out the below form. Then click the "submit" button at the end to send it to our customer service team and expect a response back.
If you are having trouble identifying your roller chain please contact us at 407.347.3519 and we will be happy to assist you.