Metric Roller Chain Sprockets
USA Roller Chain & Sprockets is a premier supplier of high-quality metric roller chain sprockets as
British Standard (Metric) Roller Chain
. We stock a wide range metric roller chain sprockets right off the shelf for immediate delivery. Our sprockets are typically supplied as standard steel with heat-treated teeth (up to 30 teeth) and stock bores. When a sprocket has heat-treated hardened teeth it typically lasts longer and preforms better than those that don't. We also have sprockets with finished bore configurations, taper bushed style, QD style, and in different materials (plastic, stainless steel, and more). We also manufacture custom sprockets upon request with a quick turn around.

What sets us apart from the rest of the crowd is out highly trained and knowledgeable staff, paired up with extremely competitive pricing, and excellent service. Something else that gives USA Roller Chain & Sprockets a big advantage in service and availability is our on-site, fully equipped machine shop division. This gives us the capability to re-bore sprockets with a fast turn around, create assemblies, and more! All of our metric roller chain sprockets are manufactured to ISO or DIN specifications so they directly interchange with other brands of sprockets. This also ensure the proper contact between the roller chain and sprocket which will prevent premature wear.

The majority of sprockets we have on our online catalog are in-stock and ready for immediate shipment, but not all of out metric roller chain sprockets are on our website. If you don't see what you are looking for, have questions, or are in need of a quote please contact us and we will be happy to assist you. On-top of sprockets and chain we also have a full line of motors, gear boxes, bearings, shafting, belting, gears, gear racking, liner motion products, hydraulics, pneumatics, sensors, pumps, filters, fuses, hubs, and much more.


Identifying Metric Sprockets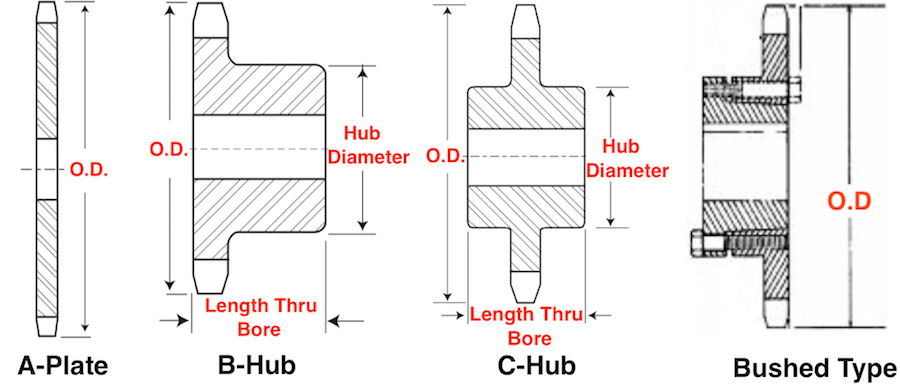 To figure out what size or type of sprocket you have simply refer to the above illustrations and fill out the below form. Then click the "submit" button at the end to send it to our customer service team and expect a response back. If you are having trouble identifying your roller chain please contact us and we will be happy to assist you.