Roller Chain Repair Kit
Having a roller chain go-down can be a drastic problem for critical applications. Keeping a roller chain repair-kit for your critical chain sizes can prevent pro-longed downtime! These kits are designed to have everything you need to make a repair, or extend the length of your roller chain. Each kit includes a certain amount of connecting links (outside link), roller links (inside link), and offset links (half link). Additionally, each roller chain repair kit is supplied in its own container for easy storage! We also offer various Roller Chain Maintenance Kits that use top of the line tools and lubricants to keep you up and running!

Connecting Links:


The connecting links we supply in each kit are manufactured to ANSI B29.1 or ISO British Standards depending on the size and use premium high-strength components. When doing a chain assembly or repair, connecting links are used as outer links and consist of two heat-treated and hardened pins, two heat-treated side plates, and either a spring clip or cotter style fastener to keep the loose side plate in place.

Roller Links: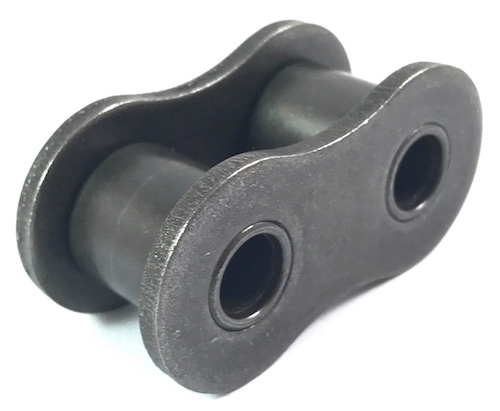 when making repairs roller links are used as the inside links of a roller chain and consist of two bushings, two rollers, and two pressed on inside side plates to keep everything assembled in place.

Offset Links:


When making a repair offset links are used for making slight length adjustments. They are also known as half links because when assembled onto a chain they can extend the length by half of the pitch. Offset links typically consist of one pin with cotter, one bushing, one roller, and two offset-style plates.

Below is a chart with our standard stock roller chain repair kits. If you don't see the specific chain size needed please contact us by phone or email, or fill out the request form at the bottom of the page and someone from our customer service team will take care of you! We can supply engineer class chain repair kits, stainless steel, nickel plated, and coated chain repair kits as well.

Standard Roller Chain Repair Kits



Requesting Roller Chain Repair Kits
To get a quote on roller chain repair its simply fill out the request for quote form and someone from our customer service team will contact you.