#35 Roller Chain
35 roller chain is the 2nd smallest size in the ANSI roller chain lineup and is manufactured precisely to the American National Standards Institute (ANSI) B29.1 precision roller chain specifications. It's also commonly referred to as just 35 chain because much like the smallest ANSI size chain (25) 35 roller chains do not have actual rollers. This means that our 35 chain interchanges with other manufactures and will run on standard 35 sprockets. We supply many different variants of size 35 chain such as stainless steel, nickel-plated, multi-strand, O-ring sealed, as well as custom attachment styles of 35 roller chain. We also stock a slew of 35 roller chain accessories such as chain breakers, chain pullers, guides, and roller chain tensioners. To get additional information or to get a quote contact our customer support team and we will be happy to assist you!

#35 Chain Dimensions
Pitch (P)

Bushing Width (W)

Bushing Diameter (D)

Overall Width (A)

Plate Height (H)

Plate Thickness (T)

Pin Diameter (E)

Weight (Per Ft)

35-1
0.375"
0.188"
0.200"
0.472"
0.354"
0.049"
0.141"
0.21 LBS
35-2
0.375"
0.188"
0.200"
0.870"
0.354"
0.049"
0.141"
0.46 LBS
35-3
0.375"
0.188"
0.200"
1.268"
0.354"
0.049"
0.141"
0.70 LBS
35-4
0.375"
0.188"
0.200"
1.665"
0.354"
0.049"
0.141"
0.95 LBS
35-5
0.375"
0.188"
0.200"
2.067"
0.354"
0.049"
0.141"
1.19 LBS
Note: additional information on product pages.


With a pitch of only 0.375", #35 chains are versatile enough to fit within a large variety of applications

. The below clips show some of the common places that a #35 chain might be found!

Plant Machinery and Conveyors: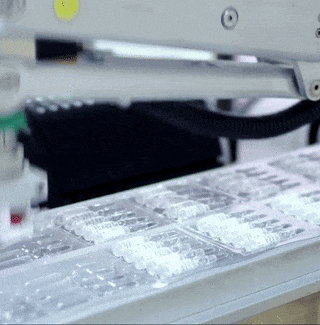 35 chain can be found in a wide range of plant machinery and small conveying systems. These include industries like pharisaical, bottling, packaging, and more!
Agricultural Machinery:
35 chains are found in a range of agricultural equipment such as planters, spreaders, feed equipment, harvesters, and sprayers. Our General Duty Plus series of #35 roller chain has a superior case hardened pin designed specifically for high-speed applications such as these. We also supply corrosion-resistant coated 35 chains for dealing with the weather and keeping your chains rust free!
Robotics:
Because of its small form factor, 35 chains are also found in several different types of robotics. Typically they will be larger-scale industrial robots or even cobots that require the high tensile strength and torque capacities that our 35 chains have to offer.
Electronics Manufacturing:
Another common application we supply size 35 roller chains too are electronic and circuit board manufactures. The one in the clip above is a #35 with D-3 attachments assembled every pitch, because of how common it is used we have this configuration in stock in both carbon and stainless steel (non-magnetic) options.
When it comes to accessories for your #35 roller chain we have what you need to make repairs, prolong life, and for making quick chain edits!
A-Plate 35 Sprockets

B-Hub 35 Sprockets
Size

Tooth Count

Outside Diameter (OD)
Stock Bore
Maximum Reccomended Bore
Hub Diameter
Length Thru Bore

Weight (LBS)

35B8
8
1.130"
3/8"
3/8"
3/4"
3/4"
0.07

35B9

9
1.260"
3/8"
3/8"
27/32"
3/4"
0.09

35B10

10
1.380"
3/8"
9/16"
31/32"
3/4"
0.14

35B11

11
1.500"
3/8"
9/16"
1-1/16"
3/4"
0.17

35B12

12
1.630"
1/2"
9/16"
1-7/32"
3/4"
0.20

35B13

13
1.750"
1/2"
11/16"
1-1/4"
3/4"
0.23

35B14

14
1.870"
1/2"
7/8"
1-1/4"
3/4"
0.25

35B15

15
1.990"
1/2"
7/8"
1-11/32"
3/4"
0.29

35B16

16
2.110"
1/2"
15/16"
1-15/32"
3/4"
0.35

35B17

17
2.230"
1/2"
1-1/16"
1-19/32"
3/4"
0.42

35B18

18
2.350"
1/2"
1-3/16"
1-23/32"
3/4"
0.48

35B19

19
2.470"
1/2"
1-1/4"
1-27/32"
3/4"
0.54

35B20

20
2.590"
1/2"
1-5/16"
1-15/16"
3/4"
0.59

35B21

21
2.710"
1/2"
1-3/8"
2"
7/8"
0.80

35B22

22
2.830"
1/2"
1-3/8"
2"
7/8"
0.80

35B23

23
2.950"
1/2"
1-3/8"
2"
7/8"
0.82

35B24

24
3.070"
1/2"
1-3/8"
2"
7/8"
0.88

35B25

25
3.190"
1/2"
1-3/8"
2"
7/8"
0.88

35B26

26
3.310"
1/2"
1-3/8"
2"
7/8"
0.90

35B27

27
3.430"
1/2"
1-3/8"
2"
7/8"
0.94

35B28

28
3.550"
1/2"
1-3/8"
2"
7/8"
0.94

35B30

30
3.790"
1/2"
1-3/8"
2"
7/8"
1.02

35B32

32
4.030"
1/2"
1-3/8"
2"
7/8"
1.24

35B35

35
4.390"
5/8"
1-1/2"
2-1/4"
7/8"
1.50

35B36

36
4.510"
5/8"
1-1/2"
2-1/4"
7/8"
1.56

35B40

40
4.990"
5/8"
1-1/2"
2-1/4"
1"
1.62

35B42

42
5.230"
5/8"
1-1/2"
2-1/4"
1"
1.68

35B45

45
5.590"
5/8"
1-1/2"
2-1/4"
1"
1.78

35B48

48
5.950"
5/8"
1-1/2"
2-1/4"
1"
1.88

35B54

54
6.660"
5/8"
1-1/2"
2-1/4"
1"
2.20

35B60

60
7.380"
3/4"
1-1/2"
2-1/4"
1"
2.48

35B70

70
8.580"
3/4"
1-1/2"
2-1/4"
1"
3.12

35B72

72
8.810"
3/4"
1-1/2"
2-1/4"
1"
3.42

35B80

80
9.770"
3/4"
1-1/2"
2-1/4"
1"
3.82

35B84

84
10.250"
3/4"
1-1/2"
2-1/4"
1"
4.24

35B96

96
11.680"
3/4"
1-1/2"
2-1/4"
1"
5.16
35B112
112
13.590"
3/4"
1-1/2"
2-1/4"
1"
6.70
Taper Bushed 35 Sprockets
Size

Tooth Count

Bushing Used
Outside Diameter (OD)
Pitch Diameter (PD)
Dimension (L)
Dimension (C)
Weight (LBS)

35BTB18

18
1008
2.352"
2.159"
7/8"
1-7/8"
0.4

35BTB19

19
1008
2.472"
2.278"
7/8"
1-13/16"
0.5

35BTB20

20
1008
2.593"
2.397"
7/8"
1-15/16"
0.6

35BTB21

21
1008
2.713"
2.516"
7/8"
2-1/16"
0.7

35BTB22

22
1210
2.883"
2.635"
1"
2-3/8"
0.8

35BTB23

23
1210
2.954"
2.754"
1"
2-7/16"
0.9

35BTB24

24
1210
3.074"
2.873"
1"
2-7/16"
0.9

35BTB25

25
1210
3.194"
2.992"
1"
2-7/16"
1.2

35BTB26

26
1610
3.314"
3.111"
1"
2-7/8"
1.1

35BTB28

28
1610
3.553"
3.349"
1"
2-7/8"
1.2

35BTB30

30
1610
3.793"
3.588"
1"
3-1/8"
1.2

35BTB32

32
1610
4.032"
3.826"
1"
3-1/4"
1.3

35BTB35

35
1610
4.392"
4.183"
1"
3-1/4"
1.4

35BTB36

36
1610
4.511"
4.303"
1"
3-1/4"
1.4

35BTB40

40
1610
4.990"
4.786"
1"
3-1/4"
1.9

35BTB42

42
1610
5.229"
5.018"
1"
3-1/4"
2.0

35BTB45

45
1610
5.588"
5.376"
1"
3-1/4"
2.1

35BTB48

48
1610
5.946"
5.734"
1"
3-1/4"
2.3

35BTB54

54
1610
6.663"
6.449"
1"
3-1/4"
2.6

35BTB60

60
1610
7.380"
7.165"
1"
3-1/4"
3.0

35BTB70

70
1610
8.575"
8.358"
1"
3-1/4"
3.7

35BTB72

72
1610
8.814"
8.597"
1"
3-1/4"
3.9

35BTB80

80
1610
9.770"
9.552"
1"
3-1/4"
4.5

35BTB84

84
1610
10.247"
10.029"
1"
3-1/4"
4.9

35BTB96

96
1610
11.680"
11.461"
1"
3-1/4"
6.0

35BTB112

112
1610
13.590"
13.371"
1"
3-1/4"
7.8
QD-Bushed 35 Sprockets
Size

Tooth Count

Bushing Used
Outside Diameter
Pitch Diameter
(L1)
(L2)
(C)
(Y)
(G)
(X)
(T)
Weight (LBS)

35JA19

19
JA
2.470"
2.278"
1-1/8"
1-1/8"
2-1/16"
53/64"
29/64"
5/8"
0.168"
0.28

35JA20

20
JA
2.590"
2.397"
1-1/8"
1-1/8"
2-1/16"
53/64"
29/64"
5/8"
0.168"
0.32

35JA21

21
JA
2.710"
2.516"
1-1/8"
1-1/8"
2-1/16"
53/64"
29/64"
5/8"
0.168"
0.34

35JA22

22
JA
2.830"
2.635"
1-1/8"
1-1/8"
2-1/16"
53/64"
29/64"
5/8"
0.168"
0.36

35JA23

23
JA
2.950"
2.754"
1-1/8"
1-1/8"
2-1/16"
53/64"
29/64"
5/8"
0.168"
0.38

35JA24

24
JA
3.070"
3.873"
1-1/8"
1-1/8"
2-1/16"
53/64"
29/64"
5/8"
0.168"
0.40

35JA25

25
JA
3.190"
2.992"
1-1/8"
1-1/8"
2-1/16"
53/64"
29/64"
5/8"
0.168"
0.44

35JA26

26
JA
3.310"
3.111"
1-1/8"
1-1/8"
2-1/16"
53/64"
29/64"
5/8"
0.168"
0.46

35JA27

27
JA
3.430"
3.230"
1-1/8"
1-1/8"
2-1/16"
53/64"
29/64"
5/8"
0.168"
0.48

35JA28

28
JA
3.550"
3.349"
1-1/8"
1-1/8"
2-1/16"
53/64"
29/64"
5/8"
0.168"
0.52

35JA30

30
JA
3.790"
3.588"
1-1/8"
1-1/8"
2-1/16"
53/64"
29/64"
5/8"
0.168"
0.56

35JA32

32
JA
4.030"
3.826"
1-1/8"
1-1/8"
2-1/16"
53/64"
29/64"
5/8"
0.168"
0.78

35JA35

35
JA
4.390"
4.183"
1-1/8"
1-1/8"
2-1/16"
53/64"
29/64"
5/8"
0.168"
1.04

35SH36

36
SH
4.510"
4.303"
1-7/16"
1-7/16"
2-11/16"
1-5/64"
41/64"
13/16"
0.168"
1.06

35SH40

40
SH
4.990"
4.780"
1-7/16"
1-7/16"
2-11/16"
1-5/64"
41/64"
13/16"
0.168"
1.18

35SH42

42
SH
5.230"
5.018"
1-7/16"
1-7/16"
2-11/16"
1-5/64"
41/64"
13/16"
0.168"
1.26

35SH45

45
SH
5.590"
5.376"
1-7/16"
1-7/16"
2-11/16"
1-5/64"
41/64"
13/16"
0.168"
1.40

35SH48

48
SH
5.950"
5.734"
1-7/16"
1-7/16"
2-11/16"
1-5/64"
41/64"
13/16"
0.168"
1.58

35SH54

54
SH
6.660"
6.449"
1-7/16"
1-7/16"
2-11/16"
1-5/64"
41/64"
13/16"
0.168"
1.88

35SH60

60
SH
7.380"
7.165"
1-7/16"
1-7/16"
2-11/16"
1-5/64"
41/64"
13/16"
0.168"
2.28

35SH70

70
SH
8.580"
8.358"
1-7/16"
1-7/16"
2-11/16"
1-5/64"
41/64"
13/16"
0.168"
2.94

35SH72

72
SH
8.810"
8.597"
1-7/16"
1-7/16"
2-11/16"
1-5/64"
41/64"
13/16"
0.168"
3.14

35SH80

80
SH
9.770"
9.552"
1-7/16"
1-7/16"
2-11/16"
1-5/64"
41/64"
13/16"
0.168"
3.68

35SH84

84
SH
10.250"
10.029"
1-7/16"
1-7/16"
2-11/16"
1-5/64"
41/64"
13/16"
0.168"
3.96

35SH96

96
SH
11.680"
11.461"
1-7/16"
1-7/16"
2-11/16"
1-5/64"
41/64"
13/16"
0.168"
5.38

35SH112

112
SH
13.590"
13.371"
1-7/16"
1-7/16"
2-11/16"
1-5/64"
41/64"
13/16"
0.168"
6.60
H-Bushed 35 Sprockets
Size

Tooth Count

Bushing Used
Outside Diameter (OD)
Pitch Diameter
(OL)
(L)
(C)
(H)
(P)
(T)
Weight (LBS)

35H19

19
H
2.470"
2.278"
1-1/2"
1-1/4"
1/16"
2-1/2"
1-5/32"
0.168"
0.5

35H20

20
H
2.590"
2.397"
1-1/2"
1-1/4"
1/16"
2-1/2"
1-5/32"
0.168"
0.5

35H21

21
H
2.710"
2.516"
1-1/2"
1-1/4"
1/16"
2-1/2"
1-5/32"
0.168"
0.6

35H22

22
H
2.830"
2.635"
1-1/2"
1-1/4"
1/16"
2-1/2"
1-5/32"
0.168"
0.7

35H23

23
H
2.950"
2.754"
1-1/2"
1-1/4"
1/16"
2-1/2"
1-5/32"
0.168"
0.7

35H24

24
H
3.070"
2.873"
1-1/2"
1-1/4"
1/16"
2-1/2"
1-5/32"
0.168"
0.8

35H25

25
H
3.190"
2.992"
1-1/2"
1-1/4"
1/16"
2-1/2"
1-5/32"
0.168"
0.8

35H26

26
H
3.310"
3.111"
1-1/2"
1-1/4"
1/16"
2-1/2"
1-5/32"
0.168"
0.8

35H28

28
H
3.550"
3.349"
1-1/2"
1-1/4"
1/16"
2-1/2"
1-5/32"
0.168"
0.9

35H30

30
H
3.790"
3.588"
1-1/2"
1-1/4"
1/16"
2-1/2"
1-5/32"
0.168"
0.9

35H32

32
H
4.030"
3.826"
1-1/2"
1-1/4"
1/16"
2-1/2"
1-5/32"
0.168"
0.9

35H35

35
H
4.390"
4.183"
1-1/2"
1-1/4"
1/16"
2-1/2"
1-5/32"
0.168"
1.0

35H36

36
H
4.510"
4.303"
1-1/2"
1-1/4"
1/16"
2-1/2"
1-5/32"
0.168"
1.0

35H40

40
H
4.990"
4.780"
1-1/2"
1-1/4"
1/16"
2-1/2"
1-5/32"
0.168"
1.2

35H42

42
H
5.230"
5.018"
1-1/2"
1-1/4"
1/16"
2-1/2"
1-5/32"
0.168"
1.2

35H45

45
H
5.590"
5.376"
1-1/2"
1-1/4"
1/16"
2-1/2"
1-5/32"
0.168"
1.4

35H48

48
H
5.950"
5.734"
1-1/2"
1-1/4"
1/16"
2-1/2"
1-5/32"
0.168"
1.5

35H54

54
H
6.660"
6.449"
1-1/2"
1-1/4"
1/16"
2-1/2"
1-5/32"
0.168"
1.8

35H60

60
H
7.380"
7.165"
1-1/2"
1-1/4"
1/16"
2-1/2"
1-5/32"
0.168"
2.3

35H70

70
H
8.580"
8.358"
1-1/2"
1-1/4"
1/16"
2-1/2"
1-5/32"
0.168"
2.8

35H72

72
H
8.810"
8.597"
1-1/2"
1-1/4"
1/16"
2-1/2"
1-5/32"
0.168"
3.0

35H80

80
H
9.770"
9.552"
1-1/2"
1-1/4"
1/16"
2-1/2"
1-5/32"
0.168"
3.8

35H84

84
H
10.250"
10.029"
1-1/2"
1-1/4"
1/16"
2-1/2"
1-5/32"
0.168"
4.0

35H96

96
H
11.680"
11.461"
1-1/2"
1-1/4"
1/16"
2-1/2"
1-5/32"
0.168"
5.3

35H112

112
H
13.590"
13.371"
1-1/2"
1-1/4"
1/16"
2-1/2"
1-5/32"
0.168"
6.8
35 Idler Sprockets