1/3 HP Electric Motor
1/3 HP Electric Motors are used in a wide range of industrial, general purpose, and agricultural applications. Chances are we have the right motor for your application in stock! Ranging from alternating current (AC) to direct current (DC) 1/3 horsepower motors we have one of the largest selections available. Please note that the motors offered on our website are manufactured by World Wide Electric, but we also stock and supply other brands. Boasting industry leading service factors (1.15 on AC & 1.0 on DC) and premium features such as Mobil Polyrex EM grease, high-performance bearings, class F insulation, and improved shaft seals on 1/3 HP fractional horsepower motors we are confident you will be satisfied with your purchase! For information or to get pricing and availability please contact us at (407) 347-3519 or email sales@usarollerchain.com

1/3 HP Motor Enclosure Options
TEFC - Totally Enclosed Fan Cooled/ IP54 Protection (good for out-door and dusty applications)
TENV - Totally Enclosed Non-vented/ IP54 Protection (good for out-door and dusty applications)

AC General Purpose 1/3 HP Electric Motors
Model

HP

RPM

Voltage

Frame

Phase

Base

Face

Enclosure

Weight (LBS)

NT13-18-56CB
1/3
1800
115/208-230
56C
1
Removable
C
TEFC
22
NAT13-36-56CB
1/3
3600
208-230/460
56C
3
Removable
C
TEFC
18
NAT13-18-56CB
1/3
1800
208-230/460
56C
3
Removable
C
TEFC
18
AC Stainless Steel Wash-down 1/3 HP Electric Motors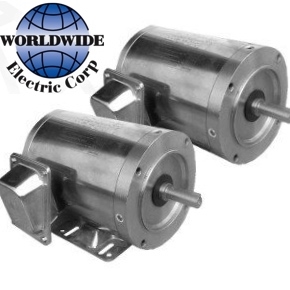 Model

HP

RPM

Voltage

Frame

Phase

Base

Face

Enclosure

Weight (LBS)

WSSNV13-18-56CB
1/3
1800
208-230/460
56C
3
Rigid
C
TENV
28
WSSNV13-18-56RCD
1/3
1800
208-230/460
56C
3
Round Body
C
TENV
28
WSS13-18-56CB
1/3
1800
208-230/460
56C
3
Rigid
C
TEFC
28
WSS13-18-56RCD
1/3
1800
208-230/460
56C
3
Round Body
C
TEFC
28
AC Jet Pump 1/3 HP Electric Motors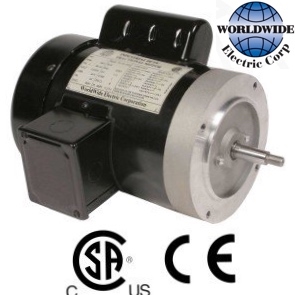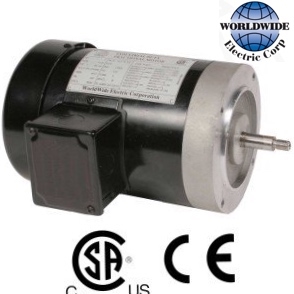 Model

HP

RPM

Voltage

Frame

Phase

Base

Face

Enclosure

Weight (LBS)

TJ13-36-56JB
1/3
3600
115/208-230
56J
1
Removable
C
TEFC
23
ATJ13-36-56JB
1/3
3600
208-230/460
56J
2
Removable
C
TEFC
22
Direct Current (DC) 1/3 HP Electric Motors
AC Farm Duty 1/3 HP Electric Motors
Model

HP

RPM

Voltage

Frame

Phase

Base

Face

Enclosure

Weight (LBS)

FM13-18-56
1/3
1800
115/230
56
1
Rigid
C
TEFC
22
There is additional information on product pages themselves.

Replacement Parts and Options on 1/3 horse power electric motors include: start capacitor, run capacitor, start capacitor cover, run capacitor cover, endbell (DE), endbell (ODE), fan, fan cover, junction box, manual overload (on farm duty), centrifugal switch, stationary switch, seals, and bearings.



1/3 Horsepower Electric Motor Price
To get a quote on 1/3 HP electric motors fill out the request for quote form and someone from our customer service team will contact you.