Roller Chain Maintenance
When buying any roller chain it is important to properly maintain it. Doing routine maintenance to a roller chain not only improves safety, but it also reduces down time, energy consumption, and drastically improves the chain life. USA Roller Chain and Sprockets is one of the nations leading suppliers of industrial Power Transmission components. Our customer support team works tirelessly to ensure we are providing the industry leading customer service we are known for at competitive pricing. We put articles like this one together to help our customers get the most out of their roller chains and to help people searching for ways to maintain their chains



Roller Chain Wear Diagnostics
There are a wide range of reasons that can cause a roller chain to wear out pre maturely. Before we go over the ways to maintain a roller chain let's go over a few of the common chain wear causes.

#1 Worn Contour:


Probable Cause = This is caused by abnormal wear rubbing, or metal-on-metal contact.
Solution = Use a roller chain guide or wear strip, also check alignment of chains and sprockets.

#2 Tight Joints:


Probable Cause = This is typically the result of a foreign substance packed in joints, corrosion, or bent pins
Solution = Clean and re-lube the roller chain or purchase a problem solver roller chain such as O-Ring roller chain or another style offered to you by USA Roller Chain and Sprockets.

#3 Hooked Sprocket Teeth: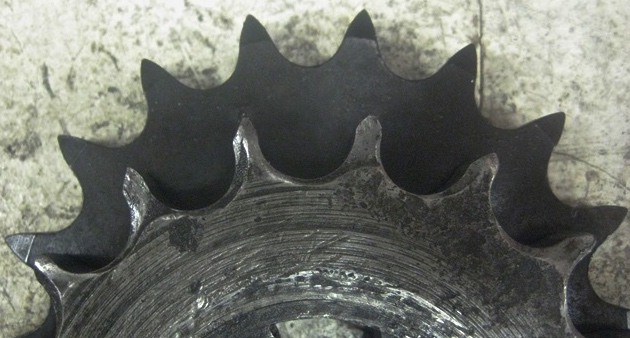 Probable Cause = Excessive chain and sprocket wear.
Solution = Replace sprockets immediately and roller chain if signs of excessive chain wear is prevalent.

#4 Abnormal Protrusion or Turned Pins:



Probable Cause = Excessive friction caused by high loading and inadequate lubrication.
Solution = Replace roller chain, improve lubricating, and eliminate overload conditions.

#5 Cracked, Fractured Plates or Enlarged Holes:


Probable Cause = Overloading chain
Solution = replace roller chain with higher-strength chain

#6 Arc Like Cracked Plates:


Probable Cause = Severe rusting or exposure to acidic or caustic medium with additional static pressure at press fit. No cyclic stress is necessary for this to occur.
Solution = Replace roller chain with corrosion resistant roller chain or protect the chain from hostile environments.

#7 Corrosion Pitting and or Rust: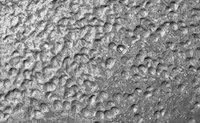 Probable Cause = Exposure to corrosive environments, harsh chemicals, or moisture.
Solution = Replace roller chain with corrosion resistant roller chain.

#8 Broken Cracked or Deformed Rollers:
Probable Cause = The speed is too high and or the sprockets are too small.
Solution = Replace roller chain and reduce speed or replace roller chain with high-speed roller chain.



Roller Chain Guides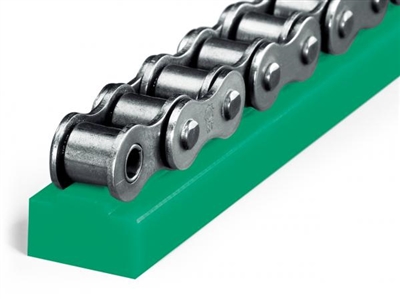 Using a roller chain guide is one of the best ways to prevent metal-on-metal contact. It also promotes lower operation noise levels and with less friction you save on energy costs.


Did you know that if your roller chain side plates wear down by just 5% you have lost a great deal of the chains original integrity and strength? This is one of the main reasons why using a chain guide is so important.


Roller Chain Lubricating
Proper lubrication is a must for maintaining a chain This is done a few different ways and it depends on the application. Please note that we can supply cans, bulk chain lubricants, and roller chain lubricating systems at competitive pricing.


The most common way that people lubricate their roller chains is by using a spray can. This is because it is the most economical method in simple applications and it is something that can be put on a daily or weekly maintenance schedule easily. We are a direct distributor for both IWIS VP6 lube and Super Lube products.


The second most common method for lubricating is using an automatic chain lubricating system. These systems are custom manufactured using in-stock components to suit the needs for any application in the most effective manner possible. Using an automatic roller chain lubricating system saves time and makes sure that your roller chain is always being properly lubricated. We can supply chain lubrication systems within fast lead times and at competitive pricing.


Roller Chain Tensioning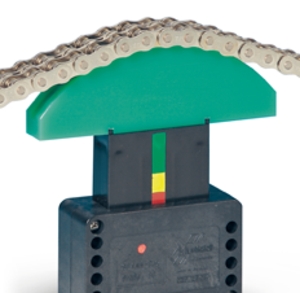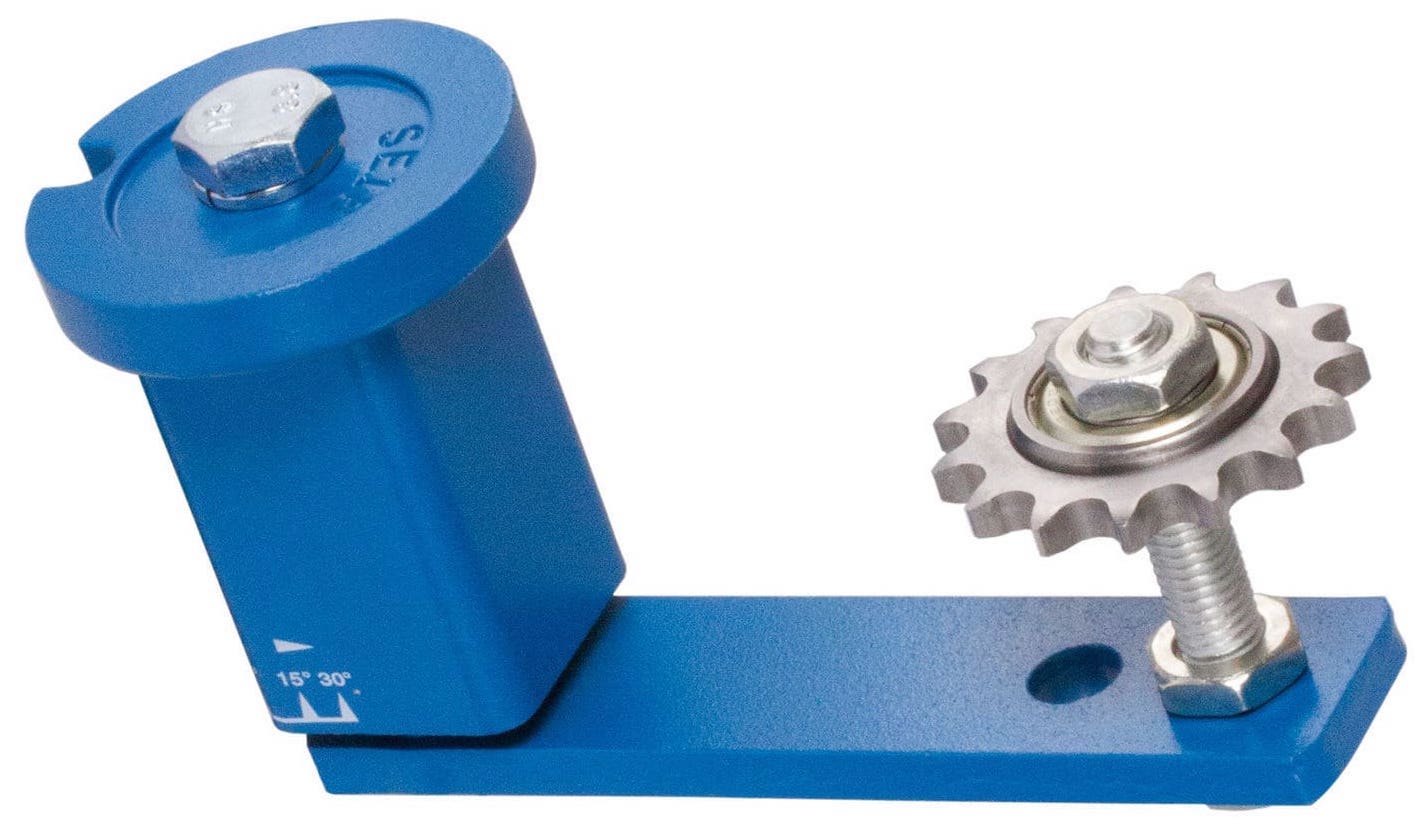 We offer the broadest range of high-quality roller chain tensioners on the market! Not all applications require a roller chain tensioner, but using one has its benefits. Keeping consistent and even tension on a roller chain reduces uneven wear, and the initial shock of stopping and starting. The chain tensioners we offer are cost saving and directly interchange with other manufactures, we also supply the Murtfeldt brand of roller chain tensioners for people needing to replace European based OEM tensioners and for a broadened range of chain tensioning solutions.


Roller Chain Wear Gauge

One of our newest product offerings is the roller chain wear gauge! This small chain accessory is one of the easiest ways to tell if it is time to replace your roller chain. It is manufactured to precise measurements and is much more economical than other chain wear gauges on the market. It is intended to be used with ANSI #25 - # 240 roller chains.


When to Replace Your Roller Chain
There are a few other ways besides using the chain wear gauge to know when it's time to replace a roller chain.
1: When the chain elongation has reached 1.5% (this may be less when using sprockets that have more than 60 teeth) Additional note: for leaf ANSI chains this can be up to 5% in some circumstances**.
2: When the link plate has some damage (cracking, distortions, etc..)
3: When any other component of the roller chain has damage (cracking, distortions, irregular movement etc..)
4: When the pin has bending or wrapped, or distortion of the link is found.
5: When substantial rust or improper flex is found.


Problem Solver Roller Chains
We offer an extensive amount of "problem solver" roller chains for applications that require more than a standard type of roller chain.

Corrosion Resistant Roller Chains:
stainless steel, coated roller chain, nickel plated roller chain, zinc plated chains, stainless steel mega strength chains, Stainless Steel O-Ring Roller Chain, 316-Grade Stainless Steel Chain, Stainless Steel Side-Bow Chains

Super High Strength Roller Chains:
Super Roller Chains, Double Capacity Roller Chains, API Certified Roller Chains


Additional Problem Solver Chains:
DHA Roller Chains, Low Temperature Roller Chains, Lube Free Chains, Plastic Roller Chains, Poly Steel Chains, Self Lubricating Roller Chains, Titanium Roller Chain, Hollow Pin Roller Chains, LAMBDA Equivalent Roller Chains, Rollerless Bushing Chains, Straight Side-Bar Roller Chains, O-Ring Roller Chains, Side Bow Roller Chains

Besides the roller chain we can also supply roller chain sprockets, shafting, bearings, gear boxes, electric motors, belting, and much more! USA Roller Chain and Sprockets is a one-stop shop solution for industrial power transmission products. We also have a fast reaction in-house machine shop (checkout http://www.usamachineshop.com for additional details).


Additional Roller Chain Maintenance Resources
Needing to measure and identify your roller chain? Checkout our How to Measure Roller Chain article.
Curious as to what components go into a roller chain and how it is manufactured? Go to our Roller Chain Parts article to find out.
Trying to break your roller chain? Checkout our how to on our How To Cut Roller Chain article.
Needing to know the standard ANSI roller chain sizes? Take a look at our Roller Chain Size Chart page.