50 Roller Chain
#50 roller chain is dimensionally manufactured in accordance with ANSI B29.1 Standards which is outlined by the American National Standards Institute and has been one of the most common sizes of industrial roller chain used in the industry since 1930. Through modern manufacturing techniques and engineering, we supply 50 chains that are designed for application-specific scenarios, from our Economy line to the top end Premier Series we supply clients with the chain best suited for the application at hand. On top of the standard ANSI 50 chains we also stock problem solver chains such as; O-Ring, Chrome-Plated, Side-Flexing, Hollow Pin, and more! A 5/8" pitch 50 chain offers ample tensile strengths with a small form factor, this is why it is one of the top choices in new roller chain applications today.

50 Chain Quality Levels
Economy Plus 50 Chain:
With respectable tensile strengths, this series is a great option for applications that handle light to moderate usage and are accessible easily for maintenance. It possesses features like solid rollers, precision heat-treated components, and shot-peened parts.
General Duty Plus 50 Chain:
Upgrading to this series gets you a chain that has all the same features as the Economy but with added strengths, factory pre-loading to greatly reduce stretch in applications, and a super-hardened pin for fast RPM applications. The metallurgy alone comes from a higher-quality source and the plate hols are ball-drifted for optimal contact between the riveted pins and side plates.
Premier Series 50 Chain:
At the top of the roller chain quality pyramid, this series boasts the highest tensile strength as well as working loads. This chain has been designed for the roughest and most demanding applications throughout the industry with added features like solid bushings, un-paralleled metallurgy and precision of components, as well as a slew of confidential processes that are done to the chain to ensure the end product is ready for any application. To find out more about Premier Series chains click here!

#50 Roller Chain Dimensions
Pitch (P)

Roller Width (W)

Roller Diameter (D)

Overall Width (A)

Plate Height (H)

Plate Thickness (T)

Pin Diameter (E)

Weight (Per Ft)

50-1
0.625"
0.375"
0.400"
0.800"
0.591"
0.079"
0.200"
0.713 LBS
50-2
0.625"
0.375"
0.400"
1.513"
0.591"
0.079"
0.200"
1.406 LBS
50-3
0.625"
0.375"
0.400"
2.230"
0.591"
0.079"
0.200"
2.099 LBS
50-4
0.625"
0.375"
0.400"
2.943"
0.591"
0.079"
0.200"
2.792 LBS
50-5
0.625"
0.375"
0.400"
3.656"
0.591"
0.079"
0.200"
3.485 LBS
50-6
0.625"
0.375"
0.400"
4.369"
0.591"
0.079"
0.200"
4.171 LBS
Note: The overall width of cottered-style #50 roller chains will vary.

50 Roller Chain Applications
50 chain is utilized within a broad spectrum of applications within drives, conveyors, and machinery.
Plant Machinery: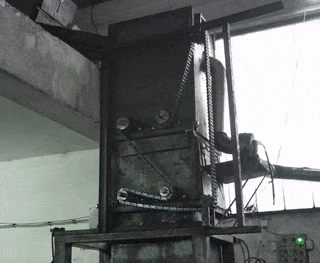 50 roller chains are abundantly found through manufacturing and packaging facilities within various applications. The example above is some 50-2 chain on a piece of plant machinery, we supply 50 chains up to twelve strands in width!
Agricultural Equipment:


50 chain is persistent in farm and ag equipment such as sprayers, planters, harvesters, feed systems, and more. For agricultural equipment, we typically recommend our General Duty Plus quality level and for corrosive or harsh environments we recommend a coated roller chain or O-Ring roller chain.
Drive Systems: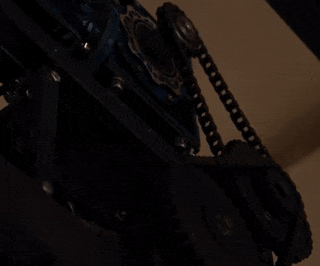 50 roller chain id designed to transfer energy to the highest degree. It's considered a high-precision ANSI transmission chain so it is perfect in any type of drive application. We also have heavy-duty 50 chains and super series 50 roller chains for the most demanding drive applications.
Conveyor Systems:


50 roller chains are also implemented into conveyor systems. The above demonstrates a 50 chain in a bakery with flights attached to the chain, we also supply a full array of standard and non standard roller chain attachments.










Request a Quote
Use the form below, if you would like to place a bulk order on #50 roller chain or need help with specifications or other information from our specialists. Click "Submit" when you are ready and our customer service team will get back with you as soon as possible.