Zinc Plated Roller Chains
A zinc plating or coating on your roller chain not only gives it anti-corrosive properties, but it also allows it to run in a more broad range of temperatures. Our zinc plated roller chains are manufactured to ANSI B29.1 specifications and are a stock item. These chains feature heat treated and hardened components for maximum durability and strength. They also feature a solid roller design for high performance. Typically, zinc plated roller chain is used in special conveying applications where a normal roller chain can not operate properly.


Zinc Plated Roller Chain Sprockets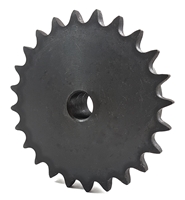 Because these chains are manufactured in the conveyor (double pitch) series of roller chains, a special double pitch roller chain sprocket must be used. We keep these sprockets in-stock with a black-oxide coating on them for corrosion resistance. If you need a 304-Grade or 316-Grade stainless steel sprocket , we can supply those as well.