Screw Conveyor Connecting Shafts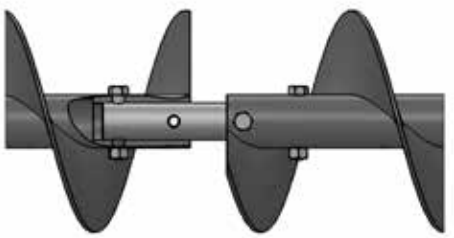 Our screw conveyor coupling shafts are precision manufactured from a select-grade of cold-rolled steel, these shafts are jig-drilled to assure an exact match with the jig-drilled conveyor pipe. For the higher demanding application and abrasive applications, we offer hardened steel screw conveyor shafts that are made with a tough ductile core and are case-hardened.
Screw Conveyor Coupling Shaft Sizes

High-Torque Screw Conveyor Coupling Shafts
These special high-torque screw conveyor coupling shafts are jig-drilled for using three coupling bolts in the end of the conveyor pipe rather than just two. What this does is considerably increase the motor size and horsepower input ratings for the system, drive and tail coupling shafts are all jig-drilled to match the three bolt holes placed in the conveyor pipe.

Shaft Size

Cold-Rolled Steel Part #

Hardened Steel Part #

(B)

(C)

(D)

Dimension (E)

Dimension (F)

Dimension (G)

Weight (LBS)

1-1/2"

147-0343

147-0350

17-1/2"
7/8"
3"
7/8"
1/2"
2"
8.5
2"

147-0459

147-0467

17-1/2"
7/8"
3"
7/8"
5/8"
2"
14.5
2-7/16"

147-0566

147-0574

18-3/4"
15/16"
3"
15/16"
5/8"
3"
23.8
3"

147-0780

147-1556

19"
1"
3"
1"
3/4"
3"
36
3-7/16"

147-0897

147-0905

25-1/2"
1-1/2"
5"
1-1/4"
7/8"
4"
65