USA Roller Chain and Sprockets is an industry-leading roller chain supplier accredited with exceptional customer service. Most roller chain sizes we offer in three different quality levels: Economy Plus, General Duty Plus, and Premier. If you are in need something even stronger, we also have Elite Series roller chains which offer the strongest strengths in the world for ANSI roller chain!



We have a full line of standard ANSI roller chains available. Standard series roller chains include single strand, multi strand, and heavy series. We have also put together a
roller chain size chart
for help with identifying your existing chain or designing a new application. In addition, we also carry a full range of sprockets and attachments for standard roller chains.
Corrosion Resistant Roller Chain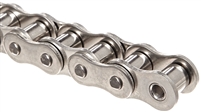 In corrosion resistant roller chains, we stock a full line stainless steel roller chain in 304-grade and 316-grade. Nickel plated roller chain is an option for applications that do not require stainless steel chain. All of our nickel plated roller chains are manufactured in a way that prevents chipping and promotes maximum working life. We also carry dacromet and zinc coated roller chains for qualified applications.
Non-Standard/ Specialty Chains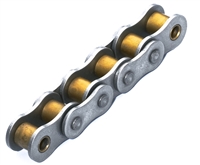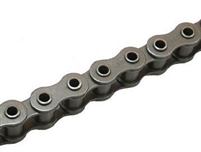 We stock and supply the industries broadest range of non-standard and specialty roller chains! Our inventory consists of agricultural roller chains, double pitch roller chains, metric roller chain, coupling chains, Lambda equivalent roller chain, DHA series chain, low temperature roller chains, hollow pin chain, lube-free roller chain, roller-less chains, plastic roller chain, straight sidebar roller chain, poly-steel chain, O-Ring roller chain, API Certified roller chains, Super Series roller chain, Double Capacity roller chain, low noise roller chain, titanium roller chain, and side-bow roller chain.
Some of Our Partners
At USA Roller Chain and Sprockets, we understands the value of solid partnerships with great companies. This helps us provide our customers with better service, better pricing, and brand specific chains upon request. Our vendor network consists of 1,000+ suppliers, meaning we can supply any power transmission product needed. We also have an on-site machine shop, custom conveyor manufacturing, and an extensive database of product information so we can help our customers with everything they need.