Self-Dumping Hoppers


***NOTE: UNFORTUNATELY, THE SELF-DUMPING HOPPERS HAVE BEEN DISCONTINUED BY THE MANUFACTURER. WE ARE UNABLE TO SUPPLY THESE CURRENTLY, BUT FEEL FREE TO USE THIS WEBPAGE FOR MEASUREMENTS AND OTHER IMPORTANT INFORMATION. THANK YOU!***

Improve your productivity and safety compliance with self-dumping hoppers from USA Roller Chain. Slide it onto your forklift, transport the goods, and quickly release the contents in a swift motion. Your operator never rises from the seat, which makes "The Orange Box" a winner among today's forklift dump hoppers. USA Roller Chain and Sprockets offers these forklift dumpsters because of their durable design. Rely on welded steel construction and caster mounts on your model. Caster mounts are standard on most models (ask your USA Roller Chain rep to confirm when ordering yours). Try a self-dumping forklift hopper in almost any industry, from recycling to distribution centers. Forklift hoppers are meant to be hands-free accessories that fit onto any machine. Their bright color tells you where the container is at all times. Choose among 10 models that support various load sizes, with specific measurements provided for your convenience. Custom sizes are also available, so if you don't see the specific size you'd like to have on the below chart, don't worry - we've got you covered! At USA Roller Chain, we're committed to your hauling needs. Our models will conform to your application so that productivity reigns supreme on your jobsite. Self-dumping hoppers make quick work out of your heavy loads. Speak about your needs with a USA Roller Chain representative at (407) 347-3519, or send us an email at sales@usarollerchain.com and we will be happy to assist you.
Standard Self Dumping Hoppers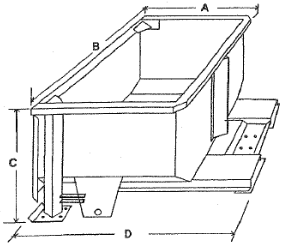 Cubic Yards

(A)

(B)

(C)

(D)

Weight (LBS)

050

1/2
34"
26"
30"
44"
198

075

3/4
34"
26"
36"
44"
248

100

1
44"
37"
36"
52"
380

150

1-1/2
44"
45"
45"
52"
528

200

2
44"
62"
43"
52"
610

300

3
52"
74"
47"
63"
749

400

4
52"
92"
47"
63"
1,084

500

5
64"
92"
51"
75"
1,229

1000

10
76"
92"
74"
84"
1,733

SS-150

1-1/2
32"
64"
43"
40"
400
What Is Self Dumping Hoppers

A self-dumping hopper essentially is a container that is able to discard contents without the need for manual assistance from an operator. Which is a much safer alternative because the operator is not in harm's way. It works by the forklift tilting the mast just a few degrees forward, the orange box will tip and the unique self-locking mechanism will release the door. Tilt the mast back or lower to the ground, and the self-dumping hopper will reset and the door is locked.


Self Dumping Hopper Safety
When compared to a traditional dump box that requires the operator to manually dump the box and assist with contents being released a self-dumping hopper when used correctly eliminates the risk of injury or even death. This is because the forklift operator is able to release the contents in the dump box within the safety of the forklift operating station. Please note that all of our boxes are also painted and coated with a safety orange rust resistant industrial finish, hence where "the Orange Box" name originated from.