Taper Lock Bushing & Size Chart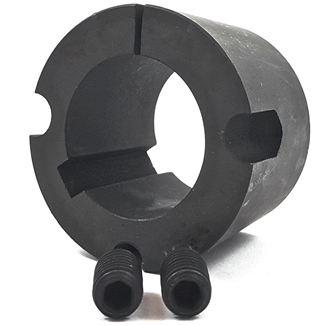 USA Roller Chain & Sprockets' taper lock bushings offer the highest quality on the market. They're manufactured from superior steel or cast materials, so you get an efficient, long-lasting product that is perfect for any sprocket, sheave, or pulley system. The taper lock bushings provide maximum length in narrow applications with their tightly secured grip and coupling action, ensuring the securing of components to specific shaft sizes. Our products feature a split through the design and an 8° gradual taper angle to ensure superior installation into components without compromising your system's performance.

USA Roller Chain & Sprockets has precision-engineered our taper lock bushings to exceed American Standard and ISO dimensions while providing you with interchangeable options. With metric and inch bore sizes available, we are sure to have exactly what you need! So get ahead of the competition with USA Roller Chain & Sprockets' premium taper lock bushings, and experience top quality at a cost-effective price.

For additional information on custom taper lock bushings or to get a quote, contact our customer service team and we will be happy to assist you!


Taper Lock Bushing Size Chart
The below size chart shows the standard sizes of taper lock bushings, please note that the drawing below is for basic dimensional needs, actual instal and removal bolt holes may vary.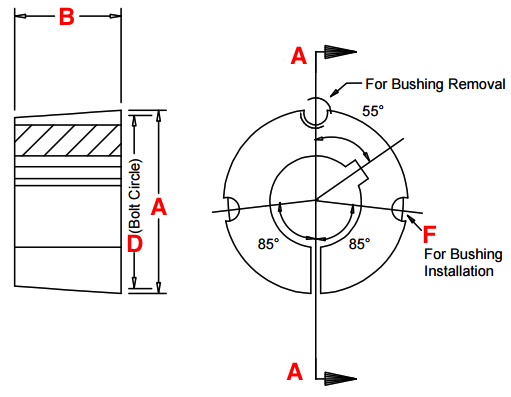 Bushing Type

Bore Range

Weight Range (LBS)

Dimension (A)

Dimension (B)

Dimension (D)

Screw Size (F)

1008
0.5" - 1"
0.16 - 0.27
1.386"
0.875"
1.328"
0.25 X 0.5
1108
0.5" - 1.125"
0.17 - 0.33
1.511"
0.875"
1.453"
0.25 X 0.5
1210
0.5" - 1.25"
0.49 - 0.61
1.875"
1"
1.75"
0.375 X 0.625
1215
0.5" - 1.25"
0.6 - 0.8
1.875"
1.5"
1.75"
0.375 X 0.625
1310
0.5" - 1.375"
0.6 - 0.7
2"
1"
1.875"
0.375 X 0.625
1610
0.5" - 1.625"
0.5 - 0.9
2.25"
1"
2.125"
0.375 X 0.625
1615
0.5" - 1.625"
0.6 - 1.2
2.25"
1.5"
2.125"
0.375 X 0.625
2012
0.5" - 2"
1.0 - 1.7
2.75
1.25"
2.625"
0.438 X 0.875
2517
0.5" - 2.5"
1.9 - 3.5
3.375"
1.75"
3.25"
0.5 X 1
2525
0.75" - 2.5"
2.5 - 4.9
3.375"
2.5"
3.25"
0.5 X 1
3020
0.938" - 3"
3.9 - 6.5
4.25"
2"
4"
0.625 X 1.25
3030
0.938" - 3"
5.0 - 9.2
4.25"
3"
4"
0.625 X 1.25
3535
1.188" - 3.5"
8 - 14
5"
3.5"
4.83"
0.5 X 1.5
4040
1.438" - 4"
13 - 22
5.75"
4"
5.54"
0.625 X 1.75
4545
1.938" - 4.5"
18 - 30
6.375"
4.5"
6.13"
0.75 X 2
5050
2.313" - 5 "
24 - 38
7"
5"
6.72"
0.875 X 2.25
4030
1.438" - 4.438"
13 - 24
5.75"
3"
5.54"
0.625 X 1.75
4535
1.938" - 4.938"
15 - 31
6.375"
3.5"
6.13"
0.75 X 2
5040
2.438" - 5"
23 - 40
7"
4"
6.72"
0.875 X 2.25
6050
3.813" - 6"
50 - 60
9.25"
5"
9"
1.25 X 3.5
7060
4.563" - 7"
65 - 80
10.25"
6"
10"
1.25 X 3.5
8065
5.063" - 8"
75 - 120
11.25"
6.5"
11"
1.25 X 3.5
10085
6.563" - 10"
190 - 260
14.75"
8.5"
14.5"
1.5 X 4.25
120100
7.563" - 12"
290 - 410
17.25"
10"
17"
1.5 X 4.25
Taper Lock Bushing Diagrams
Special Notes:
Taper Lock Bushing Angle is 8°
1086 Taper-Lock Bushings, 10085 Taper-Lock Bushings, and 120100 Taper-Lock Bushings Are Made To Order (lead times are 2-days to 6-weeks dependent upon urgency)
Installation and Uninstallation Instructions Can Be Found on Individual Product Pages
Taper Lock Bushings Can Be Supplied in The Following Materials: Grade-25 Cast, Grade-35 Cast, Steel, and Stainless Steel