60 Roller Chain
#60 roller chain is manufactured in accordance with ANSI B29.1 Standards and is the 6th largest chain size in the ANSI Standard lineup of roller chains having a 3/4" pitch. The sole purpose of a 60 chain is to transfer mechanical energy to the highest degree, our selection of 60 roller chains not only do this but set the bar for industrial roller chains. Our selection of 60 chains is the broadest in the market; ranging from standard carbon steel to stainless and plastic materials and up to 12-strand wide with attachment options available we're sure to have the chain you need! With over 200 different configurations of #60 roller chain in stock, we're' sure to have the right chain for any application out there. The chains we supply are high-strength, high-performing, and poses capabilities past the industry "standard" placing them above industry class and quality tears within each level. We supply three different standard quality levels of our 60 roller chains, this range is also found in our corrosion resistant and heavy-duty lineup of 60 chains. For additional information and quotes contact our customer support team and we will be happy to assist you!

#60 Roller Chain Applications
More specifically #60 roller chain can be found in a broad range of applications including light to heavy-duty industrial grade. With a relatively small form factor and high payload capacities, a size #60 roller chain can be discovered within a wide range of applications.
Bottling and Packaging: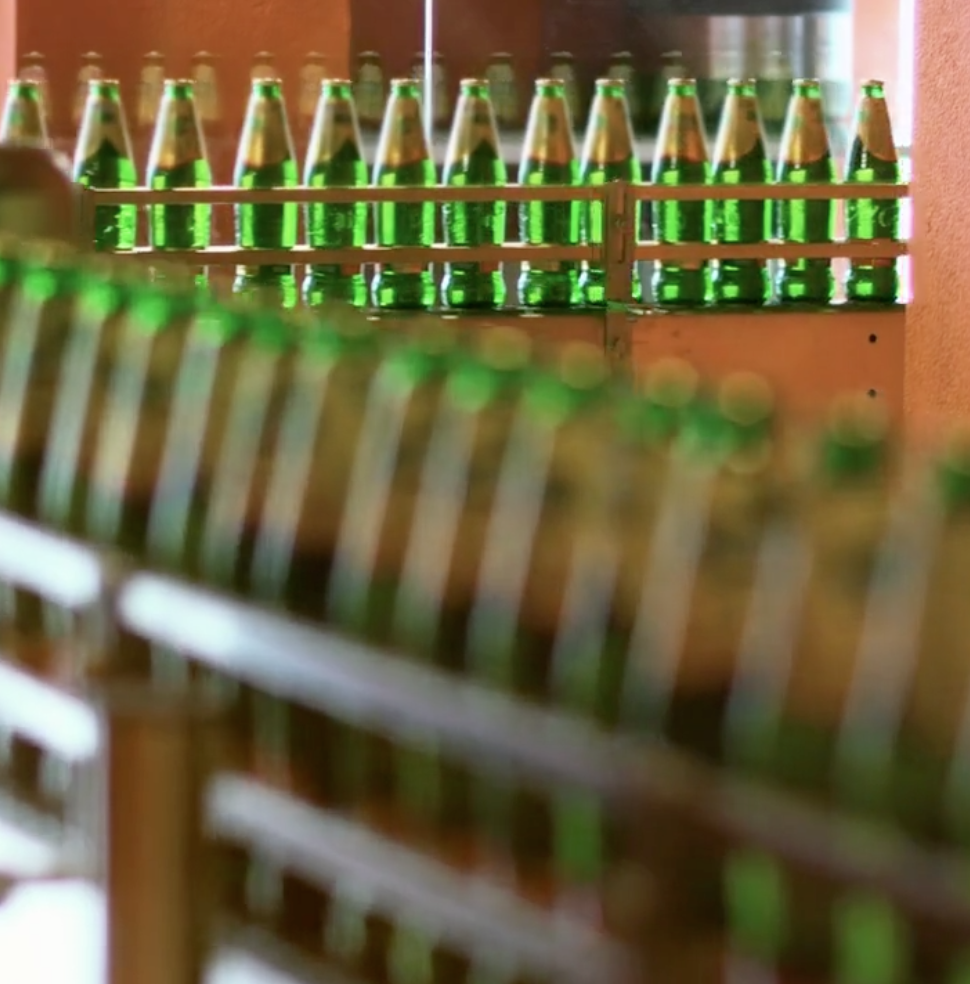 60 roller chain is often used in bottling and packaging facilities as equipment drive systems. Side-Bow and 63 size chains are also used as "base chains" for table-top style chains within bottling facilities.
Live-Roller Conveyors:


60 chain is also used on live roller conveyors and beds. The chains are used not only as of the main drive in the system but also for transferring the energy from one sprocket to the next. These conveyors work by utilizing double-strand sprockets to essentially daisy chain the transfer of energy, as the 60 chain turns the sprockets the live rollers move in the opposite direction creating a live roller that transfers products across the top.
Agricultural Equipment:


60 roller chain is used in agricultural equipment of all types such as; corn head gatherers, haybale elevators, cotton harvesters, grain harvesting equipment, live bottom trailers, and more! The ability for 60 chains to run at high RPMs consistently while efficiently transmitting energy makes it a great pair for agricultural equipment applications.
Conveying Applications: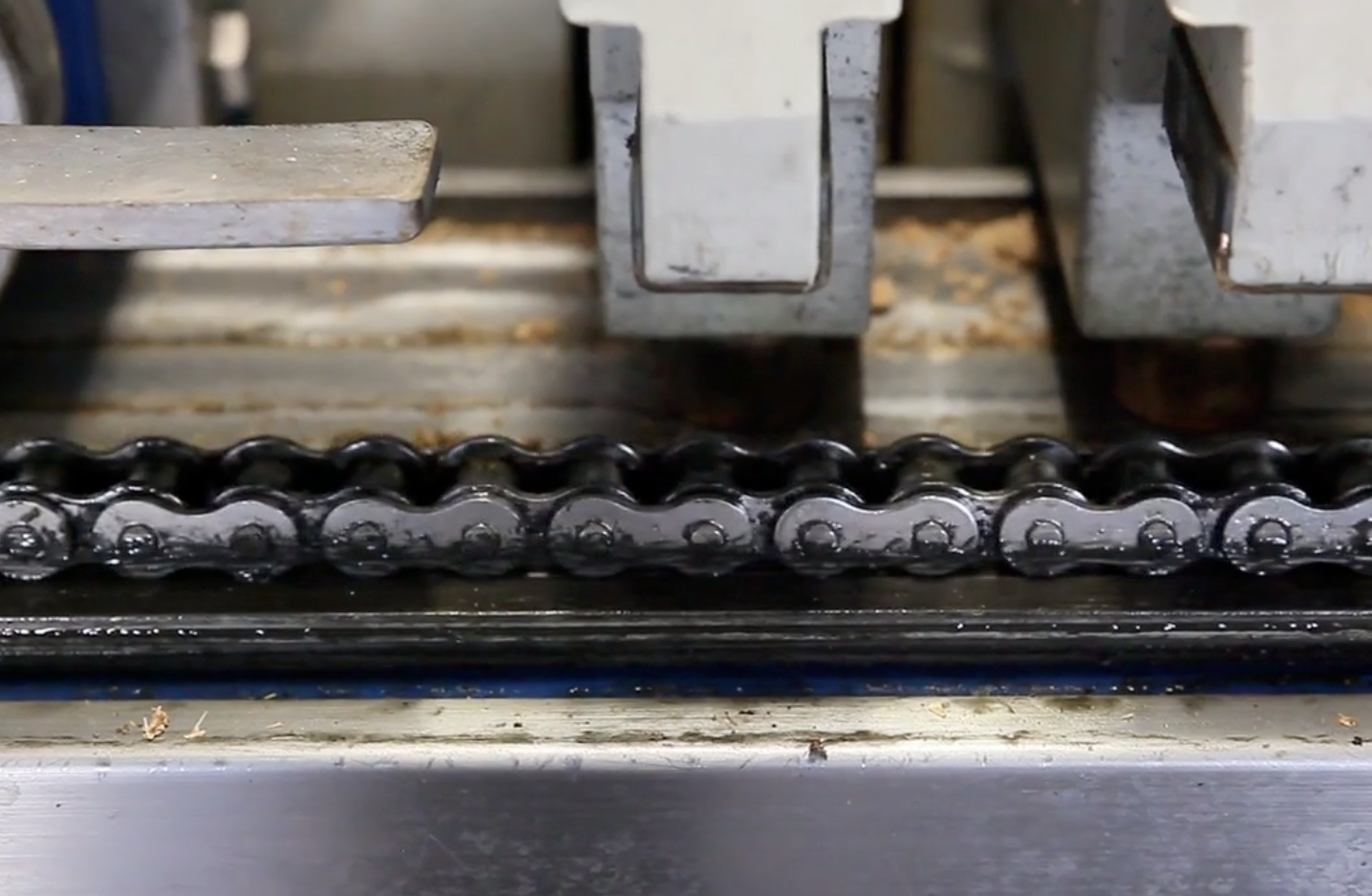 ANSI 60 chains are found in many general conveying applications even though it is designed as a transmission drive chain. This is due to its high-strength capabilities and eases of maintenance. We offer straight side-bar style 60 chains to increase the conveying surface area capabilities. These chains are typically classified by either having a "C" in front of the 60 or by having an "F" placed after the #60.
Drive Applications: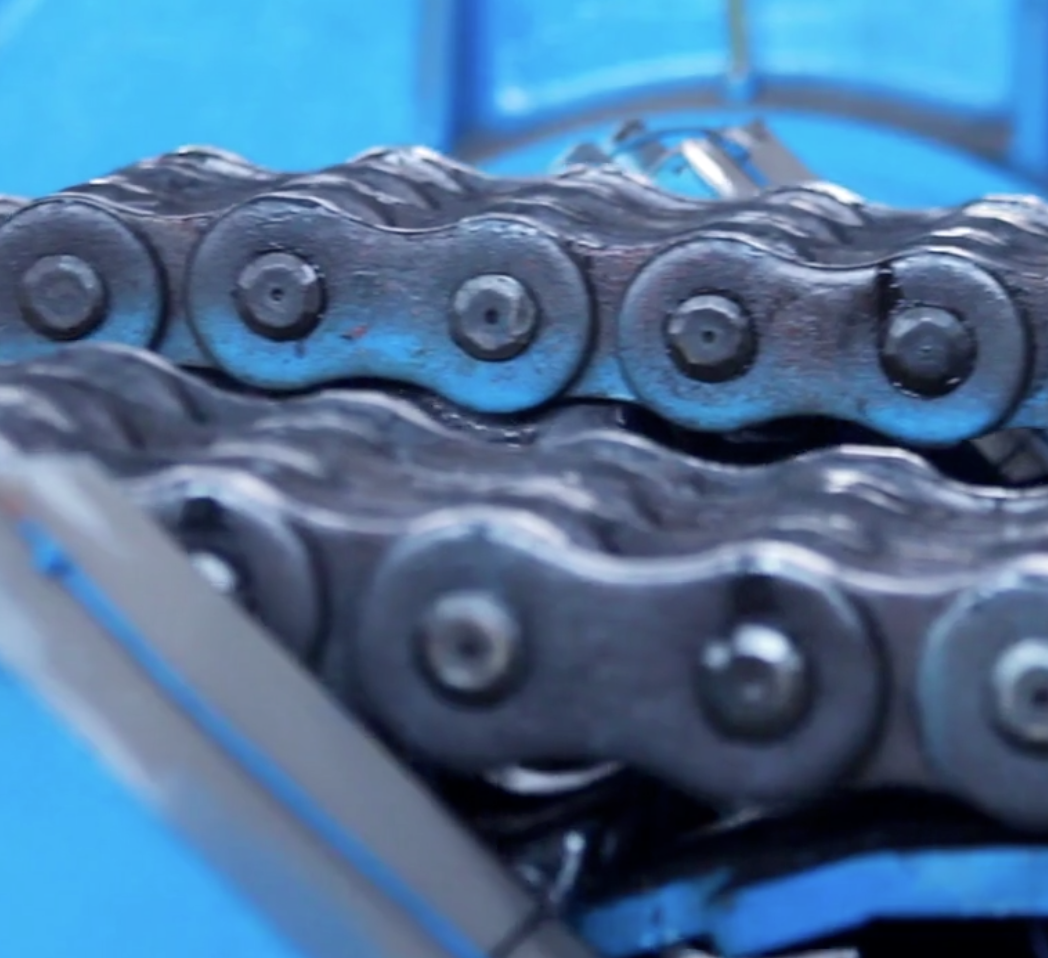 Designed as a drive chain, 60 roller chain is mostly found in chain drive applications. This can be in aggregate, mining, construction, mixing, and even dryer applications. We also offer a Super 60 roller chain for extreme duty applications as well as an API Certified Cottered 60 chain for oil and gas applications.

#60 Roller Chain Specs
Pitch (P)

Roller Width (W)

Roller Diameter (D)

Overall Width (A)

Plate Height (H)

Plate Thickness (T)

Pin Diameter (E)

Weight (Per Ft)

60-1
0.75"
0.50"
0.469"
0.994"
0.712"
0.093"
0.234"
0.97 LBS
60-2
0.75"
0.50"
0.469"
1.890"
0.712"
0.093"
0.234"
2.04 LBS
60-3
0.75"
0.50"
0.469"
2.794"
0.712"
0.093"
0.234"
3.02 LBS
60-4
0.75"
0.50"
0.469"
3.690"
0.712"
0.093"
0.234"
3.97 LBS
60-5
0.75"
0.50"
0.469"
4.598"
0.712"
0.093"
0.234"
5.05 LBS
60-6
0.75"
0.50"
0.469"
5.496"
0.712"
0.093"
0.234"
6.136 LBS
Note: overall width of cottered-style #60 roller chains will vary.


We supply 60 roller chains on bulk reel sizes such as 50ft and 100ft reels. This can often be preferred when you are "cutting" a large amount of shorter length chains or with long-length runs of 60 chains. We stock bulk reels in standard carbon steel, stainless steel, and nickel-plated materials; bulk coated and cottered 60 chains are also available.
When it comes to custom manufactured 60 roller chains USA Roller Chain is your drive solutions partner. From the identification process through manufacturing our customer service team keeps you informed and strives to make the process as simplistic and smooth as possible. Standardly our custom roller chain manufacturing process requires a 200ft minimum and anywhere from a 6 week to 16-week manufacturing timeline depending on if expedited services are required and current scheduling capabilities. We supply anti-corrosive and abrasion resistant 304 - 316 grade stainless steel options as well as nickel and standard carbon steel. Contact our customer support team today for your custom chain manufacturing needs!
When it comes to the base parts that go into the 60 roller chain it's important to understand what each component is and what it does, this knowledge can come in especially handy when it comes to inspecting the chains for routine maintenance.
60 Chain Pin:
The pin is 0.234" in diameter per the ANSI B29.1 spec for 60 chains and has the job of handling a portion of the brunt shock loads and working loads that get transferred from the side plates. When inspecting a current roller chain it is important to notate any cracking, deforming, or pin-roll, as any of these three symptoms can prescribe a reason for chain replacement.
60 Chain Bushing: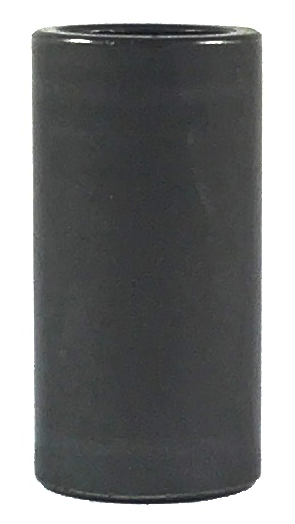 Bushings within a roller chain are placed between the pin and roller, their purpose is to assist with facilitating the transfer of energy throughout the chain and to be a "bearing surface" within the roller. We offer our 60 roller chains with optional split or solid bushings, solid bushings provide a superior chain working life versus split.
60 Chain Roller: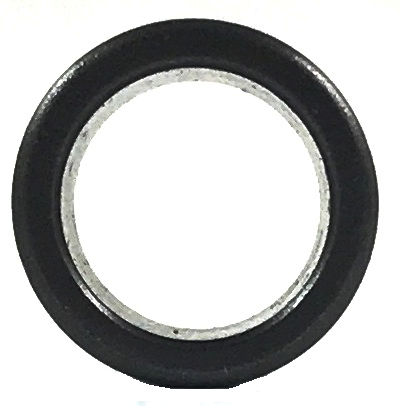 The rollers for 60 roller chains are 0.469" in diameter and are always a solid construction within our product range. Their job is to effectively roll within the sprocket tooth-root to facilitate the transmission of energy. When inspecting a chain it is imperative to notate any deformation, cracking, or excessive wear. Depending on the circumstance the roller can reveal sprocket tooth "hooking" which means it's time to replace the sprockets, chain misalignment, and proper tension on the chain.
60 Chain Side-Plates: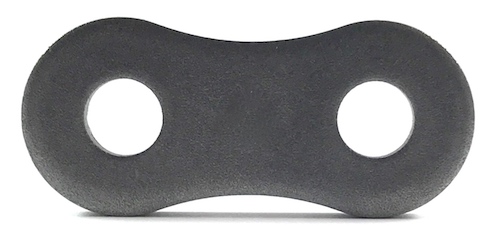 Sideplates for ANSI 60 roller chain are 0.093" thick for standard chains and 0.125" thick for heavy-duty 60 chains. They absorb the majority of the working and shock loads put on the chain while in motion. When inspecting a chain it's imperative to notate any cracks, deformation, or excessive wear on the top or bottom of the plate. We offer 60 roller chain with standard side plates, wide-waste side plates, and even straight side plates dependent on the requirements of the application.