Hollow Pin Roller Chain

We are a premier supplier of hollow pin roller chain and more. We stock ANSI, ISO, DIN, Metric, Stainless Steel, Nickel Plated, Double Pitch, as well as conveyor series hollow pin roller chain. What sets us apart from other suppliers is the array of quality options and in-stock items we offer, along with some of the most knowledgeable customer support staff in the industry. Hollow pin roller chain is used in a wide range of applications ranging from light to medium conveying applications, drive applications, bakeries, circuit board manufacturing, elevating conveyors, as well as many more. On top of the hollow pin roller chain, we offer a full line of high quality sprockets, belting, motors, gear boxes, bearings, sensors, and more. For more information on hollow pin roller chain or to get a quote, please contact us and we will be happy to assist you.
ANSI Hollow Pin Roller Chain
These hollow pin chains consists of ANSI single-pitch sizes 40HP, 50HP, 60HP, 80HP and ANSI double pitch sizes C2040HP, C2042HP, C2050HP, C2052HP, C2060HP, C2062HP, C2080HP, and C2082HP. We offer these chain in Economy Plus, General Duty Plus and Premier Series quality levels. These chains are supplied as 10ft boxes, 50ft reels, or 100ft reels. We can also supply these chains as cut to length custom strands upon request.


Metric Hollow Pin Roller Chain
Metric hollow pin roller chains include 08B-HP, 10B-HP, 12B-HP, HB-Series DIN hollow pin roller chains, and a wide range of specialty metric hollow pin roller chains. These chains are primarily found on pieces of equipment that were manufactured or designed in Europe. Because these chains are more of a specialty item, we only keep them in stock in the General Duty Plus or Premier Series quality levels.


Hollow Pin Chain Sprockets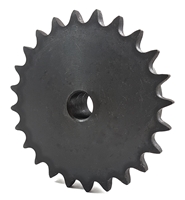 Because hollow pin roller chains conform to ANSI, DIN, or ISO standards, they can be used with standard ANSI, DIN, or ISO sprockets. We keep a full line of ANSI and metric roller chain sprockets in-stock in a range of bore sizes and hub types. USA Roller Chain is a one-stop-shop meaning that you can get anything from the electric motor to conveying chains from one convenient vendor. Not only does this save you time, but you are also saving on shipping, and getting a good consistent quality of product. To get a quote, please contact our sales team at sales@usarollerchain.com or call (407) 347-3519.