5TB Split Taper Bushed Pulleys
5TB series pulleys are manufactured for A, AX, AA, 4L, B, BX, BB, and 5L v-belts and range from 3.75" to 38.35" in diameter. Depending on the pulley size they are made to use with

P1

,

P2

,

Q1

, or

Q2

taper bushings, which we also stock. The majority of our 5TB pulleys are manufactured from a high-strength grade 35 cast iron, are phosphate-coated and painted for anti-corrosion, and all of them are balanced at the factory for smooth machinery operation.


5TB Style Pulley Size Chart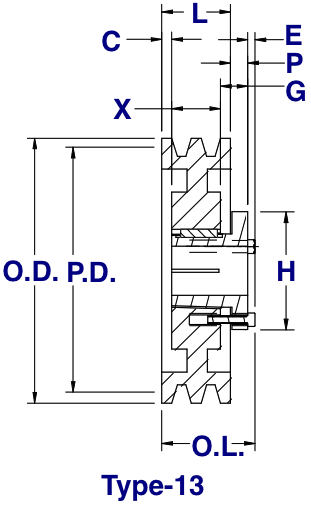 Size

Bushing Type
Pitch Diameter (4L/A)
Pitch Diameter (5L/B)
Outside Diameter
Type
(O.L.)
(L)
(P)
(C)
(H)
(F)
(G)
(X)
(E)
Pulley Weight

5TB34

P2
3.0"
3.4"
3.75"
3
5-5/16"
2-15/16"
1-1/16"
2-1/8"
3"
4"
5/8"
2-5/16"
1/4"
5.3

5TB36

P2
3.2"
3.6"
3.95"
3
5-5/16"
2-15/16"
1-1/16"
2-1/8"
3"
4"
5/8"
2-5/16"
1/4"
6.1

5TB38

P2
3.4"
3.8"
4.15"
5
4-7/8"
2-15/16"
5/8"
1-11/16"
3"
4"
--
2-5/16"
1/4"
6.1

5TB40

P2
3.6"
4.0"
4.35"
5
4-7/8"
2-15/16"
5/8"
1-11/16"
3"
4"
--
2-5/16"
1/4"
7.0

5TB42

P2
3.8"
4.2"
4.55"
5
4-7/8"
2-15/16"
5/8"
1-11/16"
3"
4"
--
2-5/16"
1/4"
7.8

5TB44

P2
4.0"
4.4"
4.75"
13
4-1/4"
2-15/16"
0
1-1/16"
3"
4"
5/8"
2-5/16"
1/4"
8.5

5TB46

P2
4.2"
4.6"
4.95"
13
4-1/4"
2-15/16"
0
1-1/16"
3"
4"
5/8"
2-5/16"
1/4"
9.8


5TB48

P2
4.4"
4.8"
5.15"
13
4-1/4"
2-15/16"
0
1-1/16"
3"
4"
5/8"
2-5/16"
1/4"
10.5

5TB50

P2
4.6"
5.0"
5.35"
13
4-1/4"
2-15/16"
0
1-1/16"
3"
4"
5/8"
2-5/16"
1/4"
11.6

5TB52

P2
4.8"
5.2"
5.55"
13
4-1/4"
2-15/16"
0
1-1/16"
3"
4"
5/8"
2-5/16"
1/4"
12.5

5TB54

Q1
5.0"
5.4"
5.75"
13
4-9/32"
2-1/2"
0
1-1/2"
4-1/8"
4"
3/4"
1-3/4"
9/32"
10.4

5TB56

Q1
5.2"
5.6"
5.95"
13
4-9/32"
2-1/2"
0
1-1/2"
4-1/8"
4"
3/4"
1-3/4"
9/32"
11.8

5TB58

Q1
5.4"
5.8"
6.15"
13
4-9/32"
2-1/2"
0
1-1/2"
4-1/8"
4"
3/4"
1-3/4"
9/32"
12.8

5TB60

Q1
5.6"
6.0"
6.35"
13
4-9/32"
2-1/2"
0
1-1/2"
4-1/8"
4"
3/4"
1-3/4"
9/32"
13.8

5TB62

Q1
5.8"
6.2"
6.55"
13
4-9/32"
2-1/2"
0
1-1/2"
4-1/8"
4"
3/4"
1-3/4"
9/32"
14.6

5TB64

Q1
6.0"
6.4"
6.75"
13
4-9/32"
2-1/2"
0
1-1/2"
4-1/8"
4"
3/4"
1-3/4"
9/32"
16.4

5TB66

Q1
6.2"
6.6"
6.95"
13
4-9/32"
2-1/2"
0
1-1/2"
4-1/8"
4"
3/4"
1-3/4"
9/32"
17.1

5TB68

Q1
6.4"
6.8"
7.15"
13
4-9/32"
2-1/2"
0
1-1/2"
4-1/8"
4"
3/4"
1-3/4"
9/32"
17.9

5TB70

Q2
6.6"
7.0"
7.35"
13
4-13/32"
3-1/2"
1/8"
5/8"
4-1/8"
4"
3/4"
2-3/4"
9/32"
20.9

5TB74

Q2
7.0"
7.4"
7.75"
13
4-13/32"
3-1/2"
1/8"
5/8"
4-1/8"
4"
3/4"
2-3/4"
9/32"
19.8

5TB80

Q2
7.6"
8.0"
8.35"
13
4-13/32"
3-1/2"
1/8"
5/8"
4-1/8"
4"
3/4"
2-3/4"
9/32"
22.3

5TB86

Q2
8.2"
8.6"
8.95"
13
4-13/32"
3-1/2"
1/8"
5/8"
4-1/8"
4"
3/4"
2-3/4"
9/32"
29.5

5TB90

Q2
8.6"
9.0"
9.35"
13
4-13/32"
3-1/2"
1/8"
5/8"
4-1/8"
4"
3/4"
2-3/4"
9/32"
28.6

5TB94

Q2
9.0"
9.4"
9.75"
13
4-13/32"
3-1/2"
1/8"
5/8"
4-1/8"
4"
3/4"
2-3/4"
9/32"
29.5

5TB110

Q2
10.6"
11.0"
11.35"
13
4-13/32"
3-1/2"
1/8"
5/8"
4-1/8"
4"
3/4"
2-3/4"
9/32"
32.8

5TB124

Q2
12.0"
12.4"
12.75"
13
4-13/32"
3-1/2"
1/8"
5/8"
4-1/8"
4"
3/4"
2-3/4"
9/32"
34.4

5TB136

Q2
13.2"
13.6"
13.95"
13
4-13/32"
3-1/2"
1/8"
5/8"
4-1/8"
4"
3/4"
2-3/4"
9/32"
41.0

5TB154

Q2
15.0"
15.4"
15.75"
13
4-13/32"
3-1/2"
1/8"
5/8"
4-1/8"
4"
3/4"
2-3/4"
9/32"
45.3

5TB160

Q2
15.6"
16.0"
16.35"
13
4-13/32"
3-1/2"
1/8"
5/8"
4-1/8"
4"
3/4"
2-3/4"
9/32"
48.0

5TB184

Q2
18.0"
18.4"
18.75"
13
4-13/32"
3-1/2"
1/8"
5/8"
4-1/8"
4"
3/4"
2-3/4"
9/32"
57.3

5TB200

Q2
19.5"
20.0"
20.35"
13
4-13/32"
3-1/2"
1/8"
5/8"
4-1/8"
4"
3/4"
2-3/4"
9/32"
66.0

5TB250

Q2
24.5"
25.0"
25.35"
13
4-13/32"
3-1/2"
1/8"
5/8"
4-1/8"
4"
3/4"
2-3/4"
9/32"
82.5

5TB300

Q2
29.5"
30.0"
30.35"
13
4-13/32"
3-1/2"
1/8"
5/8"
4-1/8"
4"
3/4"
2-3/4"
9/32"
117.0

5TB380

Q2
37.5"
38.0"
38.35"
13
4-13/32"
3-1/2"
1/8"
5/8"
4-1/8"
4"
3/4"
2-3/4"
9/32"
159.0