Double Strand Heavy Roller Chain
Double strand heavy roller chains are used in applications that require an extra high strength double roller chain that can hold up against sudden shock loads. We stock these chains as Economy Plus, General Duty Plus, and Premier Series quality levels.


Double Strand Heavy Chain Sprockets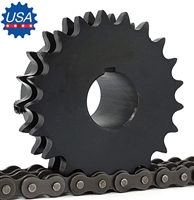 Something important to keep in mind when considering a double heavy roller chain in a new application is that these chains will not run on standard double sprockets. The reasoning behind this is because the thicker side plates on the chain will not allow for the roller chain to seat and engage properly with a standard double sprocket. We can supply specially manufactured sprockets for this chain but it will require a 1 - 3 week manufacturing lead time.

For more information or to get a quote on double strand heavy roller chain or sprockets please contact us and we will be happy to assist you!