Sand Spreader Chain

USA Roller Chain and Sprockets offers a premium quality sand spreader chain that not only exceeds in strength and durability, but is extremely competitively priced. We stock 662, 667J, 667H, 667X, 667XH, 88K, 88C, 88XH, and even 308C size pintle chains for sand spreaders!


USARC Sand Spreader Chain Benefits
Fully heat treated parts
Alloy case hardened pins available
Quad staked rivets for maximum hold
Open barrel self cleaning design
High strength slats and welds
Stock 600-Class Sand Spreader Chains

Chain Size
Pitch
Ultimate Strength
Sidebar Height (B)
Sidebar Thickness (C)
Pin Diameter (D)
Weight

1.664"
11,000 LBS
0.720"
0.125"
0.281"
1.05 LBS/ FT

2.313"
12,500 LBS
0.875"
0.125"
0.312"
1.17 LBS/ FT

2.250"
21,000 LBS
0.938"
0.170"
0.437"
1.86 LBS/ FT

2.250"
28,000 LBS
1.050"
0.225"
0.465"
2.8 LBS/ FT

2.250"
20,600 LBS
0.937"
0.170"
0.375"
1.81 LBS/ FT

2.609"
29,000 LBS
1.063"
0.200"
0.437"
2.3 LBS/ FT

2.609"
38,000 LBS
1.138"
0.252"
0.500"
3.32 LBS/ FT

2.609"
38,000 LBS
1.138"
0.252"
0.500"
3.32 LBS/ FT

3.075"
52,000 LBS
1.500"
0.315"
0.625"
5.65 LBS/ FT
Note: Additional information and dimensions available on product pages.
Sand Spreader Chain Sprockets

We also stock 667 and 88 size sprockets. When ordering a sprocket please specify hub type (A-plate, B-Hub, C-hub), bore size, tooth count, and sprocket material (steel or cast). We can also supply bronze bushed or bearing idler sprockets within a short lead-time thanks to our in house fully equipped fast reaction machine shop.


How to Size and Buy Sand Spreader Chain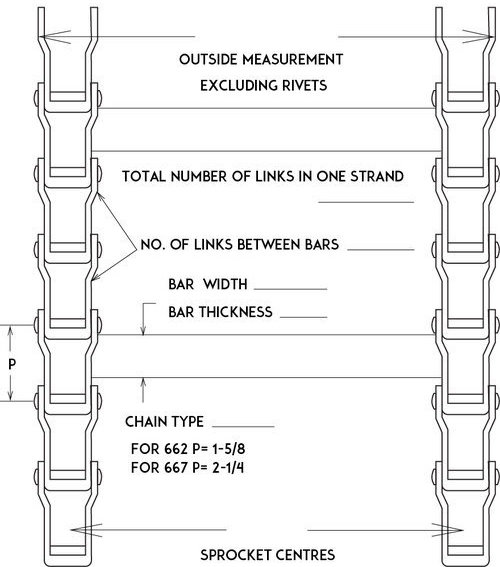 To figure out what size and Sand spreader configuration you have or need replacing please use the above diagram and and fill out the below information form.
Other Sand Spreader Chain Styles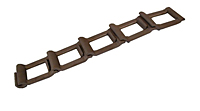 Other styles of sand spreader chains include T-Rod, T-Bar, and Steel Detachable Chains. We can supply these sand spreader chain types as well. To get a quote contact our sales team at sales@usarollerchain.com or call (407) 347-3519 and we will be happy to assist you.