Stainless Steel Taper Lock Bushings & Size Chart
USA Roller Chain & Sprockets offers an effective, reliable solution to maximize the performance and longevity of your application with our tapered lock bushings. Featuring stainless steel construction and detailed locking sections to ensure excellent security, these taper lock bushings are sure to provide maximum protection, especially for items penetrating through hub components. Our bushing parts are available in dozens of sizes to assure you're fully accommodated for all types of industrial applications. Furthermore, we offer specific tolerance details so that your tapered hub is completely customized according to your exact needs. Our exact-dimension bushing parts slip right into place, and you will enjoy superior stability during heavy-duty operations offered by the tapered shape design.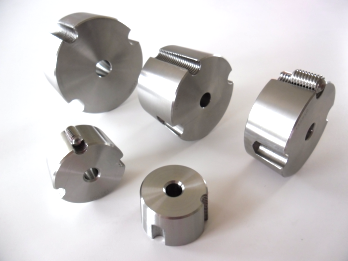 USA Roller Chain & Sprockets provides our customers with an extensive selection of premium-quality stainless steel taper lock bushings that lock with ease and are available in sizes ranging from 1008 to 5050. Crafted using 304-grade stainless steel, they are optimized to resist corrosion and degradation, making them ideal for use in food processing, wastewater, and agricultural applications. The metal will continue to remain durable through the hottest and coldest conditions — that's a guarantee.

Our company is committed to bringing you the very best customer experience by offering expert support and rapid response times, and consistently meeting your needs. In fact, USA Roller Chain & Sprockets is rated A+ by the Better Business Bureau thanks to our unyielding focus on outstanding service. We have also opened a machine shop within our Central Florida location so we can react quickly and effectively to any requests from our customers.

At USA Roller Chain and Sprockets, we believe that time is of the essence when it comes to ensuring quality-control needs are met. That's why we guarantee that all orders placed before 2 p.m. EST, for stocked items, will ship the same day — offering your business the peace of mind of knowing it can count on on-time delivery with every order. Shop stainless steel taper lock bushings from USA Roller Chain today! Contact us with any questions or if you require assistance with finding the right part specifications for your system — we are happy and eager to help.







Requesting Stainless Steel Taper-Lock Bushings
To get a quote on stainless steel taper lock bushings fill out the request for quote form and someone from our customer service team will contact you.