Corrosion Resistant Metric Roller Chain
When it comes to corrosion resistant metric roller chains we have three different options in stock; stainless steel, nickel plated, and coated.



Stainless Steel Metric Roller Chain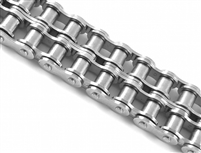 Stainless steel metric roller chain offers the highest anti-corrosion and is manufactured out of a high-quality 304-grade stainless steel. We can supply stainless steel metric sprockets as well as stainless steel attachments. Also, if you are needing a 316-grade stainless steel roller chain we can supply that as well upon request. We keep these chains in stock as single strand and double strand (duplex) configurations.


Nickel Plated Metric Roller Chain

We also stock single strand and double strand (duplex) nickel plated metric roller chain. Our nickel plated roller chains are manufactured to ISO standards and use heat-treated components and solid rollers for maximum strength and performance. If you don't see the chain you want on our website or if you already know it's something special, we can manufacture just about any roller chain. We supply end users to large OEMs with custom roller chains on a daily basis! Contact our sales department at sales@usarollerchain.com or call (407) 347-3519. Typical lead times on a made to order (MTO) roller chain is 8-10 weeks, but if you need it sooner expediting options are available.


Coated Metric Roller Chain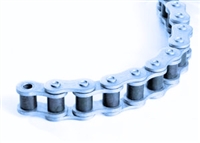 Coated metric roller chains are good for applications that need a high-strength and highly anti-corrosive roller chain. These chains are typically in stock in the standard sizes (06B - 32B) in single strand and double strand configurations. What makes a coated roller chain more attractive than some of the other options is that it hold up longer than nickel plated chains, is very economical versus stainless steel, and they have much higher tensile strengths than stainless steel chains do. To get a quote on a coated metric roller chain please contact our sales department at sales@usarollerchain.com or call (407) 347-3519.