Heavy Duty Roller Chain
Heavy Series Roller Chains are manufactured to ANSI Standards but feature thicker side plates. Having thicker side plates not only drastically increases the strength and fatigue resistance of a roller chain, but it also reduces stretching and wear that happens over time. Heavy duty roller chains are optimal to use in agricultural applications, skid steers, heavy equipment, and any application that you are looking to increase the strength of the chain without having to go up a size.

Quality Levels Available:

Economy Plus heavy roller chains are manufactured in accordance to ANSI B29.1 Standards and feature high tensile strengths, solid rollers, and are useful in light to moderate duty applications.

General Duty Plus heavy roller chains are the best value when it comes to buying heavy duty roller chain. They typically offer extended performance, solid rollers, solid bushings in select sizes, higher quality material, high-precision components, and are supplied with a good quality lubricant. General Duty Plus heavy roller chains are useful in moderate to heavy duty applications.

Premier Series heavy duty roller chains are our top tier because they feature solid bushings and solid rollers on all sizes. Each component that goes into the Premier Series heavy duty roller chains are heat treated for maximum hardness, shot peened, and manufactured with optimal precision. They are pre-stretched after assembly to reduce or eliminate elongation. They offer the highest strengths, best performance, and longest working life. These chains are useful in applications that require a high strength and precision roller chain for extreme duty applications.



Heavy Duty Roller Chain Sprockets
Besides roller chain, we can also supply sprockets. When using a sprocket that has less than 30 teeth for heavy roller chain, it is recommended that the sprocket has hardened teeth. All of the sprockets we supply with 30 teeth or less come with hardened teeth as a standard.

Single-Strand Heavy Chain Sprockets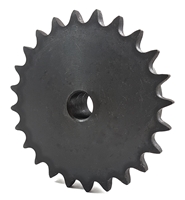 Single strand heavy duty roller chain is compatible with standard sprockets. We keep a full line of ANSI sprockets in stock in a wide range of variations, including taper bushed and QD style.

Multi-Strand Heavy Chain Sprockets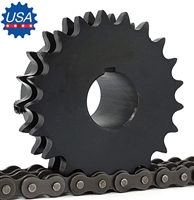 Multi-strand heavy duty roller chain sprockets and standard multi-strand roller chain sprockets are not interchangeable. The reasoning is being that the thicker side plates on the chain will not allow for the roller chain to seat and engage properly with a standard double sprocket. We can supply specially manufactured sprockets for this chain but it will require a 1 - 3 week manufacturing lead time.