Expansion Tanks For Wells
We have a full line of well expansion tanks that are used anywhere from home to commercial applications. USA Roller Chain and Sprockets (USARC) is a direct authorized distributor for the globally renowned Zilmet Brand of tanks. We distribute Zilmet to our customers because they manufacture their own diaphragms that are carefully designed for the specific tank size, not only does this extend the life of the tank but it also maximizes drawdown. Something important to note is that all diaphragms are manufactured with pure butyl and are NSF61 Certified.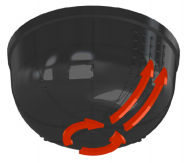 Because of the proprietary design by Zilmet the undersides of the diaphragm forces water and sediment through the proprietary channels and grooves and up and out the connector for a complete water exchange.


Advantages of Hydro-Plus Expansion Tanks For Wells
150 PSI Maximum Working Pressure
Low Profile Design With Full Diaphragm Prevents Excess Wear and Promotes Longer Operation
The Special Stainless Steel Side Connection Allows For Quicker and Less Expensive Installation
Powder Coating Finish For Extended Life and Increased Durability
5-Year Warranty On All Expansion Tanks For Wells
Expansion Tanks For Wells Material Description
Shell Material - Carbon Steel (internally coated with powder for portable water applications)
Connection Material - Stainless Steel (internally coated with powder for portable water applications)
Fixed Membrane - Pure Butyl (for portable water applications)
Expansion Well Tank Color - Almond


2.1 - 13.2 Gallon Well Expansion Tank - Inline



Model

Capacity

Diameter
ØD

Height
H

Connection Size
NPT-ØC

Pre-Charge

System Drawdown
(30-50 psi)


System Drawdown
(40-60 psi)

ZHP5

2.1 Gallons
7.9"
11.0"
3/4"
38 psi
0.7
0.5
ZHP12

4.8 Gallons
10.6"
13.7"
3/4"
38 psi
1.6
1.2
ZHP18

6.3 Gallons
11.8"
15.4"
1"
38 psi
2.1
1.7
ZHP104IL

9.2 Gallons
15.0"
14.6"
1"
38 psi
3.1
2.4
ZHP200IL

13.2 Gallons
15.0"
19.6"
1"
38 psi
4.4
3.4
Note: Maximum Operating temperature 210°F, Maximum Operating Pressure 150 psi, Factory Pre Charge 38 psi
13.2 - 21.1 Gallon Well Expansion Tank - Horizontal



Model

Capacity

Diameter
ØD

Height
H

Connection Size
NPT-ØC

Pre-Charge

System Drawdown
(30-50 psi)


System Drawdown
(40-60 psi)

ZHP200H

13.2 Gallons
15"
17.2"
1"
38 psi
4.4
3.4

ZPH202BH

21.1 Gallons
17.7"
19.1"
1"
38 psi
7.1
5.4

ZPH202SM

21.1 Gallons
17.7"
18.1"
1"
38 psi
7.1
5.4
Note: Maximum Operating temperature 210°F, Maximum Operating Pressure 150 psi, Factory Pre Charge 38 psi
21.1 - 158.5 Gallon Well Expansion Tank - With Base



Model

Capacity

Diameter
ØD

Height
H

Connection Height
E

Connection Size
NPT-ØC

Pre-Charge

System Drawdown
(30-50 psi)

System Drawdown
(40-60 psi)

ZHP202

21.1 Gallons
17.7"
23.9"
5.9"
1"
38 psi
7.1
5.4
ZHP202BV

21.1 Gallons
17.7"
24.9"
5.9"
1"
38 psi
7.1
5.4

ZHP203

27.7 Gallons
19.7"
26.2"
6.5"
1-1/4"
38 psi
9.3
7.2

ZHP204

39.6 Gallons
19.7"
35.3"
8.5"
1-1/4"
38 psi
13.2
10.2

ZHP250

52.8 Gallons
23.6"
32.0"
8.9"
1-1/4"
38 psi
15.6
13.6

ZHP251

66.0 Gallons
24.8"
37.7"
9.6"
1-1/4"
38 psi
22.0
17.1

ZHP302

79.3 Gallons
24.8"
43.5"
9.6"
1-1/4"
38 psi
23.4
20.5

ZHP350

105.7 Gallons
24.8"
57.1"
9.6"
1-1/4"
38 psi
35.2
27.3

ZHP351

119 Gallons
31"
52.8"
11.4"
1-1/4"
38 psi
37.1
32.1

ZHP400

132.1 Gallons
29.5"
52.8"
11.4"
1-1/4"
38 psi
39.1
34.1

ZHP451

158.5 Gallons
29.5"
61.2"
11.4"
1-1/4"
38 psi
52.8
40.9
Note: Maximum Operating temperature 210°F, Maximum Operating Pressure 150 psi, Factory Pre Charge 38 psi
Zilmet Well Tank Sizing Chart

Gallons Per minute

1-Minute
30-50 psi

2-Minute
30-50 psi

1-Minute
40-60 psi

2-Minute
40-60 psi

5

ZHP202
ZHP203
ZHP202
ZHP203

10

ZHP203
ZHP203
ZHP251
ZHP302

12

ZHP250
ZHP250
ZHP302
ZHP302

15

ZHP250
ZHP251
ZHP302
ZHP351

20

ZHP251
ZHP302
ZHP350
ZHP302

25

ZHP302
ZHP302
ZHP302
ZHP302

30

ZHP302
ZHP351
ZHP302
ZHP350

35

ZHP351
ZHP351
ZHP350
ZHP350
Note:
Use this chart to properly size your well tank to prevent excessive wear and tear on your well pump and to reduce energy consumption